Retreat Has Record Turnout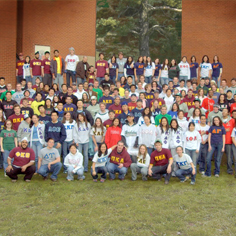 Carnegie Mellon's sorority and fraternity leaders turned out in record numbers for their annual retreat this month. The Greek leadership retreat had its highest attendance to date with 54 participants.
"We all wear separate letters, but it was refreshing to come together and see that we all share the same vision and goals for our community in the year to come," said Mary Katica, president of the Delta Gamma sorority.
The retreat is a chance for Greek leaders to discuss issues facing their communities, to gain valuable leadership skills, and to allow student leaders to get to know each other on a personal level. Officers of the Interfraternity, Panhellenic and Greek Councils, as well as chapter presidents and other Greek leaders, were in attendance. And many ideas are already being put into action.
"Some of the changes now in development include a coalition of fraternities with the goal of cleaning up fall rush; improving our image to the Carnegie Mellon Community; and a joint fraternity and sorority team devoted to raising awareness about sexual assault," said Ross Kukulinski, president of Kappa Sigma fraternity.
Katica hopes the dedicated group can take what they gained from the retreat and grow, improving upon where they stand now.
"I once heard, 'From the outside looking in, you can never understand it. From the inside looking out, you can never explain it.' That is how I feel about being Greek," Katica said. "It's a bond, a unity that is inexplicable."
The weekend event was facilitated by Mike McRee of LeaderShape and took place in early February at Lutherlyn Retreat Center near Butler, Pennsylvania.
Fraternities and sororities have been a part of the Carnegie Mellon community for nearly 100 years. From organizing fundraisers for local non-profits to activities on campus, the Greek community at Carnegie Mellon University has a long, rich tradition of fostering student involvement on campus.
Related Links: Greek Leadership  |  Greek Life
---