Co-Branded Project Lets Kids Learn by Doing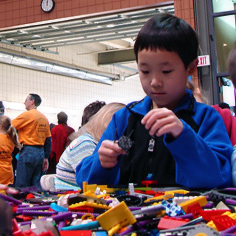 A new curriculum developed by Carnegie Mellon for the LEGO MINDSTORMS® robot-building set lets kids play the role of researcher. The partnership brings together two forces in the field of technology focusing on expanding educational opportunities for children.
According to Robin Shoop, director of Carnegie Mellon's Robotics Academy outreach program, the lessons that accompany the MINDSTORMS robot-building kits require kids to "do" math and science rather than just study them.
"We as educators need to do a better job of helping students make these cross-discipline connections, preparing them to leave school and move into the new economy," said Shoop. "It helps that kids think robots are fun."
Seventy teams of middle school students from western and central Pennsylvania, New York, Maryland and West Virginia recently took that fun to a higher level.
Entering the Robotics Academy's FIRST LEGO League Tournament, 10-member teams spent eight weeks performing research and programming their own LEGO MINDSTORMS robot. This year's theme explored applications in nanotechnology. The competition was held Dec. 2, 2006, at the National Robotics Engineering Center in Pittsburgh.
"One especially notable aspect was to see bleachers full of cheering families and students," said Matt Kambic, multimedia marketing specialist at the Robotics Engineering Center. "It's not a hoops court or football field. The kids here are tackling engineering obstacles. Once things get going — with pieces falling off, clocks running down, and robots doing crazy circles — it's cool to see them focus in and battle their way through."
Through events and curriculum, the project gives students creative ways to practice problem solving and collaboration, which can reap rewards down the line.
Jens Maibom, general manager of LEGO Education in Billund, Denmark, believes that succeeding in a creative society requires the kind of critical thinking, teamwork and communication skills that can be gained from robotics classes.
"We've seen how robotics classes motivate students to do better in school and go on to careers in science and engineering fields," said Maibom.

Related Links: Read More  |  Robotics Academy  |  Lego Education
---