Comprehensive Athletics Program Plays Vital Role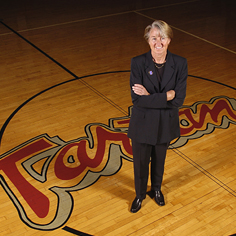 You win some, you lose some. It's as true in the game of life as it is on the field, on the court, and in the swimming pool. Carnegie Mellon's Director of Athletics Susan Bassett says what really matters is not the victory or defeat, but the role athletics plays in a student's life.
"Through athletics, students are taught the value of experience and dedication, how to work with their teammates toward a common goal, and how to deal with disappointments and successes," said Bassett.
Her goal is to build a comprehensive athletic and fitness program equal to the university's world-class academic standing. This means intercollegiate sports are as much of a priority as intramural and club sports, as well as fitness, aquatic, recreation and wellness programs. "If you're truly committed to excellence, I don't think you can choose to be better in one aspect over another," said Bassett. "We'll strive to bring out the best in all that we do.
"Our goals would be to have as close to 100 percent participation in any one of our programs for the campus community," she said. "Intercollegiate athletics is about 10 percent of our student body, but with instructional programs, fitness, intramurals and individual recreation, we estimate that we have a total of 80 percent participation."
A key factor in attracting Bassett to Carnegie Mellon was the university's commitment to the general student body and faculty and staff.

"At a place like Carnegie Mellon, there is a commitment to a comprehensive program and not just a focus on intercollegiate athletics," said Bassett. "What I think we can be proud of is offering a program that really functions on a continuum and that meets the needs and interests of everyone."
Related Links: Athletics  |  Intramural Sports  |  Susan Bassett Bio
---