Exam Performance a Treat for City, Students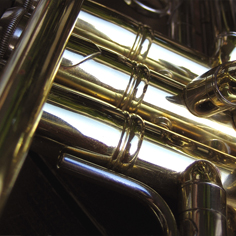 "Final exam" — two small words that would fill most college students with dread, but not those enrolled in Carnegie Mellon's Jazz Studies minor program.        
For these musicians, Final Exam Night is an exciting opportunity to present their skills through a concert at a nearby jazz club while earning a grade at the same time. Carnegie Mellon Professor David Pellow, director of the program, thinks the exam format is ideal.
"With jazz, our music is learned on the spot. There's no amount of preparation you can have to play on the spot," said Pellow.
Pellow also values the concert aspect of the exam because performing outside the classroom is the program's ultimate goal. Although improvisation and practice in the studio are necessary steps toward success onstage, without the integral inclusion of outside performances, the learning process is incomplete.
"Jazz is all about expressing yourself and telling your story. It's another form of communication and it's the response from the audience that inspires the player," Pellow explained. "When the audience communicates with the musician and he responds in kind, it offers the inspiration a musician needs. Without it, the music lacks. Reciprocation from the audience is what really creates the jazz atmosphere."     
Along with performing at local jazz clubs — like Gullifty's in Squirrel Hill and Martini's Restaurant in Jefferson Hills — students engage in the Pittsburgh community in other ways.       
Last fall, for example, 11 students enrolled in a new community-based jazz course that teamed the program with the Afro-American Music Institute of Homewood (AAMI). Under the direction of Dr. James Johnson, the students attended weekly ear-training and improvisation classes at AAMI, played frequent "jam sessions" at the Homewood Branch of the Carnegie Library, and performed for students at elementary schools in the area.      
Derek Eguae-Obazee, a senior chemical engineering major who studies drums through the program, says the class is a high point in his college career.     
"Learning from instructors in this community and seeing how the Pittsburgh jazz scene is close up, it taught me to give great respect for this community and the people who've played here, as well as for the history of this town," said Eguae-Obazee. "Working with the Afro-American Music Institute was one of the coolest things I've done at Carnegie Mellon — to know how your work is affecting people, to know what you're doing is worthwhile made it a valuable experience."     
Under the direction of Pellow, the Carnegie Mellon Jazz Ensemble took the stage at the Carnegie Music Hall, 4400 Forbes Avenue, in Oakland, Wednesday, Feb.28 at 8 p.m. The Carnegie Mellon 6:30 Jazz Ensemble, the large jazz ensemble, has been accepted to perform at the 2007 Villanova Jazz Festival to be held the week of March 25-31 at Villanova University. 
Related Links: Villanova Jazz Festival  |  School of Music
---