Treasures Abound in Rare Collection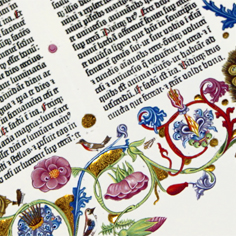 Among the unique treasures tucked away on Carnegie Mellon's Pittsburgh campus is the Posner Center, nestled between the College of Fine Arts and the Tepper School of Business.
The earth-sheltered building houses rare and historic books and artwork collected by alumnus Henry Posner, Sr. and his wife, Ida, parents of Carnegie Mellon Trustee Henry Posner, Jr.
"This magnificent collection focuses on the history of science and technology and on the fine arts, a rare combination suited to Carnegie Mellon's strengths as a university," said Gloriana St. Clair, dean of university libraries. "Henry and Ida were particularly interested in innovation and how ideas were not only formed but also replaced older understandings of the workings of the universe."
The couple's broad interests included democracy, religious freedom, literature and travel.
St. Clair explained that many rare book collectors only care about their books as beautiful objects. But she noted, "Henry read his books, learned languages in order to understand them and appreciated the ideas in them."
"Henry never wanted to sell his collection because he wanted his grandsons to use it," added St. Clair. "His son and grandchildren had the vision to digitize the collection so that students around the world can look at it."
Visitors can see a first printing of the United States Bill of Rights; a letter from Christopher Columbus to the Treasurer of Spain describing his voyage to America; and a 1663 edition of the Third Folio of Shakespeare, among other important historic documents.
Annually, two student interns work directly with the collection items and create the center's main exhibits on topics of their choosing. The student internships are part of the family's educational mission for the collection and are funded by the Posner Fine Arts Foundation.
Also on display at the center are the Posners' glass, ivory and jade art pieces collected from Asia and Europe.
The Posner Center gallery and exhibits are open to the public Monday through Friday from 1 to 4 p.m. It is closed on holidays and during special events.
Related Links: Posner Center Internships  |  Posner Center Homepage  |  University Libraries
---