Relaxation is His Business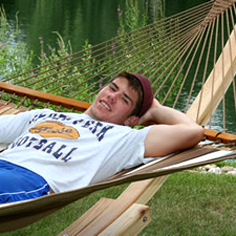 Many a vacationer has relaxed under the shade of a tree and thought, "If only I could bottle this feeling and sell it." Well, one Carnegie Mellon student made it his business—by selling hammocks.
"It's the perfect gift for someone who has everything," said Josh Kresge (HS '10), an economics major and the founder of HammockHutch.com. "I wanted to do something different, and when I looked around at hammock selections I noticed that most stores don't even offer them. At the ones that did, customers were limited to one choice."
HammockHutch.com offers serenity seekers a variety of fabrics in colorful stripes and patterns. Some are even quilted for added comfort, and the accessories available include cup holders, pillows and stands.
Kresge, who plays football at the university, has sold more than 100 hammocks since his business launched in 2006. His website has had over 15,000 visitors.
"I get a lot of support from my teammates," said Kresge. "They've worn HammockHutch.com hats around campus to help spread the word, and it has definitely helped."
Kresge notes that college can be a very stressful time for students, and according to stress management experts, a hammock is considered one of the top 10 stress-relieving products.
"Taking brief breaks while studying is considered a positive study habit," explained Kresge, who would like to see his business expand to academic institutions nationwide. "Who knows, maybe someday we'll see some hammocks emerge for students on our own campus."
While in Boston for the summer gaining valuable experience as an intern at a hi-tech data storage company, Kresge admitted he can't ignore what's become a nagging desire to follow an entrepreneurial career path.
"This is what I want to do," he said.
Hammock prices range from $45 to $200.
Photographed: Josh Kresge
Related Links: HammockHutch.com  |  Dietrich College of Humanities & Social Sciences  |  Tepper School of Business
---