Tepper Alum on Award-Winning Team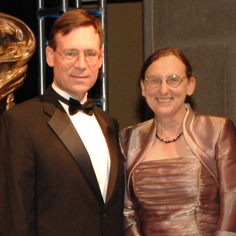 Since he was 3 years old, Carnegie Mellon alumnus Jim Beaver (TPR '04) remembers having a passion for airplanes. Now the manager of F119 Customer Support Engineering at Pratt and Whitney, Beaver oversees a team that provides technical support for the most advanced fighter engine in the world.
"I never had a thought that I would work in any other industry but aerospace," said Beaver, who got his MBA from the Tepper School of Business. "My job keeps me at the vanguard of aviation in a practical and meaningful way, and that is exactly where I want to be."
The F119 engine powers the newly operational F-22 Raptor. The Raptor and its team—which consists of Pratt and Whitney, Lockheed Martin, Boeing, Northrop Grumman, Raytheon and BAE Systems—are recipients of the 2006 Collier Trophy for their design, testing and operation of the aircraft.
Annually awarded by the National Aeronautic Association, the Collier Trophy is reserved for the highest achievement in aeronautics or astronautics in America.
Beaver recalls his days at Carnegie Mellon, thriving as a member of a student team in a collaborative environment.
"Not only was this a wonderful way to arrive at optimum solutions, but it is the way many enterprises work, especially in the aerospace industry," he said.
A pilot himself, he has spent a large part of his personal experience doing aerobatic flying.
"I love everything about aviation."
Beaver recommends that students take advantage of the tools provided by Carnegie Mellon and use them to continuously improve their enterprise.
"Continuously means you will never finish the job," he said. "Understand your customers. Learn to love teamwork, and learn to use teamwork to break away from the ordinary."
Photographed: Jim Beaver and his wife, Marti Harmon, in front of the Collier trophy (homepage photograph of the F-22 Raptor courtesy of Lockheed Martin) 
Related Links: Tepper School of Business  |  Read About the Award
---