Families Prepare for College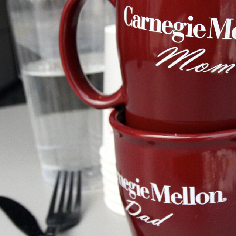 Sending a son or daughter off to college can be both exciting and overwhelming for parents. One of the many ways Carnegie Mellon University works to make that transition as seamless as possible is through Summer Welcome Receptions held in nine locations around the United States.
Among the incoming students and their parents who attended the Pittsburgh welcome reception on July 25 were Katie Zemel and her mother, Sharon.
"We came here tonight to meet some other students and parents, and to basically begin to feel like a part of the Carnegie Mellon community," said Sharon Zemel.
Regarding her daughter's plans to major in art, Zemel added, "Carnegie Mellon offers an excellent opportunity for what Katie wants to do. We also like that the university has many other strengths, good diversity and broad, well-rounded programs."
Janet Imbrescia, mother of incoming student Julian, said quality of the education was the number one reason they chose Carnegie Mellon.
"And it's close to home," she added.
Julian is thinking about majoring in economics, but plans to explore other opportunities while he's here.
"I think it will be interesting to see what doors a Carnegie Mellon degree will open for me," he said. "Maybe I'll get to travel to a big city and make a career there."
Julian's mom noted a feeling of reassurance when she arrived at the reception and saw who was there waiting to greet her: "I thought it was great that the students whose pictures were in the orientation packet were all here in person to talk with and answer questions," she said, smiling.
Alumni Relations collaborates with Student Affairs to organize many of the new student events. Alumni are often present at these events to assist in welcoming the new students to the university community.

"This is an extraordinary extended community and the network of alumni is committed to the institution, especially our newest students," said Judith M. Cole, director of alumni relations.  
According to Anne Witchner Levin, assistant dean of student affairs, the Summer Welcome Receptions are helpful in getting new students to meet others from their region. They also provide an opportunity to talk with current students and hear from Student Affairs staff members.
"Hopefully, when they arrive for Orientation on August 19, they will be less anxious and ready for the start of their academic career," Witchner Levin added.
The 2007 orientation staff includes current students Brittany McCandless, Colin Brush, Amanda Reapsummer, Christian Wagner and Kaylie Thompson.
Related Links: Orientation  |  Parents & Family Website
---