Capitalizing on a Weary Workforce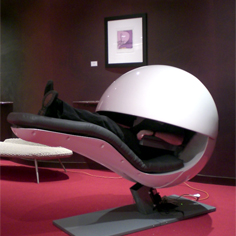 When Carnegie Mellon alumnus Arshad Chowdhury (TPR '03) began his first job at an investment banking firm in New York, he saw a familiar sight from his college days — people trying to grab a mid-day nap. A trained entrepreneur and raised in a family of innovators, Chowdhury quickly recognized a need and offered a solution.
"I co-founded MetroNaps with the goal of making it easier for people to take naps during the workday," he said. "Today students, doctors and office workers in the United States, Australia, Germany and the United Kingdom nap in the MetroNaps EnergyPod."
Designed to improve employee morale and boost the bottom line, the EnergyPod is a cozy, darkened nook that keeps external sounds out and internal ones in.
The result? A peaceful rest for the occupant — and for passersby who won't hear any snoring or music coming from the pod's built-in speakers.
Chowdhury, who received his master's degree in business administration from the Tepper School, credits Carnegie Mellon as being vital to his success. He recalls his professors as "a receptive and supportive audience" for his ideas. And as of summer 2007, nap-seekers at the university's Pittsburgh campus now have an EnergyPod of their own.
"That's where I tested the concept for MetroNaps," Chowdhury said. "I can't tell you how satisfying it was to return this past July to install an EnergyPod in the Hunt Library."  


Related Links: About MetroNaps  |  Tepper Magazine Article  |  Tepper School of Business
---