Greek Sing Raises $14K for Charity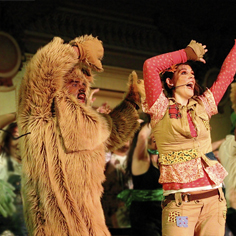 Carnegie Mellon's Greek community raised $14,000 to benefit Easter Seals through this year's Greek Sing.
Held in late March at Pittsburgh's Soldiers and Sailors Hall, the event featured fraternities and sororities performing 13-minute scenes from popular musicals and original scripts. Seniors Brea Carlock and Justin Forbes chaired this year's event.
"Compared to Greek Sings at other schools, this blew me away," said David Chickering, first-time judge and a House Fellow at the Mudge House.
The singles division featured performances by individual chapters, with Sigma Alpha Epsilon taking home the first-place trophy for "Snakes on a Plane II: Mongooses on a Plane."
"When the plane crashed, they had it land in the town from the movie 'Footloose' where the mongooses forced the townspeople to dance," explained Forbes. "Their creativity was surprising and comedic. They were definitely the crowd favorite. They closed with a song from 'Les Misérables' — 'Do You Hear the People Sing' — as a sort of revolt against their captors."
Kappa Alpha Theta and Phi Kappa Theta teamed up to win the doubles division with their ultra-condensed version of "The Wiz." According to Forbes, their act was a stand-out with its moving sets, which made the performers look as if they were actually walking the yellow brick road.
"Their costumes were really impressive," he said. "And the execution of their choreography made for great continuity to the story line." 
A panel of eight faculty and staff judges critiqued the performances on such qualities as music, choreography, overall entertainment value, clarity of storyline and use of props.
Funds were raised by selling program ads to businesses, family and friends. President and CEO of Easter Seals of Western Pennsylvania Larry Reiger presented the philanthropy award to Delta Delta Delta for raising the most money.
Photo submitted by Hannah Rosen/The Tartan

Related Links: Greek Life  |  Easter Seals  |  The Tartan
---