Carnegie Mellon's Borle Nominated for 'Legally Blonde' Role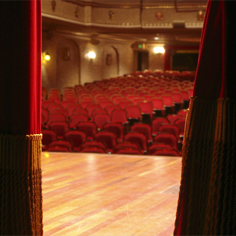 Carnegie Mellon alumnus Christian Borle earned a Tony nomination for his role in the Broadway musical "Legally Blonde." Borle (A '95) is up for Best Performance by a Featured Actor in a Musical at the Sunday evening ceremony.
The actor, singer, dancer and comedian told "Playbill" he feels as if he's "almost floating."
Carnegie Mellon's Don Wadsworth,  professor of drama, says Borle's comedic and musical abilities were evident almost from the beginning of his training.
"It was clear that he was an extraordinarily gifted performer," said Wadsworth. "In the business he is known as a character actor, which basically means he has to be very funny most of the time. Very few actors can turn that talent and type into a career when they are young.  It's normally a job for an older comic."
Wadsworth describes Borle as a supporting actor who can make a huge musical show work without pulling the spotlight away from the stars.
"It's unbelievably hard work being a strong singer, dancer, actor and comic," added Wadsworth. "Christian seems to have found the key to putting all of those gifts together in one performance — and is now being singled out for that nearly athletic achievement."
Borle's former classmates — and some of his closest friends, according to Wadsworth — include Patrick Wilson ("Oklahoma!" for which he was nominated, and film versions of "Phantom of the Opera" and " "Angels in America"); Matt Stocke ("Boy from Oz," "The Full Monty," "Wedding Singer"); and Michael Hollick ("Tarzan").
"Perhaps there was something in the water that year," mused Wadsworth. Then on a more serious note, he added, "Or perhaps there was a wonderfully healthy sense of creativity present in their ensemble and in their training."
Borle is married to Sutton Foster, who studied musical theatre at Carnegie Mellon and won a Tony award in 2002 for her performance in "Thoroughly Modern Millie."
The 61st Annual Tony Awards will appear on CBS Sunday, June 10 at 8 p.m. EST.
Related Links: School of Drama  |  L.A. Showcase 2007  |  New York Showcase 2007
---