Krzeminski Wins National Title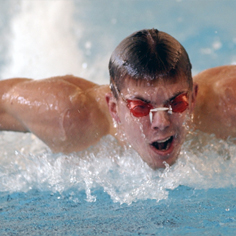 Carnegie Mellon senior Dave Krzeminski finished his college swimming career accomplishing something he never believed possible. On March 17, he won the 200-yard butterfly — an event he never even trained for before college — and became the 10th NCAA National Champion from Carnegie Mellon.
Krzeminski credits friend and former teammate Chris Pearson (E '05) for being around to talk strategy and train with during Krzeminski's first two years. Ironically, it was Pearson's school-record that Krzeminski surpassed — the one Pearson set when he, too, became a national champion during his senior year.
"Having competitive teammates to train with on a daily basis gave me extra motivation and desire," Krzeminski said of all his team members.
Krzeminski's path to national prominence began during his freshman year, with a fifth-place finish in the 200-yard butterfly at the University Athletic Association (UAA) meet and a 17th-place national finish.
The six-time All-America athlete says he didn't fully develop his strategy for swimming the 200-yard event until after his freshman year.
"I got faster every time I swam it and I finally found what worked for me while swimming at UAA's my sophomore year," he explained.
Through vigorous training and a new weight room on campus, Krzeminski topped out his career cutting 2.28 seconds off his previous best and 3.98 seconds off his first-year time.
Breaking 1:50.00 in the 200-yard fly at the 2007 UAA meet gave Krzeminski ideas that the elusive national championship was definitely attainable.
The goal was met that March afternoon — with Pearson in the stands gladly watching another Tartan win a national championship. 
Related Links: Read More  |  Athletics
---