Showcase Performances Jump-Start Actors' Careers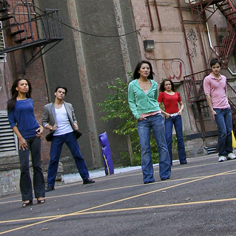 For most people, the robin is the first sign of spring. For actors in Carnegie Mellon's School of Drama — it's Showcase.
An hour-long performance made up of a series of two-minute scenes, Showcase lets the actors strut their stuff onstage in front of nearly 400 of the country's most notable casting directors, talent agents, managers and directors.
The east coast Showcase was held in March in New York; on May 7-8 the actors will also try their luck in Los Angeles.
"When we're in New York the students are aiming to land jobs primarily in theater," said Don Wadsworth, a Carnegie Mellon professor of drama and coordinator of the event. "Our LA version of Showcase is geared more toward television and film. So, we'll take out a lot of the music, dialects and accents, and the students will also change their look a bit to be more TV/movie-friendly."
The industry folks who attend are handed a response sheet to have in front of them as they watch the show. The response sheet features a small photo of each actor with boxes to check indicating if the agent wants the actor to send a head shot or call for an appointment.
Because the appointments are scheduled immediately, before the group returns to Pittsburgh, Wadsworth sees to it that the actors are prepared to handle themselves properly in an audition.
"Once they get a foot in the door, they've only got about fifteen minutes," he explained. "Landing a job is just as much of an art — a craft — as acting. You have to be able to manage yourself well in an audition."
Supplemental materials aimed at getting the actors' faces in front of the right people include the Showcase website and a DVD featuring the actors behind the scenes.
Many noteable Carnegie Mellon actors were shaped through the industry contacts they made at the showcases: Ted Danson, Cherry Jones, Ming Na, Laura San Giacomo, Patrick Wilson, Holly Hunter, Rene Auberjonois, James Cromwell, Charlie Haid, Jack Klugman, Judith Light, Blair Underwood and many others.
Related Links: Showcase 2007 Website  |  School of Drama
---