You Can Build Your Own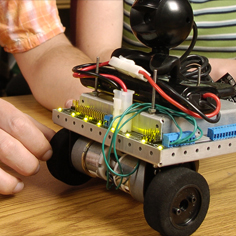 In addition to the lawn bags and light bulbs, the next time you visit your local hardware store you might want to pick up supplies for your own robot.
Carnegie Mellon researchers have developed a set of recipes for robots that can wirelessly connect to the Internet. The recipes are part of the Telepresence Robot Kit, or TeRK, and were  developed by Carnegie Mellon's Associate Professor of Robotics Illah Nourbakhsh and members of his Community Robotics, Education and Technology Empowerment (CREATE) Lab.
"The Internet connection means the robots are much more global," said Nourbakhsh, who explained that the robot can be operated remotely from any location, send photos or video, respond to RSS feeds or access the Internet to find information. "We're hoping that people notice that the sky's the limit," he added.
From making your kid's old teddy bear move, to a robot that keeps an eye on a new pet at home, to a six-petaled flower that can play catch, there's a range of robots you can cook up.
Emily Hamner, a senior research associate in the CREATE Lab, said people can customize the recipes to their liking — even design new robot types using what's called a Qwerk controller.
Developed by CREATE and Charmed Labs of Austin, Texas, Qwerk is a full-fledged computer with a Linux operating system that can use any computer language. "We leveraged several low-cost, high-performance components that were originally developed for the consumer electronics industry when we designed Qwerk," said Rich LeGrand, president of Charmed Labs. "The result is a cost-effective robot controller with impressive capabilities."
TeRK was developed with support from Google Inc., Intel Corp. and Microsoft, Inc. It's now being used in college courses, middle school classes and community outreach programs.

Related Links: TeRK  |  Robotics Institute
---