Bill Cosby to Address 2007 Grads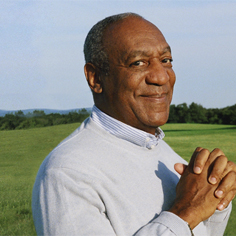 Bill Cosby will deliver the keynote address at Carnegie Mellon's commencement ceremonies on May 20. An award-winning comedian, actor, author and recording artist, Cosby is well known for his commitment to education.
"It's always a pleasure to see those fresh faces of new graduates," Cosby said. "It's also fun to notice the relieved smiles of the parents who are wondering, 'Are they going to be alright?' The unanswered questions are now really directed at them."
Cosby has won many awards and honors for his work — among them, several Emmy and Grammy Awards; the Kennedy Center Honors Lifetime Achievement Award in 1998; and the Presidential Medal of Freedom in 2002.
He and his wife, Camille — both of whom have Ph.D.s in education — have contributed financially to a range of universities and have delivered many commencement addresses in their efforts to emphasize the importance of learning.
Cosby will also receive an honorary doctorate of humane letters from Carnegie Mellon. Joining him will be five other honorary degree recipients:
Helen S. Faison, director of the Pittsburgh Teachers Institute, will receive a doctor of humane letters.
Wilton A. Hawkins (E '48), founder of Chemplast and retired vice president of Norton Performance Plastics Division, will receive a doctor of science and technology.
Paolo Lugari, civil and environmental engineer who founded the Gaviotas community in Colombia, South America, will receive a doctor of science and technology.
Gerald C. Meyers (E '50, TPR '54), former executive with American Motors, Ford Motor Company and Chrysler Corporation and current president of his own consulting firm, will receive a doctor of business practice.
Earl Wild (E '37), world-renowned classical pianist, will receive a doctor of fine arts.  
More than 2,100 undergraduate and graduate degrees will be conferred at this year's commencement. The ceremony will be broadcast live online. 
Photography by Erinn
Related Links: Commencement
---