Celebrating Honors and Achievements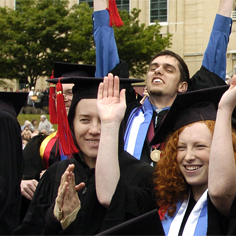 More than 2,100 undergraduates and graduates received degrees at Carnegie Mellon's 110th Commencement Ceremony on Sunday, May 20. Comedian Bill Cosby delivered the keynote address.
The ceremony began at 11 a.m. in Gesling Stadium, with seating on a first-come, first-served basis. For those unable to attend this special event in person, the ceremony was broadcast online.
In addition to the ceremony, activities were held at the colleges, schools and other locations campus-wide including breakfasts, receptions and a "Zero-Year Reunion."
Cosby and his wife, Camille, have contributed financially to a range of universities and have delivered many commencement addresses in their efforts to emphasize the importance of learning. On this day, he received an honorary doctorate of humane letters from Carnegie Mellon. 
Others who received honorary degrees at the ceremony:
Helen S. Faison, director of the Pittsburgh Teachers Institute — doctor of humane letters; 
Wilton Hawkins, founder of Chemplast and former vice president of Norton Performance Plastics Division — doctor of science and technology;
Civil and environmental engineer Paolo Lugari — doctor of science and technology;
Gerald C. Meyers, former Ford Distinguished Professor of Business at the Tepper School and executive with American Motors, Ford Motor Company and the Chrysler Corporation — doctor of business practice; and
World-renowned classical pianist Earl Wild — doctor of fine arts.
For more information, visit the commencement site.
Update: April 26, 2018—University Statement: Revoking Bill Cosby's Honorary Degree
Related Links: Weekend Events  |  Visitor Info  
---