Sending the Kids Off to College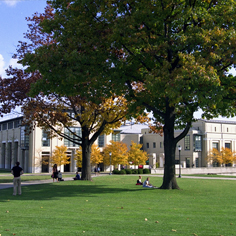 Anulika Ezekwe, a dedicated mother of five, doesn't like to make mistakes — particularly when it comes to her children. So when it came time to send her firstborn, Emeka, off to college, the family did its homework. Carnegie Mellon University became Emeka's first choice of college.
"You can see that people really enjoy being here," Anulika said of the university's Pittsburgh campus. She explains, "Everyone's so friendly. You go to buy a coffee in the cafe, and people smile at you."
She added, "The deans talk to you and help you to understand how things are going to work. The kind of responsiveness from faculty you have here — that is priceless."
Emeka got his first taste of student life at Carnegie Mellon through attending a sleeping bag weekend. A colleague of Anulika's husband recommended the visit based on Emeka's interest in robotics and Carnegie Mellon's reputation for having what he considered the best robotics program in the country. Emeka is here studying electrical engineering.
Two years later, it was time for Anulika's third child, Ifeoma, to head off to college. She followed in her brother's footsteps and is now majoring in chemical engineering at Carnegie Mellon.
"Ifeoma is not like Emeka; she is quieter than he is — more reserved. So it was a surprise to us that she loves being here, too. She adjusted so well," Anulika said.
Meanwhile, Anulika's second child Chioma was attending a college of her own choosing and not finding happiness in its rural environment.
"So naturally, I asked, 'have you considered Carnegie Mellon?' and then Chioma decided to come here, too," Anulika said.
Chioma is studying biochemistry and considering medical school. And as they say, three's a charm; Chioma likes Carnegie Mellon, too, according to her mother.
"It's very important to me that my child is comfortable in the environment, and that they are welcome," she explained. "If so, I know they're going to do well."
All family members in the Carnegie Mellon community were invited to attend the university's annual Family Weekend celebration, which took place Friday, Nov. 2 through Sunday, Nov. 4.
Related Links: Family Weekend  |  Undergraduate Admission  |  The Global University
---