Furniture Exhibition at Miller Gallery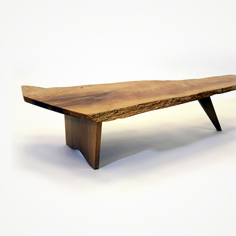 An exhibition by Japanese-American artist, architect and woodworker George Nakashima is showing at the Regina Gouger Miller Gallery on Carnegie Mellon's Pittsburgh campus. "Nakashima Revealed," a collection of furniture pieces created by the artist, runs through October 28, 2007.
Rachel Delphia, an adjunct professor in Carnegie Mellon's School of Design, is curating the Nakashima exhibition with help from a team of design students.
"I first noticed Nakashima's furniture at Carnegie Mellon when I was a student, and I remember thinking that it was too beautiful to be hiding in offices," said Delphia, a graduate of Carnegie Mellon's College of Fine Arts and its College of Humanities & Social Sciences. "I feel very privileged to have the chance to reveal the collection at this point and to celebrate it with the campus community."
Born in Spokane, Washington, Nakashima developed a love of nature and an appreciation for trees as a Boy Scout roaming the mountain forests of the Pacific Northwest. In 1929, and after spending a year abroad on scholarship at the École Américaine des Beaux Arts in Fontainebleau, France, he graduated from the University of Washington with a bachelor of architecture. In 1930 he graduated from MIT with a masters of architecture.
In 1943, Nakashima settled near New Hope, Pennsylvania, with his wife and daughter. There, he began building a home and a craft furniture business that would sustain him for the rest of his life.
The university owns about 60 pieces of Nakashima furniture, most of which were installed in 1965 and 1966 at the request of locally acclaimed interior designer Paul Planert. Major museums around the country, including the Carnegie Museum of Art, have acquired pieces of Nakashima's furniture.
Nakashima is recognized as one of the pioneers of the American craft and studio furniture movements. His New Hope workshop continues to produce hand-crafted furniture and custom designs under the direction of his daughter, Mira Nakashima.
The Miller Gallery is open from 11:30 a.m. to 5 p.m., Tuesday through Sunday. Visitor parking is available in the East Campus Parking Garage on Forbes Avenue, just east of the Morewood Avenue intersection. For more information, call (412) 268-3618.
Photographed: Conoid bench, George Nakashima, 1966. American black walnut and hickory with East  Indian rosewood butterfly. Photo courtesy Dylan Vitone

Related Links: College of Fine Arts
---