Undefeated Season Continues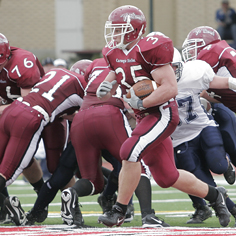 The Carnegie Mellon Tartans won their first playoff game in 27 years, defeating Millsaps (Miss.) College on Nov. 18, 2006, by 21-0. Playing for an NCAA Football Championship, the team held their opponents scoreless for the third time this season.
"The great thing about this football team is they are totally unselfish, they don't care who runs the ball, who scores the touchdowns," said Head Coach Rich Lackner. "They care about one thing and one thing only and that's winning football games."
Carnegie Mellon's all-time leading rusher, junior Travis Sivek, scored two touchdowns and rushed for 108 yards. Junior running back Robert Gimson totaled 142 yards and compiled over 1,000 yards rushing for the season. And with the third-ranked scoring defense in the nation, the Tartans caused five turnovers, including three timely interceptions.
This year, Gimson and Sivek became two of only three Tartan players to break 1,000 yards in a single season.
An NCAA Division III team, Tartan football players are nationally respected for their game on the field and in the classroom. Between 1970 and 2005, the team has earned 54 Academic All-America recognitions. This year, 12 players made the Academic All-District, with eight moving on to the national ballot.
Related Links: Carnegie Mellon Athletics  |  Carnegie Mellon Football
---