Students, Family Share Experiences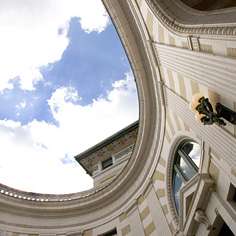 More than 1,000 students will have visitors Nov. 3-5, 2006, for the annual Carnegie Mellon Family Weekend. With three days of events, families have the opportunity to learn more about students' lives on and off campus.
"Parents, brothers and sisters, and other relatives will get the chance to see the Carnegie Mellon experience in action this weekend," said Anne Witchner Levin, the assistant dean of student affairs. "Whether it's attending a sporting event or meeting with faculty and staff of a specific college, the weekend's events offer something for everyone." 
Family Weekend events include a Cabaret Dessert act, showcasing student performers; athletic events including football, swimming, volleyball and soccer; academic meetings featuring Carnegie Mellon deans and faculty members; river cruises and a music recital, featuring School of Music performers; and a Sunday a cappella brunch.
"With families coming from all over, we're expecting anywhere from 2,000 to 3,500 campus visitors this weekend," added Levin. "While it's often first year students and their parents who take advantage of the weekend, we see a lot of families come back year after year. Many holidays are spent back home, so people really relish this weekend as a way to see students in their own environment and discover new things about the remarkable opportunities here at Carnegie Mellon."
The weekend also coincides with the 16th Annual International Festival.
Related Links: Family Weekend
---