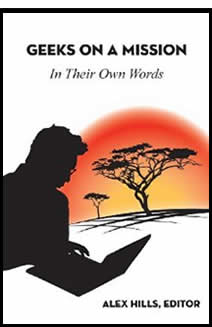 Get the book!
In Geeks on a Mission, alumni share experiences working in developing countries through Carnegie Mellon's Technology Consulting in the Global Community program.
The editor, Alex Hills, has been a long-time advisor and mentor to the program. In this inspiring book, he brings together the contributions of five alumni who tell their stories of what drove their interest, what they experienced abroad, and what lasting impact it has had on their lives.
Your Donations will help give more students the opportunity to make a difference. Donate today!