The Leonard Gelfand Center for Service Learning & Outreach creates and supports activities that enable Carnegie Mellon faculty, students and staff to share their energy and expertise to improve educational outcomes for K-12 students, through direct programming or through educator professional development. The Center leverages long-term relationships with community organizations to facilitate partnership development for new educational initiatives. STEM-focused education programs are our priority.
NOTE: The Gelfand Center staff works to ensure that our programs are available to populations that may not have access to high-quality STEM education experiences.  Our digital resources are available for teachers to use with their classes, or the materials can be accessed by individual students or parents.  We provide fee waivers for students who qualify for reduced/free meals at school to participate in the Gelfand Outreach in-person classes.  Please contact us for more information.
How We Began
Carnegie Mellon Outreach Center Named for Chagrin Falls Resident Leonard Gelfand
PITTSBURGH - [2006] Carnegie Mellon University's Center for School Outreach has been renamed the Leonard Gelfand Center for Service Learning and Outreach in honor of Chagrin Falls, Ohio, resident Leonard Gelfand. The center was renamed in recognition of a gift from Leonard Gelfand's nephew and Carnegie Mellon alumnus Mark Gelfand, a native of South Euclid, Ohio, and son of Dolores and the late Harvey Gelfand.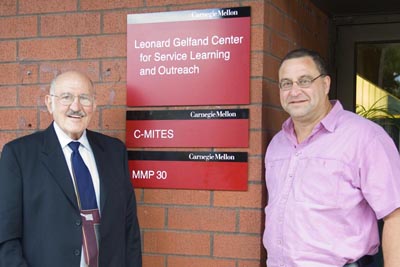 Leonard and Mark Gelfand
A dedication luncheon, which included Leonard Gelfand, his wife Barbara, Mark Gelfand and family and friends, was held at Carnegie Mellon in late September.
Mark Gelfand, a co-founder of Intex Solutions in Needham, Mass., said his gift to the center is a gesture of thanks to an uncle who inspired him as a child and throughout his life.

"As an electrical engineer, my uncle Leonard was the first in the family to pursue a technical career. He had an influence on me growing up, and electronics became very interesting to me," said Mark Gelfand, who earned a bachelor's degree in physics from Carnegie Mellon in 1973.

"When I was 13 he gave me a shortwave radio kit. The radio didn't work at first and I spent many evenings fixing it. That experience galvanized my interest in electronics and the physical sciences involved in electronics. That single gift inspired me and took me through to Carnegie Mellon and on to where I am today," Mark Gelfand said.

When Leonard Gelfand was chief engineer of Erico in Cleveland and Solon, Ohio, his nephew, Mark, worked there during the summer and learned about factories and innovation.

"My experience there strongly influenced my career and my business," Mark Gelfand said. "Up until then I had built things mainly by hand, but when I worked at my uncle's factory I began to see that machines can do things mechanically and economically. Those tools that he introduced me to helped me become who I am, and helped shape what I do today."

The Leonard Gelfand Center for Service Learning and Outreach, under the direction of Judith Hallinen, supports more than 75 university-wide programs for K-12 students and teachers aimed at improving and enhancing the teaching and learning process. Carnegie Mellon students, faculty and staff are active participants in its many outreach initiatives, which include certification and professional development programs for teachers and administrators; tutoring, mentoring and enrichment courses for students; and activities for students aimed at improving local communities. The center works to connect university students to volunteer and paid positions that allow them to develop expertise while meeting the needs of local agencies and individuals.

"Mark Gelfand's gift will help to enhance and expand the work that we do at the center," Hallinen said. "The Leonard Gelfand Center will support the work of faculty, staff and students to design and implement outreach efforts that will motivate and inspire others as Mr. Gelfand has inspired his nephew. We are honored to be named for such a nurturing and caring humanitarian."
A Statement from the Vice Provost for Education
The Leonard Gelfand Center for Service Learning and Outreach serves as a bridge between Carnegie Mellon and the community, providing opportunities for faculty, students and staff to share their time and expertise to impact the of children and adults in the community.  
Gelfand Center services provided to individuals, schools and community organizations, such as tutoring services, Gelfand Outreach classes, educator professional development, and the work of the Gelfand STEM Ambassadors, help to enrich educational experiences of K-12 students, especially in STEM fields, while also supporting the personal and professional growth of Carnegie Mellon students.
I am grateful to alumnus Mark Gelfand S '73 for his generous funding of this Center. His gift supports Carnegie Mellon's mission to "impact society in a transformative way by engaging with partners."  I also acknowledge gifts of other Carnegie Mellon alumni, including Bernard Meisner S '71, Paul Kelly E '77, and Noelle DC '82 and David Conover E '79, '81, which enable these efforts.
You are invited to explore the programs and activities shared on this web site.  Please reach out to the Gelfand Center staff to learn more or to share your ideas for future partnerships.
Amy Burkert, PhD
Community Impact
Carnegie Mellon University, a private research institution, offers more than 150 distinct opportunities to improve the education process, and to increase content and skills knowledge for teachers and students in southwestern Pennsylvania. Although the university does not have a school or department of education, Carnegie Mellon has unique resources, perspectives and expertise to help our society revitalize education by providing experiences that lead to enhanced in-depth content knowledge for teachers and students.

Here, individuals and groups with innovative ideas and strong commitment have sparked an intellectual revolution among thousands of children - from pre-school students through high school seniors. Carnegie Mellon students tutor primary, middle and secondary school students in academic subjects and the fine arts, and mentor young children seeking a successful future through education. Teachers work alongside campus researchers who are solving modern-day problems such as how to create new tissue to repair a damaged organ, or how to safely intervene when biological hazards threaten to harm thousands. Elementary, middle and high school students are made aware of cutting-edge technology in the fields of chemistry, computer science, robotics, engineering and mathematics. Individuals complete requirements for Pennsylvania certification in Music Education, while certified teachers can earn Act 48 hours while learning from university faculty, staff, graduate students and researchers.

The dedication of human and technological resources to create and disseminate knowledge through research, artistic expression, teaching and learning, and to transfer this new knowledge to society is the mission of our institution.
Talented and Energetic University Students
Hundreds of Carnegie Mellon graduate and undergraduate students participate each year in K-12 outreach initiatives, serving as tutors, mentors, lab assistants, group leaders and instructors. They testify that experiences in outreach programs are often their most meaningful educational experiences on campus.
Honor Roll and Past Work
President's Higher Education Community Service Honor Roll
Carnegie Mellon University has been recognized on the President's Higher Education Community Service Honor Roll from 2007-2015. [Note: this program was discontinued after 2015].
Carnegie Mellon faculty, staff and students participate in numerous educational outreach and service activities that benefit individuals and organizations outside of the university. The Leonard Gelfand Center compiles data and submits the university's annual application to the President's Higher Education Community Service Honor Roll. We are proud to be at an institution where each year, students contribute more than 210,000 hours to the community through service learning courses, student service organizations and other volunteer activities!
Pittsburgh Science and Technology Academy  
The initial design of the Science and Technology Academy of Pittsburgh Public Schools was completed by a student group in the Systems Synthesis course at the Heinz College. Dozens of Carnegie Mellon faculty, staff and students contributed to the planning process and operation of this exciting school. The innovative schedule embeds academic enrichment and support into the school day so that all students can participate.  Since the school opened in fall 2009, the Leonard Gelfand Center has employed Carnegie Mellon students to provide tutoring services for students in grades 6-12.
Student Tutors and Mentors
Student organizations provide tutoring and mentoring services in partnership with many local schools and organizations in Pittsburgh. Carnegie Mellon students provide more than 215,000 hours of service to the local community annually. We applaud the efforts of Carnegie Mellon students who make working with local children a priority!
A Thank You from Carnegie Mellon University to our Sponsors
Our institution is proud to report about so many worthwhile pre-K -12 programs and to be able to highlight the numerous ways these efforts can improve the educational experience for so many children and adults in the region. The benefits of these programs are mutual. Not only do we see important advancements for our school partners, but we enjoy rewards from these efforts as well. We benefit by:
Helping Carnegie Mellon students serve their community, develop interpersonal and leadership skills, and learn from the experiences of people from different environments and cultures;
Allowing many Carnegie Mellon staff and faculty members to find new perspectives and insights into their own disciplines and explore new ways to transfer knowledge to today's society in real and meaningful ways;
Preparing future college students for the types of challenges they will face studying at universities like ours;
Attracting prospective undergraduate students through participation in pre-college and other demanding programs;
Enabling the university to prepare minority students for more successful college careers and helping enrich Carnegie Mellon's diverse campus community.
Without the generous funding provided by numerous organizations, such significant work would not be possible. Carnegie Mellon school outreach efforts are supported through the generosity of:
Local and national foundations
Corporations
Local, state and federal government
School Districts
Individual contributors
This website highlights some of the programs that are currently serving teachers and students in the region.