The Leonard Gelfand Center for Service Learning & Outreach supports activities that enable Carnegie Mellon students, faculty and staff to use their energy and expertise to improve the quality of life, motivate learners of all ages, or solve problems in the community. We assist with partnership development with individuals, school districts and organizations in Pennsylvania and beyond to design and implement programs and service learning course activities. STEM education outreach programs are our priority.
Our History
Carnegie Mellon Outreach Center Named for Chagrin Falls Resident Leonard Gelfand
PITTSBURGH - Carnegie Mellon University's Center for School Outreach has been renamed the Leonard Gelfand Center for Service Learning and Outreach in honor of Chagrin Falls, Ohio, resident Leonard Gelfand. The center was renamed in recognition of a gift from Leonard Gelfand's nephew and Carnegie Mellon alumnus Mark Gelfand, a native of South Euclid, Ohio, and son of Dolores and the late Harvey Gelfand.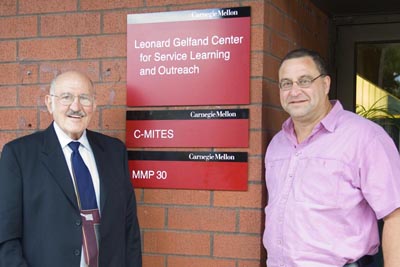 Leonard and Mark Gelfand
A dedication luncheon, which included Leonard Gelfand, his wife Barbara, Mark Gelfand and family and friends, was held at Carnegie Mellon in late September.
Mark Gelfand, a co-founder of Intex Solutions in Needham, Mass., said his gift to the center is a gesture of thanks to an uncle who inspired him as a child and throughout his life.

"As an electrical engineer, my uncle Leonard was the first in the family to pursue a technical career. He had an influence on me growing up, and electronics became very interesting to me," said Mark Gelfand, who earned a bachelor's degree in physics from Carnegie Mellon in 1973.

"When I was 13 he gave me a shortwave radio kit. The radio didn't work at first and I spent many evenings fixing it. That experience galvanized my interest in electronics and the physical sciences involved in electronics. That single gift inspired me and took me through to Carnegie Mellon and on to where I am today," Mark Gelfand said.

When Leonard Gelfand was chief engineer of Erico in Cleveland and Solon, Ohio, his nephew, Mark, worked there during the summer and learned about factories and innovation.

"My experience there strongly influenced my career and my business," Mark Gelfand said. "Up until then I had built things mainly by hand, but when I worked at my uncle's factory I began to see that machines can do things mechanically and economically. Those tools that he introduced me to helped me become who I am, and helped shape what I do today."

The Leonard Gelfand Center for Service Learning and Outreach, under the direction of Judith Hallinen, supports more than 75 university-wide programs for K-12 students and teachers aimed at improving and enhancing the teaching and learning process. Carnegie Mellon students, faculty and staff are active participants in its many outreach initiatives, which include certification and professional development programs for teachers and administrators; tutoring, mentoring and enrichment courses for students; and activities for students aimed at improving local communities. The center works to connect university students to volunteer and paid positions that allow them to develop expertise while meeting the needs of local agencies and individuals.

"Mark Gelfand's gift will help to enhance and expand the work that we do at the center," Hallinen said. "The Leonard Gelfand Center will support the work of faculty, staff and students to design and implement outreach efforts that will motivate and inspire others as Mr. Gelfand has inspired his nephew. We are honored to be named for such a nurturing and caring humanitarian."
A Statement from the Vice Provost for Education
The Leonard Gelfand Center for Service Learning and Outreach serves as a bridge between Carnegie Mellon and the community, enabling faculty, students and staff to share their time and expertise to impact the educational experiences of many children and adults.  
Gelfand Center partnerships with K-12 schools and community organizations together with support for service learning embedded in university courses help to improve science and scholarship while enhancing the educational experiences of many students at CMU and in the community.
I am grateful to Mark Gelfand for his generous support of this Center; his gift supports Carnegie Mellon's mission of "service to society and transfer of knowledge."  I also acknowledge long-term gifts of other alumni, Bernard Meisner and Paul Kelly, and friends of CMU, Paul Walker and Jennifer Wheary, which also support these efforts.
You are invited to explore the programs and activities shared on this web site.  Please reach out to the Gelfand Center staff to learn more or to share your ideas for future partnerships.
Amy Burkert, PhD