May 17, 2017
Burton selected student board member for ASM's Board of Trustees
Mari-Therese Burton, an MSE undergraduate, was one of three students selected to be a student board member for ASM International's Board of Trustees. This opportunity will enable her to further her knowledge and gain firsthand experience with the issues and matters of the materials science community, as well as network with some of the best leaders in ASM and the materials science community.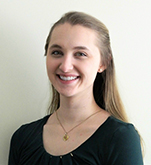 Each student board member is assigned with an ASM trustee who serves as a "Board Mentor" guiding their student through the process of becoming an active board member.
Mari-Therese, has just completed her junior year. She is looking forward to her first ASM meeting, which will be held June 26-28 in Cleveland. She will also be introduced to the two other students who have been selected: Olga Eliseeva, Texas A&M, and Jonathan Healy, Case Western. Mari-Therese was recommended by Prof David Laughlin.