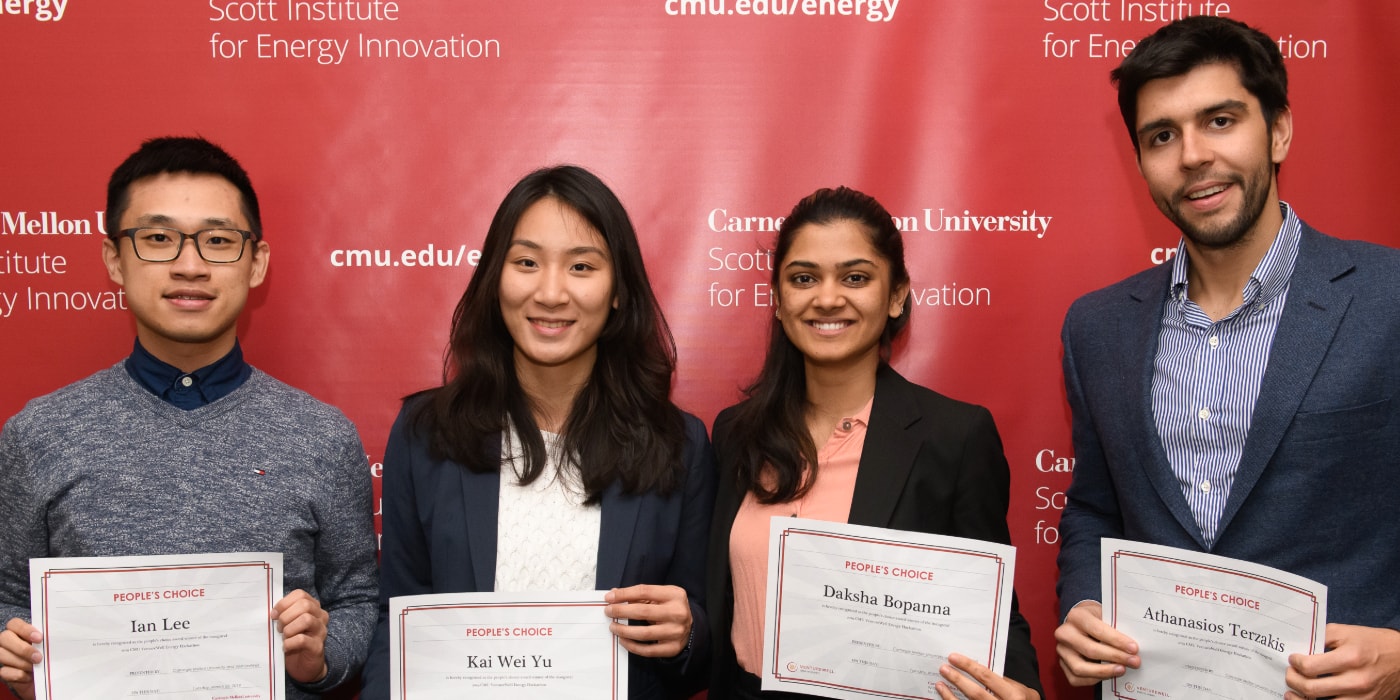 April 23, 2019
EST&P Students Stand Out at CMU Energy Week 2019
While many students across campus participated in CMU Energy Week 2019, EST&P students stood out as winners in the very popular Student Research Poster Competition and finalists in the inaugural CMU VentureWell Energy Hackathon.
On March 25, the Wilton E. Scott Institute for Energy Innovation at Carnegie Mellon University hosted the inaugural CMU VentureWell Energy Hackathon. Nineteen teams of undergraduate and graduate students from Carnegie Mellon University and the University of Pittsburgh participated in the event. Each team chose challenges presented by partner organizations: Chevron, Honda, NextEra Energy Resources, the Port Authority of Allegheny County and Pittsburgh Parking Authority. Fourteen EST&P students participated in the hackathon.
Students formed interdisciplinary teams of four members to combine their energy expertise, data analytics, business intelligence and economic reasoning to solve a specific problem presented to them. Participants had the chance to win up to $2,000 and network with energy companies, expert judges and mentors throughout the event. The teams selected their company challenges and had 24 hours to come up with an innovative solution specific to each participating organization.
EST&P student Andrew Jones, along with CMU Civil and Environmental Engineering MS students Simon Weishaeupl, Hongrui Yu and Yifan Zhao, were finalists for the Pittsburgh Parking Authority challenge, while EST&P students Daksha Bopanna, Nassos Terzakis, and Greta Yu, along with Ian Lee, MS student in the CMU Departments of Computational Biology and Machine Learning, were the finalists for the NextEra Energy challenge. In addition, Bopanna, Terzakis and Yu's team took home the People's Choice Award. Their team, HackOverflow, was required to do day-ahead load forecasting for a given city's load profile. Congratulations to Andrew, Daksha, Nassos and Greta for making it to the final round of the CMU VentureWell Energy Hackathon!
On Tuesday, EST&P students took part in the fourth annual CMU Energy Week 2019 Student Poster Competition, which allows students and postdoctoral researchers to network with energy leaders while also sharing their cutting-edge research with attendees. Our students contributed to six posters, including the poster titled "Powering the Future with Wastewater" by Carolyn Goodman, Daksha Bopanna, and Vibhor Kumar, who claimed second place for their work. EST&P alumnus and Mechanical Engineering PhD student Shashank Sripad's poster titled "Can Autonomous Light Vehicles be Fully Electric?" won the People's Choice award. Congratulations to Carolyn, Daksha, Vibhor, and Shashank for their accomplishments during the Poster Competition!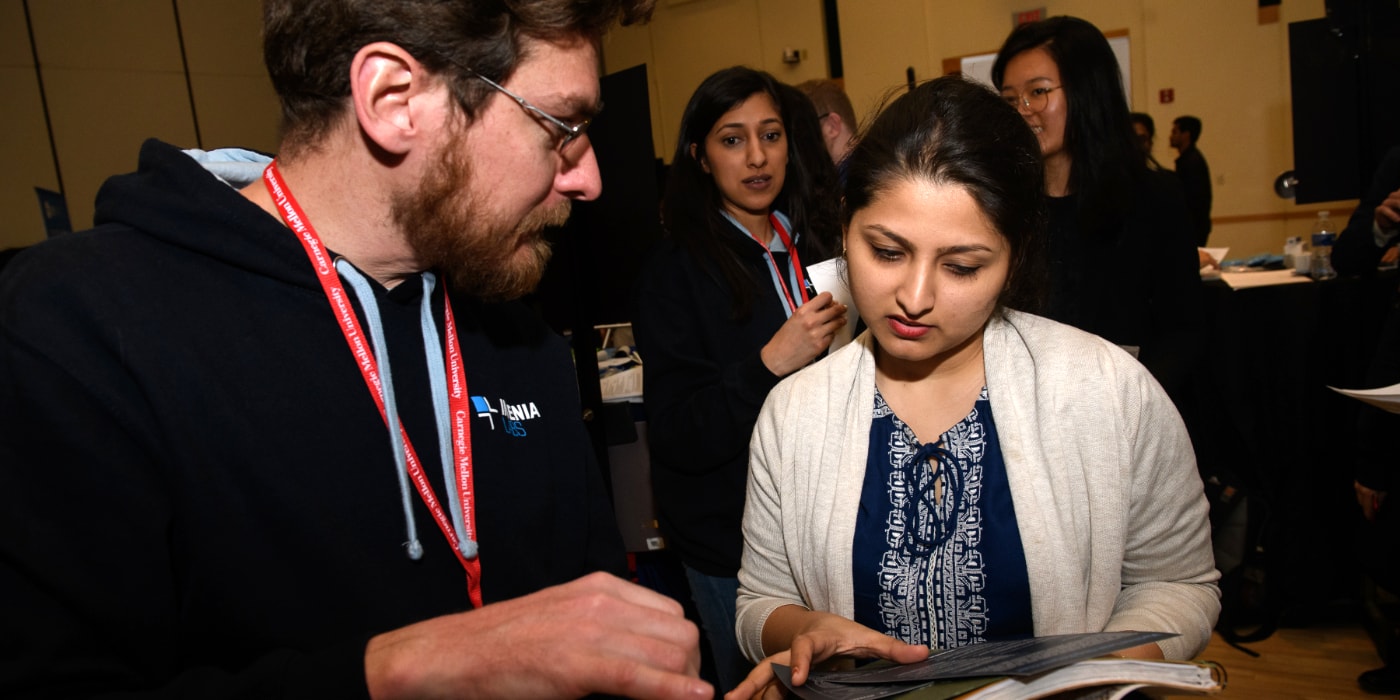 EST&P student Poorna Mujumdar reviews materials during the Energy Industry Career Fair
EST&P students also took part in the annual Energy Industry Career Fair, in partnership with CMU's Career and Professional Development Center, the Scott Institute for Energy Innovation, the EST&P program and the University of Pittsburgh. The event drew over 140 students. EST&P students had the opportunity to speak with over 25 companies including Chevron, Dominion Energy, KeyLogic, West Monroe Partners about possible summer internships and full-time employment opportunities.  
If you couldn't make it to Energy Week, videos of most keynote speeches, panels and innovation pitches are available. Make sure to save the date for CMU Energy Week 2020, March 23-27.