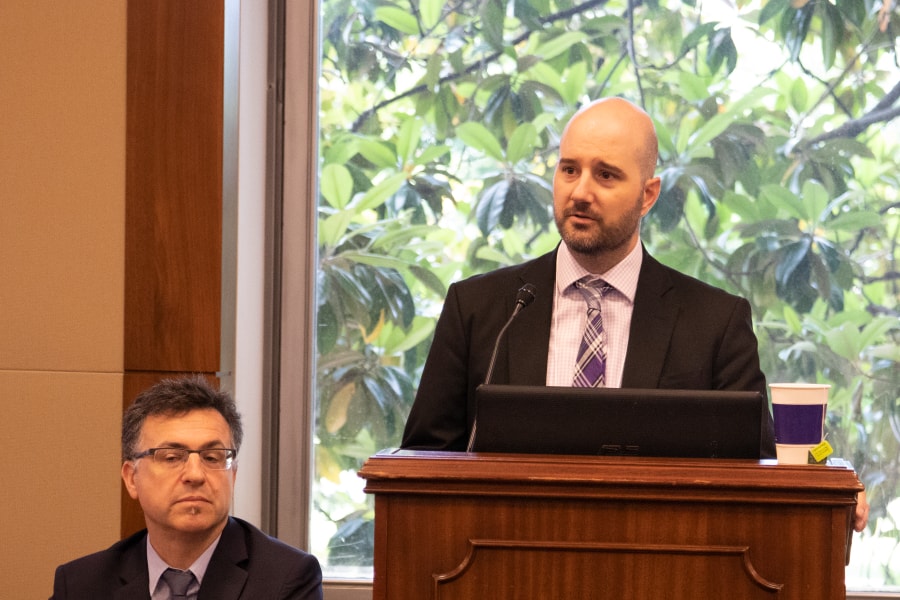 June 05, 2019
Scott Institute Hosts Policy Briefing in Washington, D.C.
On Thursday, May 23, the Wilton E. Scott Institute for Energy Innovation hosted a policy briefing in Washington D.C. to provide guidance to policymakers who make decisions related to energy, transportation, and buildings. Michael Whiston, Postdoctoral Research Associate in the Department of Engineering and Public Policy, delivered his findings on experts' assessments of fuel cell cost, performance, and overall viability during the briefing. Department of Civil and Environmental Engineering Associate Professor, and EST&P core faculty member, Constantine Samaras delivered the briefing's opening remarks, and moderated the "Opportunities and Challenges Facing Fuel Cells" panel. Panelists included energy and policy experts from non-profit organizations, businesses, and research laboratories.
The Scott Institute for Energy Innovation reported that the findings from a recent study suggest that fuel cells could meet the U.S. Department of Energy's cost and degradation rate targets by 2035–2050, and an increase in RD&D spending on electrodes and catalysts, fuel cell durability, and systems integration and demonstration will significantly accelerate progress toward achieving goals.
Fuel cells can generate efficient, clean, and quiet power for transportation, distributed generation, and utility applications. The institute seeks to answer the question: What are the challenges and opportunities facing fuel cells, and what are the strategies for achieving wider adoption?
In a three-year project funded by the Alfred P. Sloan Foundation, Carnegie Mellon researchers elicited over 100 experts' assessments of the cost and performance of fuel cells.
It was recommend that policymakers create regulatory and incentive-based policies and that additional fuel cell and hydrogen RD&D be implemented to advance the widespread viability of fuel cells. For additional news about the Scott Institute for Energy Innovation, please visit their website.