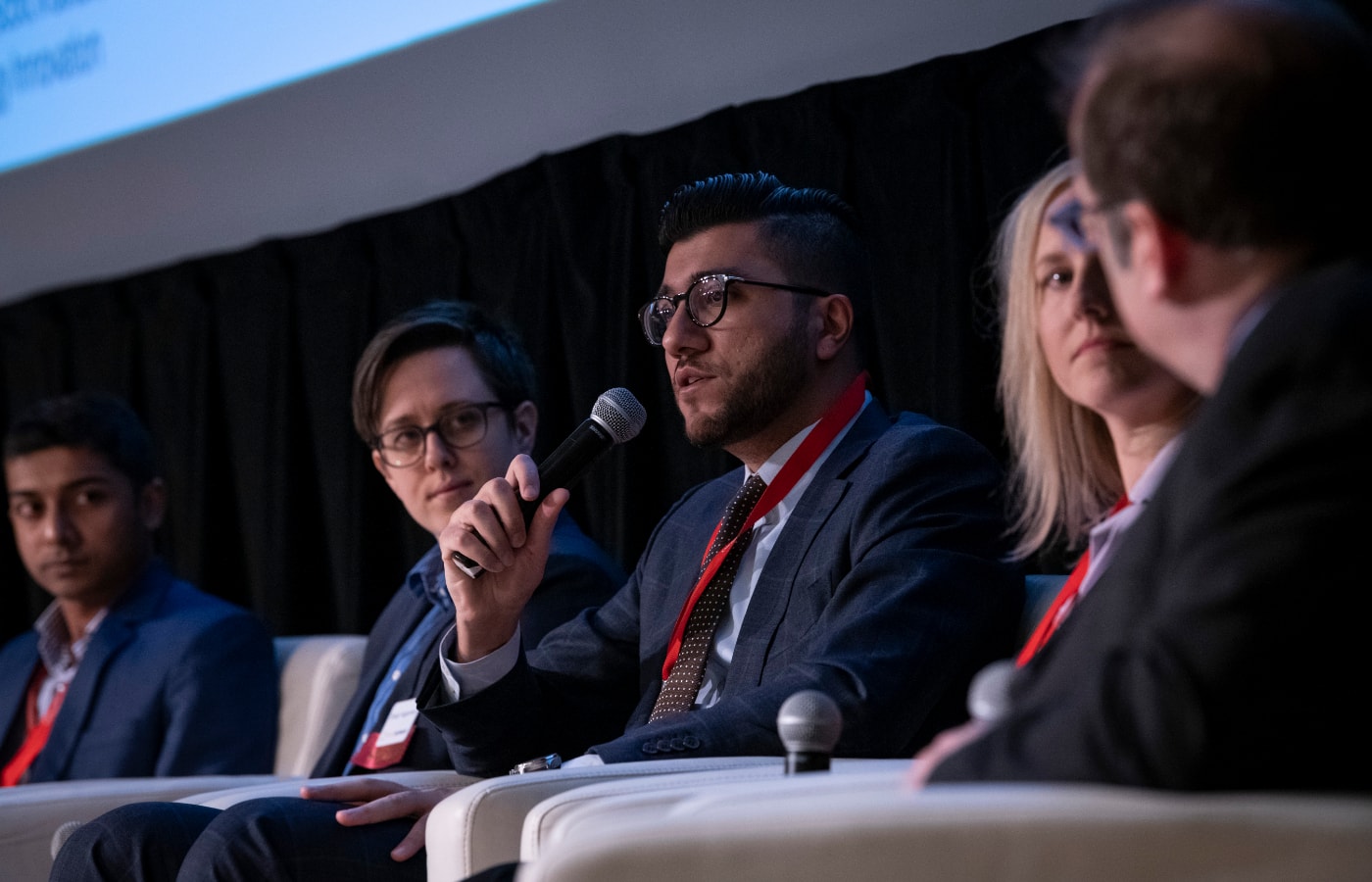 April 24, 2019
CMU Energy Week 2019 Features EST&P Faculty and Student Research
CMU Energy Week 2019, hosted by Carnegie Mellon University's Wilton E. Scott Institute for Energy Innovation March 25-28, welcomed thought leaders from all energy and cleantech sectors to engage and collaborate on research, trends, insights and opportunities that are making a significant and disruptive impact. Between keynotes, panels, tours, a poster competition and a 24-hour hackathon, attendees were able to hear different perspectives on the many facets of the energy field from industry leaders, CMU faculty members and alumni. EST&P was well represented with nearly all core faculty members moderating a panel, some core and affiliated faculty participating as panelists and EST&P students presenting their research and innovative ideas throughout the week.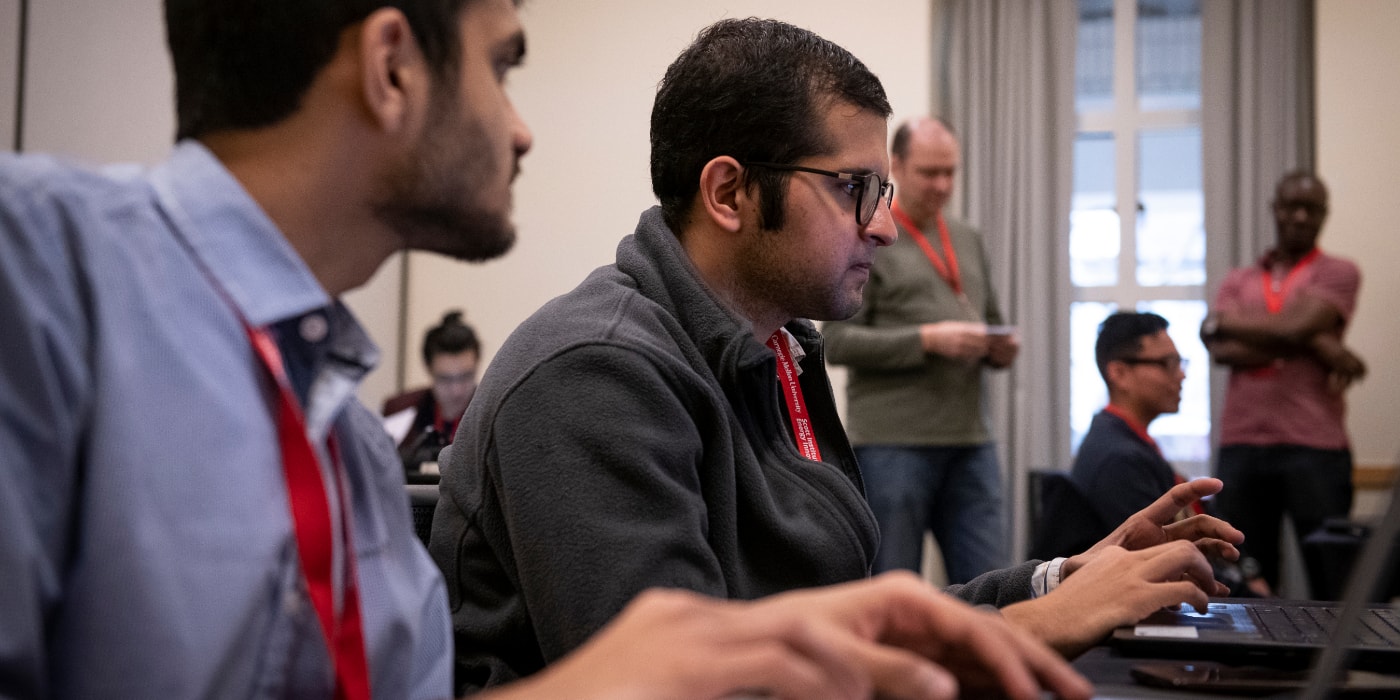 From left to right, EST&P students Abhinav Misalkar and Himanshu Deshpande collaborate during the CMU VentureWell Energy Hackathon
EST&P students helped kick off the conference with the inaugural CMU VentureWell Energy Hackathon. They took home prizes at this event, as well as at the annual Student Research Poster Competition. You can read more about their participation via this article.
In addition to our student involvement, EST&P core faculty served as moderators and panelists. Interim Director Paul Salvador served as a moderator for the "CMU Empowering the Energy Sector" panel, which included EST&P alumni Jessica Lyman Browne (EST&P '12), Pranav Chopra (EST&P '11), Srikant Subramaniam (EST&P '13) and 2016 Engineering and Public Policy PhD alumna Shelly Hagerman. The panelists reflected on the first years of their energy careers and discussed CMU's unique approach to energy education. Along with his moderating duties, Professor Salvador was a speaker on the panel titled, "Advancing the Potential for Solid Oxide Fuel Cells," where experts in the field weighed in on the opportunities and challenges facing these fuel cells and strategies to achieve wider adoption.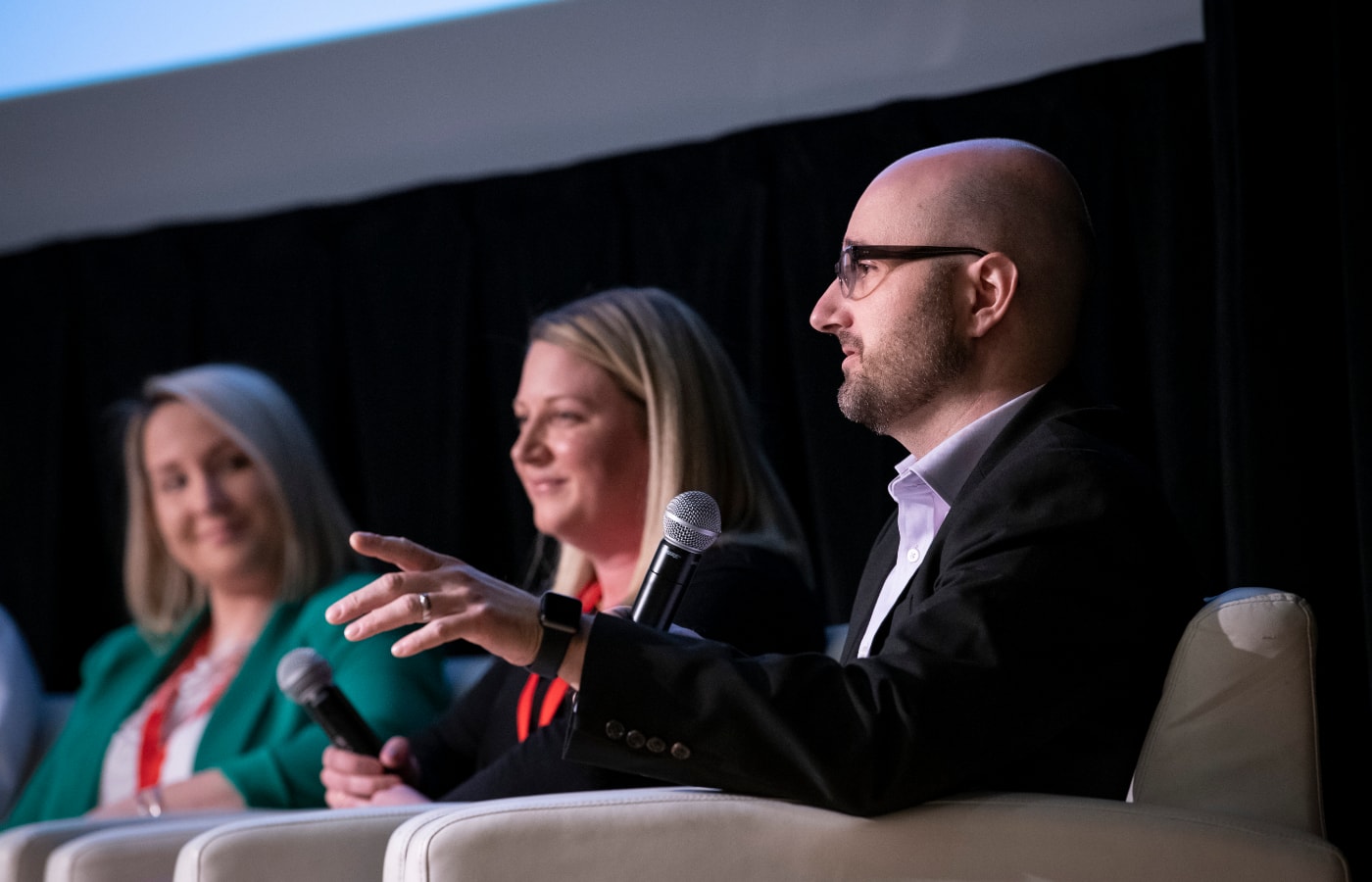 CMU Associate Professor Costa Samaras (right) moderated the "E-Mobility - Infrastructure, Electrification and Energy" panel.
On Wednesday during Energy Week, EST&P core faculty member and Civil and Environmental Engineering Associate Professor Costa Samaras moderated the panel on "E-Mobility – Infrastructure, Electrification and Energy." The panel, which included experts from Duquesne Light Company, National Renewable Energy Laboratory, Tesla, the City of Pittsburgh and Ford Smart Mobility LLC, examined what impacts environmental factors, economic factors and customer preference have on driving the electric vehicle  grid. The panelists also discussed how the adoption and scaling of e-mobility affects cities and residents.
In the afternoon, Nicholas Muller, an EST&P core faculty member and Lester and Judith Lave Associate Professor of Economics, Engineering and Public Policy, moderated the panel titled "Siting Grid-Scale Solar – Identifying and Implementing Best Practices for Pennsylvania." Through a variety of stakeholders, including solar developers, policymakers, residents and commercial owners and universities, his panel touched on the environmental, economic, technical and policy-related impacts for solar in southwestern Pa. 
CMU Energy Week 2019 drew over 900 registrants. From the CMU VentureWell Energy Hackathon to mainstays such as the CMU Energy + Cleantech Investor Forum and the Student Research Poster Competition, the fourth annual CMU Energy Week was a success! If you couldn't make it, videos of most keynote speeches, panels and innovation pitches are available. Make sure to save the date for CMU Energy Week 2020, March 23-27.