March 06, 2019
EST&P at CMU Energy Week 2019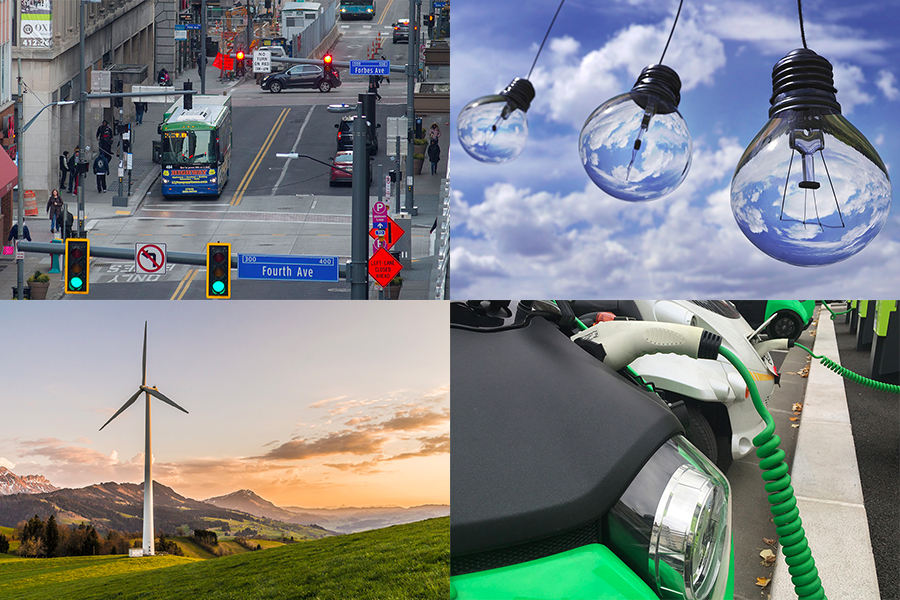 The Wilton E. Scott Institute for Energy Innovation at Carnegie Mellon University will hold CMU Energy Week 2019 from March 25-28. In its fourth year, the symposium convenes energy experts, CEOs and corporate executives, government officials, nonprofits, key influencers, students, and entrepreneurs for a facilitated dialogue on how to advance energy technologies and innovations around the world. Energy Science, Technology & Policy students, faculty, and alumni will be represented across multiple events at the symposium.
EST&P students will have the opportunity to participate in the inaugural CMU VentureWell Energy Hackathon starting on Monday, March 25. The competition will be an opportunity for students to tackle some of the toughest challenges facing Honda, Chevron, 2030 Districts Network, and Pittsburgh Parking Authority. Teams will combine their energy expertise, data analytics, business intelligence, and economic reasoning to solve a specific problem presented to them. Outside of the Hackathon, EST&P students have submitted posters for for the CMU Energy Week 2019 Student Poster Competition. The poster session, which will be held on Tuesday, March 26, will allow participants to network with energy leaders while also sharing their cutting-edge research with attendees. Students from CMU and the University of Pittsburgh are also invited to attend CMU's Energy Industry Career Fair on Monday, March 25 to meet employers interested in recruiting for internships or full-time opportunities. Some of the participating companies are Open Systems International, West Monroe Partners, Green Mountain Energy, and Clean Air Engineering Inc among many others.
CMU Energy Week 2019 will also include a lineup of 10 panels feature CMU faculty members and alumni. EST&P Interim Director Paul Salvador will moderate the "CMU Empowering the Energy Sector" panel discussion on Wednesday, March 27. Professor Salvador will lead a discussion with alumni reflecting on their first few years of their energy careers and discussing Carnegie Mellon's unique approaches to energy education. Panelists include EST&P alumni Jessica Lyman Browne (MS '12), Pranav Chopra (MS '11), Srikant Subramaniam (MS '13), and Department of Engineering and Public Policy Ph.D. alumna Shelly Hagerman ('16). In the afternoon on Wednesday, Professor Salvador will weigh in with his expertise on the technology and strategies to achieve wider adoption of solid-oxide fuel cells during the "Advancing the Potential for Solid-Oxide Fuel Cells" panel moderated by the Wilton E. Scott Institute for Energy Innovation director Jay Whitacre. EST&P core faculty member Costa Samaras, who teaches 39-611 Energy Demand and Utilization, will also be moderating a panel entitled "E-Mobility - Infrastructure, Electrification and Energy" at which he and the panelists will talk about how adopting and scaling e-mobility will affect a city and its residents and what impacts do environmental factors, economic factors, and customer preference have on driving the electric vehicle grid. 
Registration for CMU Energy Week 2019 is still open for those interested in attending.
Read more about the different events during CMU Energy Week 2019