November 28, 2018
EST&P Students Place in MIT EnergyHack's Semi-Finals
By Amanda King alking(through)andrew.cmu.edu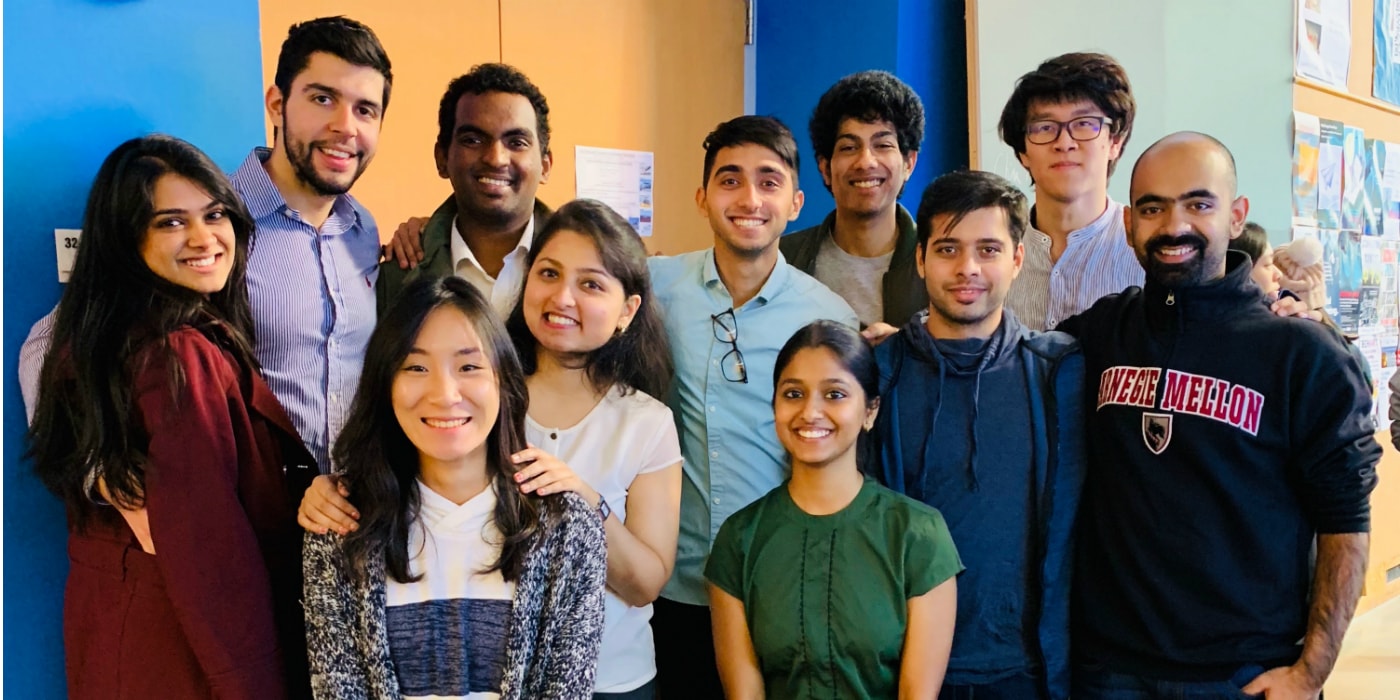 On Nov. 4, 12 students in the Energy Science, Technology and Policy (EST&P) master's program presented solutions for real-life energy problems at MIT EnergyHack, an annual hackathon that takes place at the Massachusetts Institute of Technology over an entire weekend. One of the EST&P teams placed in the semi-final round and took home $100 worth of prizes.
Multiple energy companies including Schneider Electric, WiTricity and Cimetrics Analytica presented their challenges and awarded cash prizes up to $2,000 for the best solution. On Friday night, participating students had the opportunity to choose a challenge and work on it for the next 36 hours.
Each team consisted of 4-7 university or high school students. The EST&P students were divided into two teams. The first team, which included Vibhor Kumar, Akshay Thyagarajan, Rahul Kamath, Shefali Rai, Samanvitha Murty and Ed Liu, took on the challenge by Cimetrics, a company that works on building automation to enhance sustainability. The team was tasked with formulating policy interventions to reduce greenhouse gas emissions by 80 percent in Australia.
The students, who competed against two other teams, presented a compelling case that impressed the judges: pairing natural gas combined cycle plants with carbon sequestration. For this innovative solution, they were awarded scientific books on energy and climate change, worth $100.
"I really enjoyed the collaborative nature of the challenge and the opportunity to apply the knowledge I gained from the classes at CMU to address a real contemporary issue," said Kumar.
The second EST&P team, which consisted of Aditya Belapurkar, Ansh Nasta, Athanasios Terzakis, Daksha Bopanna, Kai-Wei Yu and Poorna Mujumdar, chose WiTricity's challenge of creating a business model for vehicle-to-grid integration for electric vehicles. The company develops wireless chargers for electric vehicles and only recently became interested in vehicle-to-grid integration. 
Although the EST&P teams did not advance to the final round of the competition to pitch their ideas to a panel of judges, the event was overall a good learning experience that also included networking with companies and other students who are equally passionate about energy, says Bopanna.
The winning team, Solaris, took home the grand prize of $2,000 for their solution of modeling a building as a microgrid.
"The most exciting part was seeing the innovative solutions many teams had come up with," said Yu.
Read about additional competitions EST&P students have participated in.