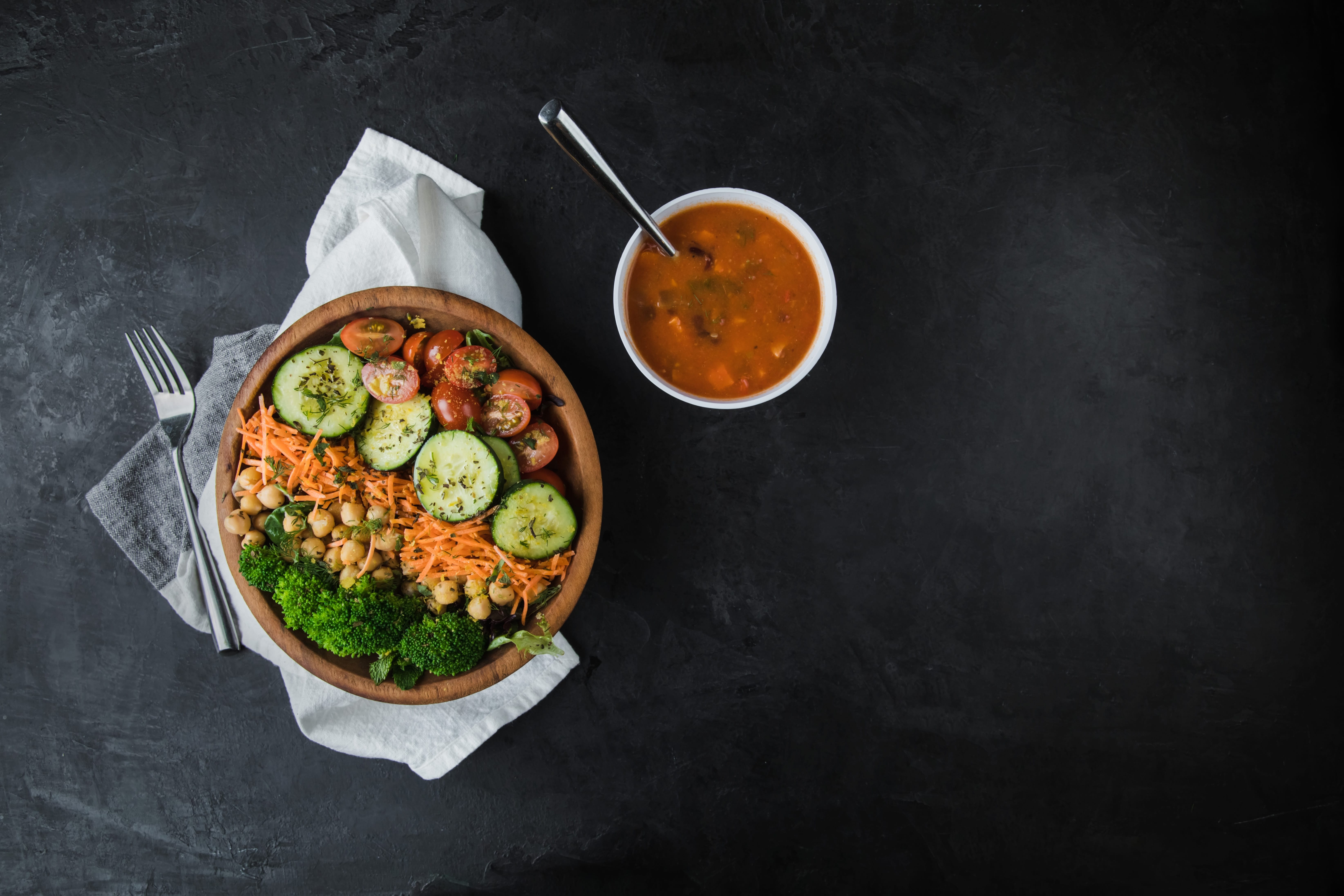 May 15, 2018
Carnegie Mellon Dining Services Announces New Primary Dining Vendor
Media Inquiries
Mandi Semple
Director of Marketing, Student Affairs
After an extensive, competitive process, Carnegie Mellon University has agreed to terms with a new primary foodservice vendor for its diverse and multifaceted dining program.
Beginning July 1, Chartwells Higher Education, a division of Compass Group, will join CMU Dining Services to build upon the goal of becoming a best-in-class dining program. Together, Carnegie Mellon and Chartwells will engage the entire campus community through provision of the highest quality food, service, technology, marketing, innovation, sustainability and wellness. 
Below you will find answers to frequently asked questions about the request-for-proposal process and timeline, primary vendor contract transition process, and Chartwells proposals and plans for Carnegie Mellon's dining program.  
The Request-for-Proposal (RFP) Process
What is a Request for Proposal (RFP)?
A Request for Proposal (RFP) is an invitation to bid issued by a company or organization (in this case, Carnegie Mellon University), on a project or service (such as food service) to qualified providers of that service. It is a competitive bid process that includes a project timeline, scope of services required, terms of contract, and proposal requirements. The interested bidders are expected to submit proposals that identifies how their organization will deliver the scope of work, vision to become best-in-class, and what differentiates the company from the competition.
Why did Carnegie Mellon University put their primary dining vendor contract out to bid?
As an astute business practice and after identifying areas for enhancement and growth, CMU Dining Services decided to begin the Request for Proposal process. Carnegie Mellon University Dining Services' vision to be a nationally top-ranked dining program means that it must partner with a primary vendor that most enables our program to impact the entire campus community through a commitment to high quality food, passionate service, innovative concepts, wellness and sustainability.
How long did the RFP process take?
This timeline illustrates the entire RFP process, including RFP development, release date, pre-bid activities, a question-and-answer period, proposal submission, proposal review, finalist presentations, site visits, final negotiation, and contract award.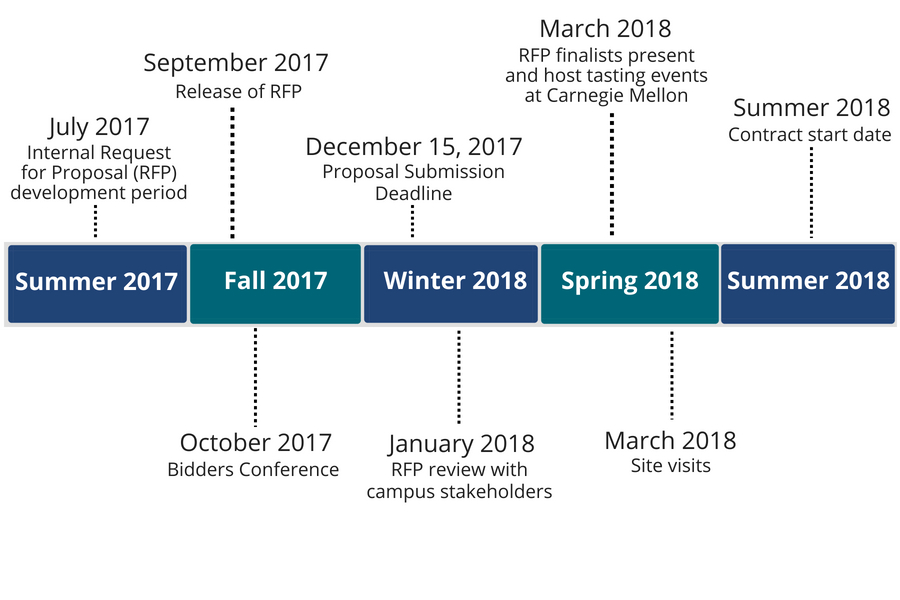 How was the award decision made?
An RFP committee, comprised of 60 stakeholders from across the university, reviewed proposals, participated in on-campus vendor presentations, and submitted evaluations. The committee included students, faculty and staff from colleges and academic departments, student leadership groups, and administrative departments. 
The evaluations were based on a number of assessment factors, including overall experience and personnel qualifications, menus and catering, nutrition (health and wellness), sustainability, marketing and technology, and benefits and uniqueness of the program for Carnegie Mellon.
Additionally, references, including current and past accounts, were contacted, and members of Dining Services conducted site visits to current university accounts of the RFP finalists.
How long is the contract with Chartwells?
The new primary food service vendor contract with Chartwells is five years.
When does the contract with Chartwells begin?
The Chartwells contract begins on July 1, 2018.
Operations and Transition Process
Will Chartwells take over all dining locations on campus?
No. Carnegie Mellon University Dining Services is comprised of 12 vendors, including the primary dining vendor and 11 independent vendors. 
Primary vendor concepts will undergo initial changes when the new contract begins July 1. Specific information about those changes will be communicated to the CMU community as it is available over the coming months. Physical renovations will take place over the next three years, at which time additional proposed dining concept changes will be executed.
Concepts managed by the primary vendor include:
City Grill
Downtown Deli
Evgefstos
Pasta Villaggio
Ramen Bowl
Rice Bowl
Spinning Salads
Nourish, allergen-friendly kitchen
Entropy+
Schatz Dining Room
Breakfast Express
Carnegie Mellon Café
Chef's Table
Fresh Soup and Salad Select
Garden Bistro
Grill 'n' Greens/Saigon Pho
Mac 'n' Cheese
Nakama (contracted by the primary vendor)
Spice It Up Grill
Stir Crazy
Take Comfort
Tartans Pizza
Maggie Murph Café
Heinz Café
Rothberg's Roasters II
Catering and Executive Dining Services
Concepts managed by independent vendors, not impacted by the change include:
Au Bon Pain
El Gallo de Oro
Tartan Express
The Underground
Zebra Lounge
SEIber Café
The Exchange
Stephanie's
Ginger's in Baker and Purnell
iNoodle
The Pomegranate
La Prima Espresso
Rohr Café featuring Tazza D'Oro
AVI and Tazza D'Oro at Tepper Quad
Taste of India
How will this affect hourly food service employees?
All union employees currently employed through CulinArt will have the opportunity to join the Chartwells team, giving them the chance to maintain their pay, benefits and seniority and continue being a part of the CMU community.
Will this affect how I can use my meal plan on campus?
How will this affect catering services provided on campus?
Chartwells will become the main and preferred caterer on campus. All orders will roll over to Chartwells beginning July 1. If you have specific questions about catering for an event that takes place after June 30, please email.
Chartwells Commitments and Deliverables
What commitments and deliverables did Chartwells propose to help make Carnegie Mellon's dining program best in class?
Chartwells specializes in higher education, with over 270 higher education accounts across the country. As a division of Compass Group, the world's largest food service company, Chartwells brings unparalleled experience and a proven track record of delivering customized innovation and creating transformative dining experiences that will take Carnegie Mellon's dining program to the next level. 
What are some of Chartwells' proposed dining concepts?
Chartwells proposes capital improvement projects that would take place over the next three years in locations such as the Cohon Center, Resnik House and the Hunt Library. Their plans offer a consistent approach to campus enhancements focusing on user-focused design, culinary excellence, inclusive dining, health and wellness, sustainability, and innovative technologies.
Chartwells' mission is to create safe environments that nurture the body, mind and spirit and offer spaces for students to decompress from hectic schedules and daily pressures. Carnegie Mellon's dining areas will become creative zones with plentiful and comfortable seating areas, soft lighting and music, multi-use spaces with abundant charging areas and outlets, and design components that spark creativity and contribute to the overall ambiance.
Menus will feature fresh, authentic flavors from around the globe, seasonal fruits and vegetables, and locally-sourced ingredients.
What are some of Chartwells' priorities for nutirion, health, and wellness?
Nourishing the CMU community with healthy food is a clear priority for Chartwells, with nutritious and sustainable cuisine taking center stage throughout the proposed menus and dining concepts.
Chartwells is a proud premier sponsor of Menus of Change, an initiative developed by The Culinary Institute of America and Harvard School of Public Health. Launched in 2012, the initiative brings together chefs, nutrition and environmental scientists, farm and fisheries experts, foodservice executives and policy makers. The Menus of Change initiative seeks to drive behavior changes by making modifications to menu development that support healthier lifestyles and sustainable dining choices.
Chartwells' goal is to provide the most delicious foods possible that are healthy, make progress toward environmental sustainability and align with Menus of Change. Chartwells will have an on-campus Registered Dietitian and Sustainability Coordinator to ensure that menus are designed with the following criteria in mind:
Use fresh, local and organic produce whenever possible
Introduction of limited-time offers (LTOs) that support plant-forward, vegetarian and vegan cuisine
Increase the ratio of vegetables at all meal times, including an expansion of vegetable side dishes
Always offer whole grain options
Integrate authentic international cuisine ingredients that are naturally healthy
Introduce air fryers in place of deep fryers
Offer a minimum of two fair trade-certified options at each dining location
No artificial flavors, sweeteners, colors or seasonings
Sodium reduction on menus by developing flavor through a variety of cooking techniques
Increase creative sugar free and caffeine free beverage options
Chartwells takes health and wellness beyond the plate, by not only satisfying the unique appetites, lifestyles and dietary needs of every guest, but by acknowledging that food also brings people together to promote meaningful relationships. Dining locations will be social spaces that serve as centers of academic life.
What are some of Chartwells' sustainability initiatives?
Chartwells sets the standard and leads the industry on sustainability issues and will hire an on-campus Registered Dietitian and Sustainability Coordinator. In partnership with Dining Services, Chartwells is committed to minimizing environmental impact through sustainable initiatives with regard to the following areas:
Purchasing – dairy, eggs, seafood, coffee, poultry, local and organic, imperfect produce
Commitment to the Real Food Challenge and use of Real Food Calculator ensuring 20% of food purchased is sourced locally by 2020
Transportation
Preparation
Waste
Food Recovery
Composting
Compostable packaging and cutlery
Education
Sustainable design
Recycling
Water and energy efficiency and conservation
Additionally, Chartwells will offer a sustainability fund that can be used towards a sustainability program on campus, including:
Rocket composter
Food dehydrator
Biodiesel processors
Reusable container program
Hydroponic growing system
Rooftop pallet gardens
Hoop house garden (large hoops covered with greenhouse plastic) 
What kind of training and leadership development does Chartwells offer its management team and employees?
Training and professional development are integral parts of Chartwells' culture and the keys to their success and guests' satisfaction. Associates at all levels of the Chartwells organization have access to Compass Group's vast training curriculum in addition to Chartwells' customized training programs. These programs incorporate a variety of teaching formats, including classroom sessions, interactive webinars, case studies, on-the-job training and computer-based learning.
On-boarding for the management and hourly employees will include orientation and training in guest service, communications, food safety and sanitation (including managing food allergies), diversity and inclusion, and sexual and workplace harassment.
Management will go through extensive leadership development and Chartwells' initiatives training, including topics such as food waste reduction, Balanced U health and wellness program, and Webtrition, Chartwells' proprietary menu management, production, and nutrition analysis system.
What are some of Chartwells' proposed technology enhancements?
As a part of Compass group, Chartwells is on the forefront of implementing technology that enhances all aspects of the dining experience. Carnegie Mellon will be a first mover in dining innovation and receive the full compendium of Compass Digital Labs innovations, focused on a human-centered approach to technology that allows students to curate their food experience. Proposed solutions include:
Mobile and kiosk ordering
Tech tables for tablet ordering and delivery
Traffic cams and alerts
Digital loyalty reward cards
iPhone coffee bars
Automated smart markets
Robot deliveries
Food lockers
Beacon technology
What is Chartwells' Student Success Program?
Chartwells is committed to supporting and nurturing students through their academic journey at Carnegie Mellon. The Student Success Program internships provide entrepreneurial experiences working with industry-leading subject matter experts. Opportunities include:
Sustainability internship
Chartwells + Compass Digital Labs Internship
Chartwells + E15 Internship
Incubator Games – Experiential Learning
The Compass Fellowship - Leveraging the Resources of the World's Largest Food Service Organization
Thought Leadership – TED-style talks with Chartwells and Compass leaders combined with Teaching Kitchen Events