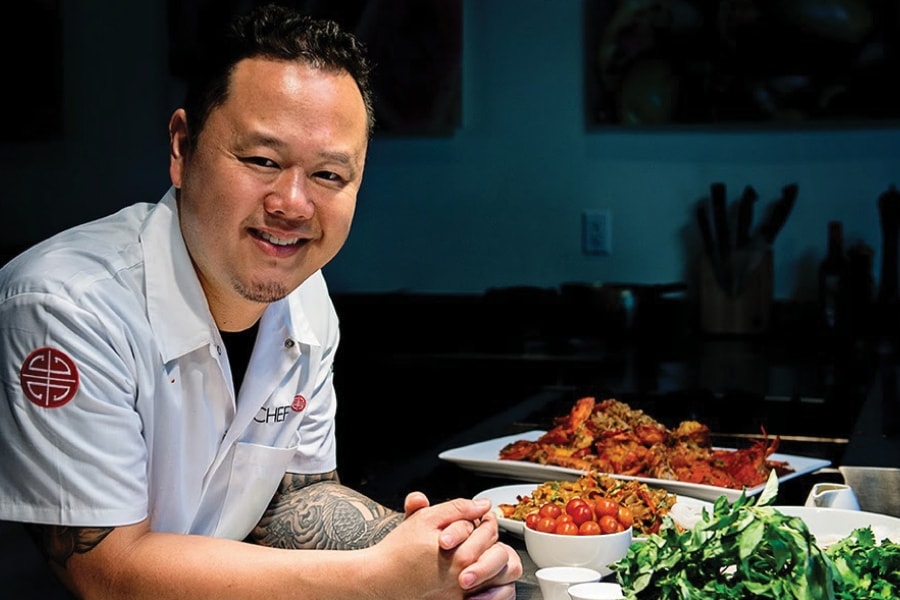 October 30, 2018
Chartwells Higher Education Hosts Celebrity Chef Jet Tila on November 6!
Media Inquiries
Mandi Semple
Director of Marketing, Student Affairs
On Tuesday, November 6, join us for a day with nationally celebrated chef and restaurateur Jet Tila, hosted by Chartwells Higher Education and Carnegie Mellon University Dining Services. Chef Jet will be serving up his modern Asian cuisine to the campus community as he shares recipes from his latest cookbook, 101 Asian Dishes You Need to Cook Before You Die. Attendees will have a chance to win a signed copy of his cookbook during the day's events.
Chef Jet Tila has appeared on several cooking programs including Iron Chef and Chopped, both on The Food Network. Through his diverse background and education at Le Cordon Bleu, Tila uniquely shares his expertise and passion for the art of food as a culinary storyteller. 
"I call it birth luck," Tila notes. "I was born into the 'first family' of Thai food in Los Angeles. My parents came here separately in 1966 and went on to open the first restaurants and grocery stores in this country and I was the kid doing homework in the back corner of the restaurant."   
Chef Jet will demonstrate recipes and share his story at the following events:
Jet Tila Takeover in Schatz
Schatz Dining Room, Cohon Center, 11:30 AM - 2:00 PM (open to faculty, staff and graduate students only) and 5:00 PM - 9:00 PM (open to all community members)

Chef Jet Tila takes over Schatz Dining Room with his featured Asian-inspired menu for lunch and dinner. During this special event, Chef Jet will host a meet and greet from 11:30 AM - 12:15 PM.  Schatz reservations for lunch are encouraged.  
Jet Tila Teaching Kitchen
Rangos 3, Cohon Center, 1:00 PM - 2:00 PM

Join Chef Jet for a hands-on Teaching Kitchen and learn how to roll his famous Vietnamese Shrimp Spring Rolls. After learning his art, participants will have a chance to taste samples of his dish.

Lucky guests will be eligible to win an autographed cookbook and Tila will be available for a personalized book or photo signing during the last 15 minutes of the event. 

Seats are limited so register here

. Walk-in registration may be available as space permits.    
Jet Tila Cooking Demonstration and Reception
Schatz Dining Room, Cohon Center, 3:30 PM - 5:00 PM

Chef Jet will be presenting one of the famous dishes influenced by his childhood, Drunken Noodles. Learn about classic Thai ingredients and cooking techniques as he demonstrates a dish that has helped shape who he is a chef. The cooking demonstration will be followed by a meet and mingle reception with Chef Jet, featuring samples of his Kimchi Fried Rice, Pork Satay and Salmon Teriyaki. Seats are limited so register here. Walk-in registration may be available as space permits. A limited number of signed cookbooks will be available to registered guests, first come, first serve.