November 02, 2018
Connect, Collaborate and Unwind in Dining's New Spaces
Media Inquiries
Jessica Tones
Registered Dietitian, Nutrition Educator and Marketing Coordinator
The fall 2018 semester marked the opening and revamping of multiple dining locations on campus. These changes have brought more menu variety and enhanced spaces that give the CMU community the opportunity to connect, collaborate and unwind over a meal. Take a look at how we celebrated what's new in dining this fall and get the take from a few students on where they eat and what they're ordering.

Rohr Commons Featuring AVI Pure and Tazza D'Oro
Rohr Commons, featuring Pure and Tazza D'Oro, opened for business in the new Tepper Building in early July 2018 and has quickly become a favorite place to gather and enjoy a new standard of cuisine on campus. Pure, operated by AVI Foodsystems, offers a variety of foods, like made-to-order sandwiches, burgers, pizza, a 100% organic salad bar and a rotating daily menu of globally-inspired entrées. Pure's menus are made from wholesome and natural ingredients that are free of artificial colors, artificial flavors and sweeteners, and the use of antibiotics and growth hormones.
The CMU community welcomed Tazza D'Oro's second location on campus and their fourth location in Pittsburgh, bringing the highest quality, sustainable coffee and espresso and local food offerings to the new Tepper building.
Hear what some of our students have to say about Rohr Commons and check out photos of the new space: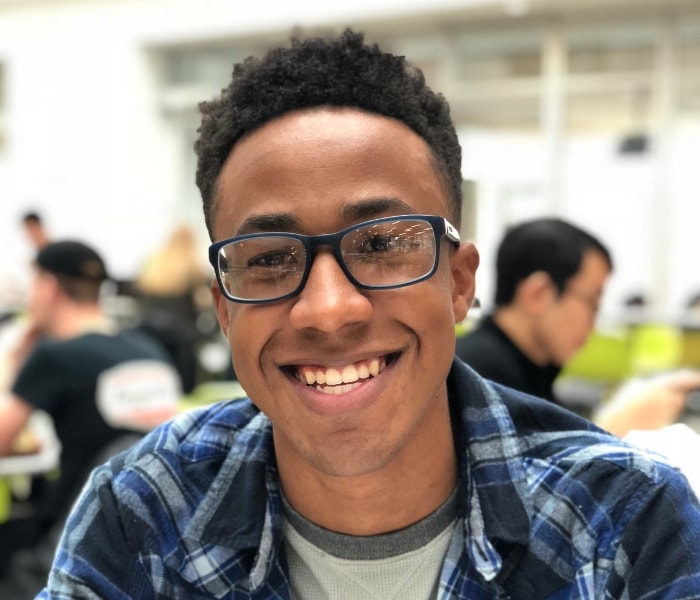 "I love so much about Pure!  [The staff is] always happy to hold a conversation and ask how your day is going, and if you ask them the same, you will hear so much about how interesting their lives are and the things that make them happy!  Definitely the most genuine staff to talk to on campus. My favorite sandwich to order is a Chivey Chicken with no tomatoes, and my favorite burger is the balsamic mushroom."
- Andrew, first-year undergraduate (who just celebrated his 60th consecutive day eating at Rohr Commons!)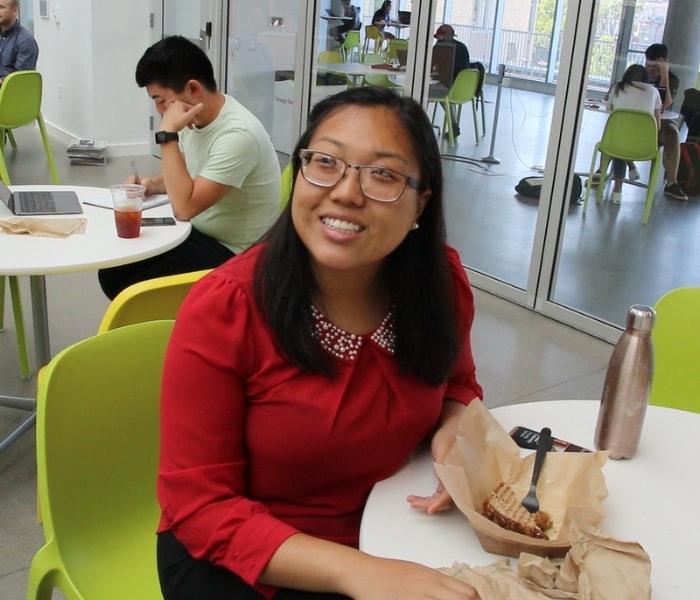 "I come here every day because I have so many classes here. I can always find a place to sit. I highly recommend the CMU Club!"
– Lisa, junior undergraduate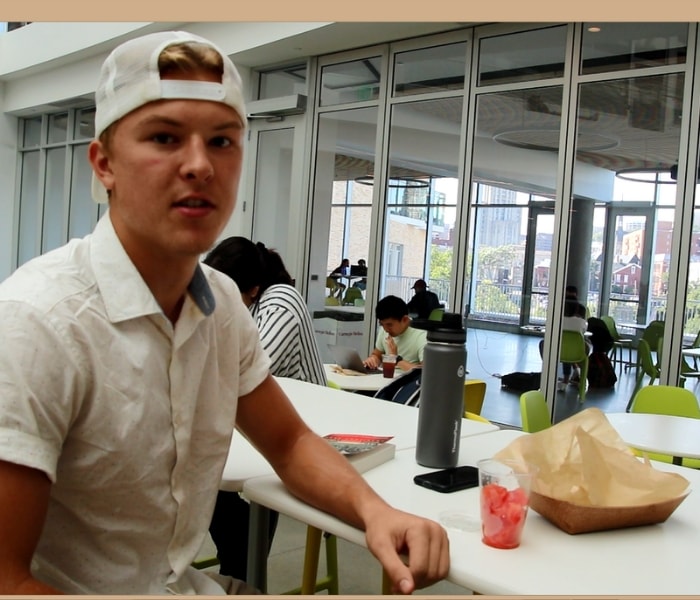 "The food here is really good and the service is really nice! All the people are open to conversations."
– J.T., first-year undergraduate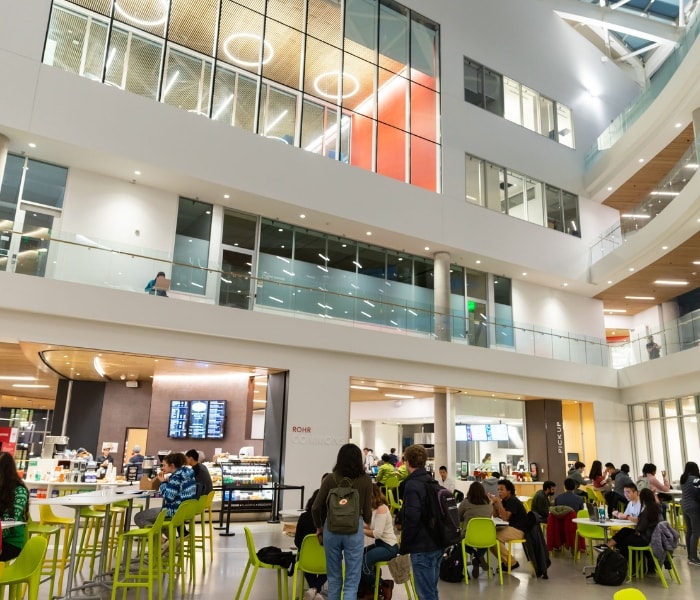 Rohr Commons features Tazza D'Oro coffee and espresso bar and Pure, featuring a variety of food offerings, from sandwiches to international cuisine.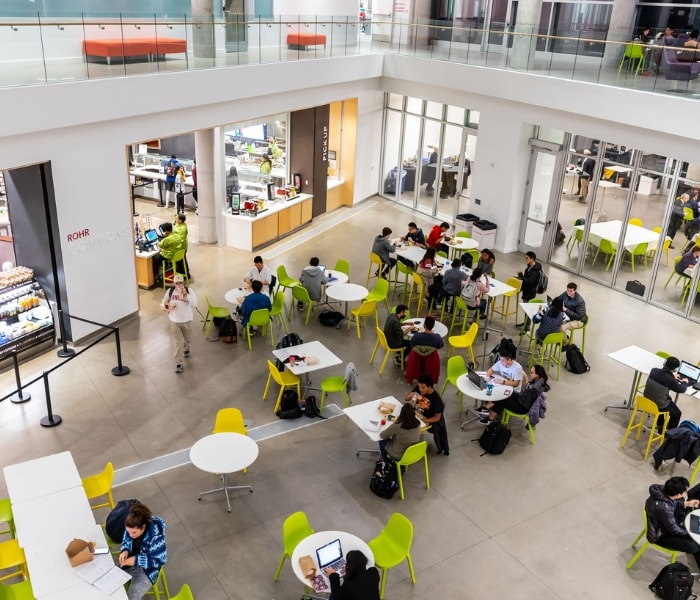 Rohr Commons provides ample seating to study, connect or disconnect!
The Underground
A longtime favorite for students, The Underground is a great place to relax and eat with friends. After major renovations, the Underground is brighter, has more flexible seating options, and offers a variety of new menu items. Breakfast entrées are served all day, every salad is prepared with organic greens, and, of course, classic standbys like the crispy fries and the Ultimate Brownie are still around!
On September 27, 2018, The Underground hosted an "Unwind at The Underground Grand Opening Celebration," featuring a complimentary sundae bar, massages, board games, and a casual, fun atmosphere. CMU's rap and hip-hop group, the CMU Cyphers, performed.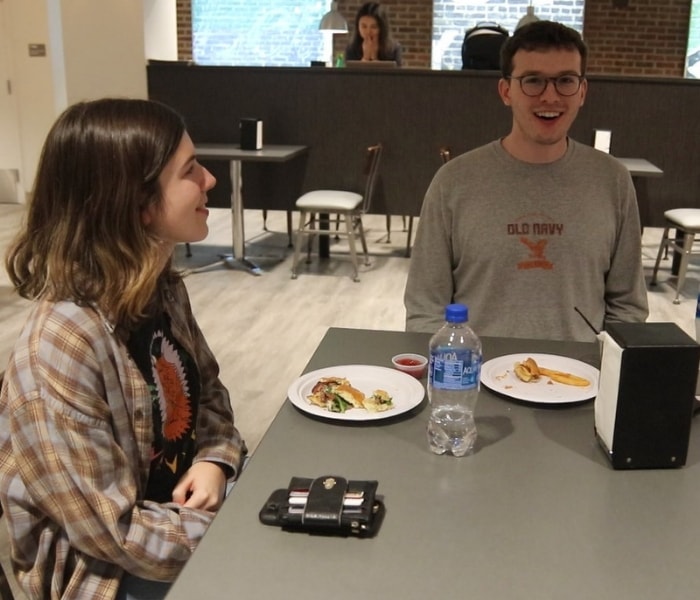 "We usually come here about once a week, together. The fries are amazing."
– Michelle, junior undergraduate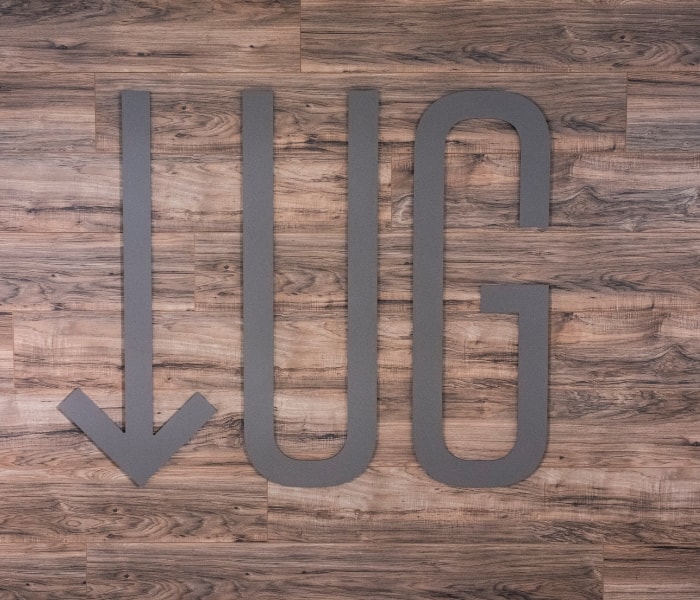 The new UG logo adorns the
designated performance area, which features upgraded resident sound and lighting and

can be reserved for student performances.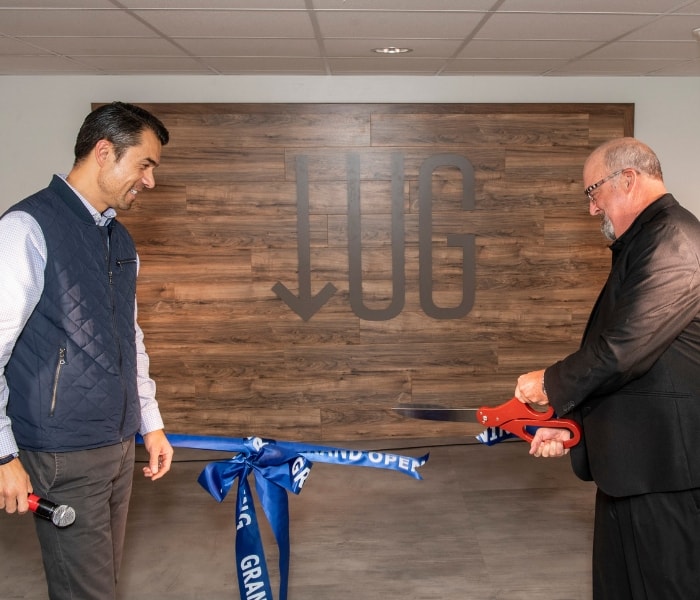 Mark Hastie, operator of The Underground, and Pascal Petter, director of Dining Services, make it official!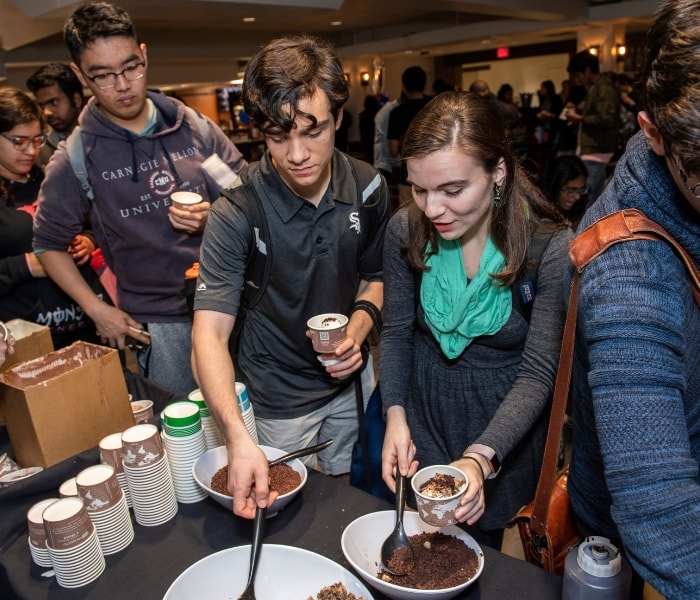 Students indulge in a build-your-own sundae bar featuring The Underground's new line of super premium ice cream made locally right here in Oakland by Dave and Andy's.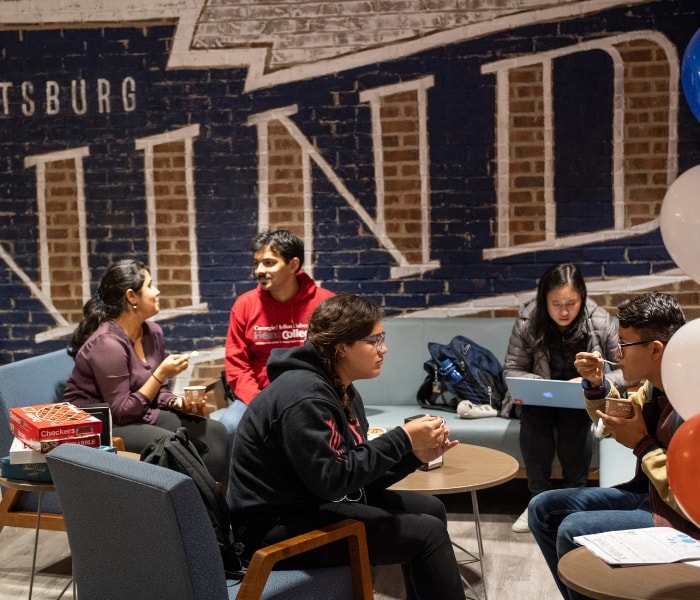 Students take advantage of the new soft seating at The Underground.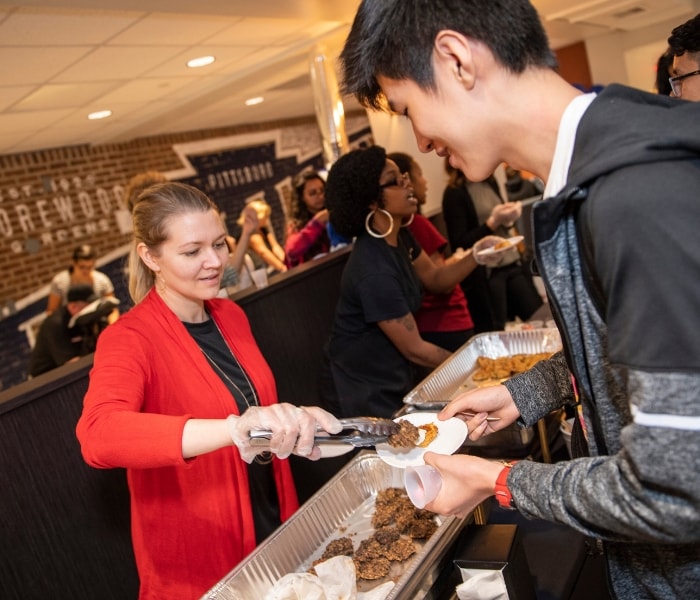 Dining Service's Registered Dietitian, Jessica Tones, serves up two of her favorite dishes from the new menu: the Black Bean Quinoa Burger and the Salmon Burger.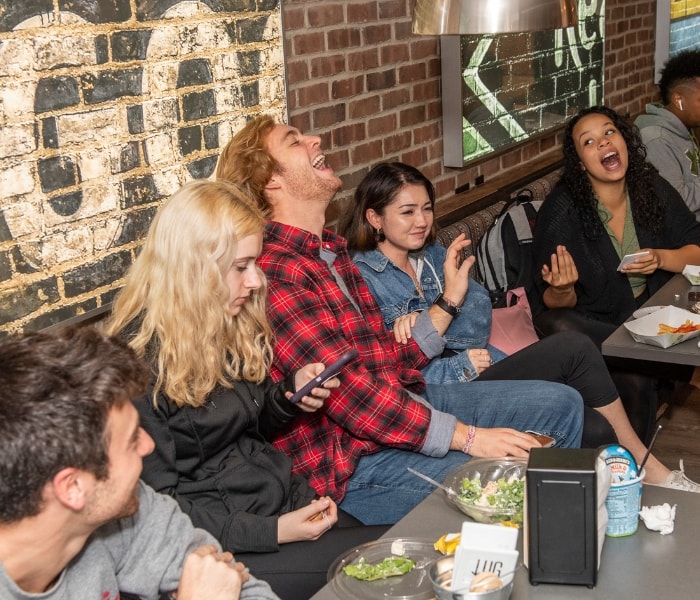 The Underground is a student favorite place to grab a bite, relax and unwind.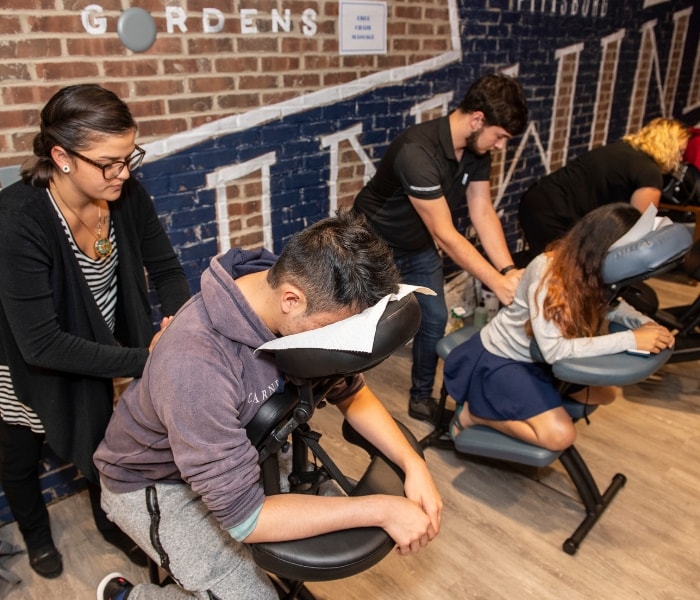 Students enjoyed free chair massages during the Unwind at The Underground celebration.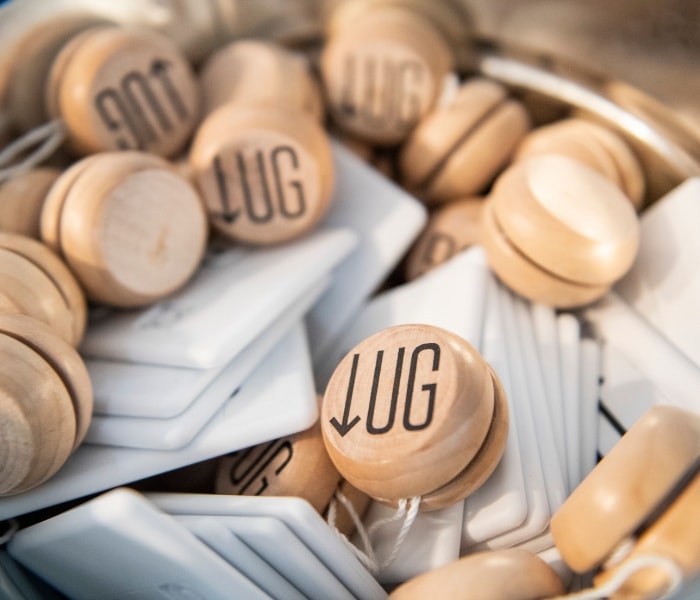 The fun didn't stop at the end of the celebration - attendees got to take home UG yo-yo's and slide puzzles!
La Prima Espresso
La Prima Espresso Company – operating for 26 years in Wean Hall, and with other locations in the North Side and the Strip District – is clearly a favorite in the Pittsburgh and CMU communities.
The newly remodeled La Prima offers Italian-style coffee and espresso, including the popular addition of cold-brew and nitro coffee on tap. All pastries, sandwiches, salads, and sides are prepared by local businesses: Mediterra Bakehouse, Common Plea Catering, and Reed and Co., the Lawrenceville-based vegan fast-casual restaurant. After extensive renovations over the summer, the new layout created a wider entrance into Wean Hall to improve the flow of traffic, additional espresso machines and registers to increase the speed of service, and improved seating to encourage social interaction.
La Prima celebrated it's grand opening on October 4, 2018, with samples of cold-brew coffee, cookies and vegan chocolate avocado pudding from the new line of Reed and Co. grab-and-go items. They gave away La Prima goodies and raffled off La Prima coffee, t-shirts and ScottySIPS mugs open to all attendees.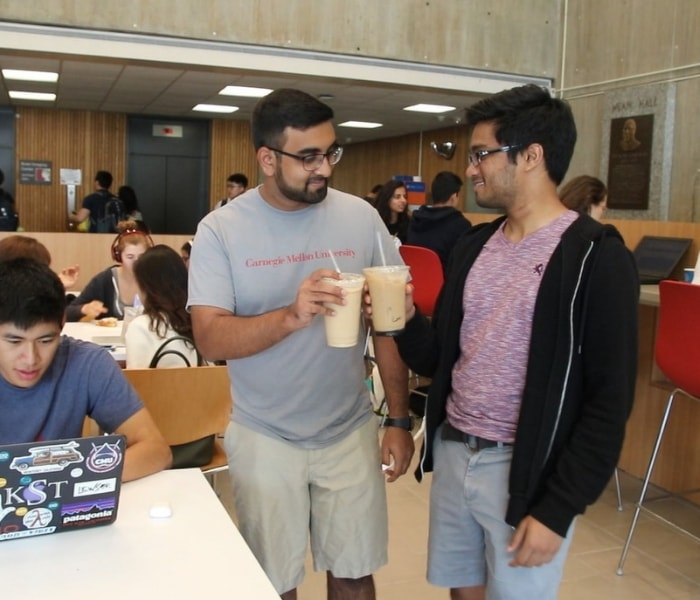 "It's convenient it's right near the chemical engineering cluster. Usually, I pop in here, then back. I usually just get an iced latte."
– Sunjeev, senior undergraduate (pictured middle)
"I always get an iced mocha, since my freshman year."
– Yugesh, senior undergraduate (pictured right)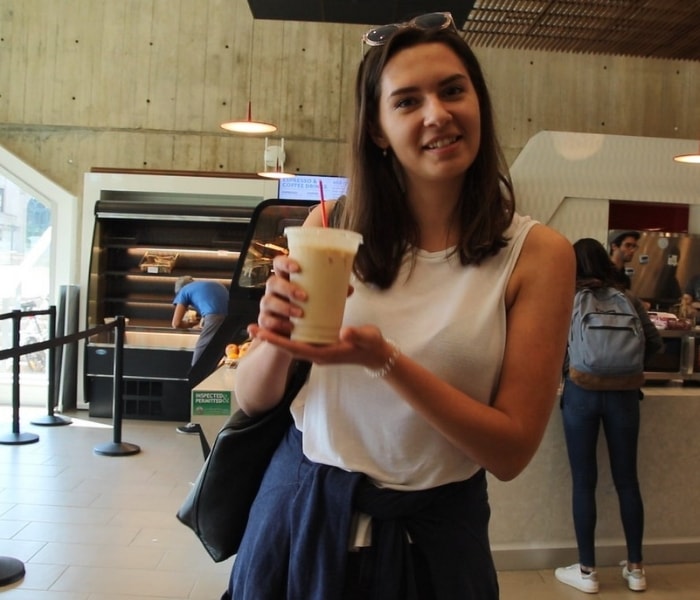 "I always get an iced latte because it's very yummy. It's by far the best coffee on campus. There's more seating area, too [after the remodel]."
– Adela, senior undergraduate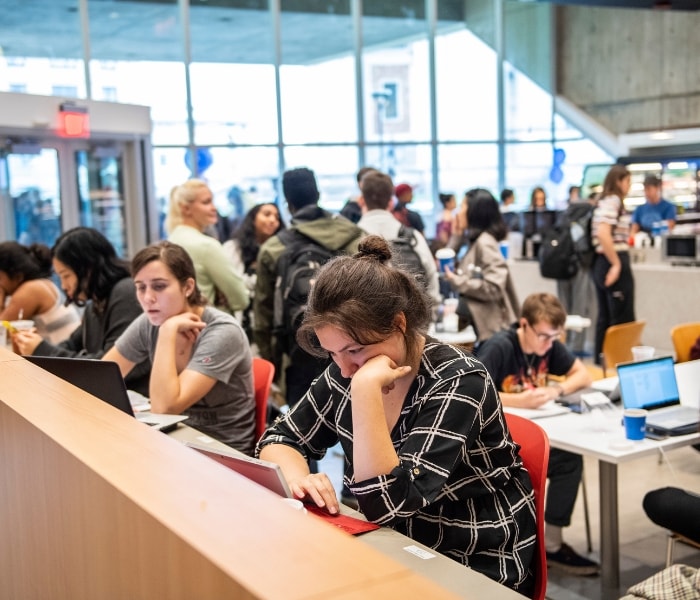 New bar seating in Wean Lobby allows students to focus on their studies while enjoying the Italian-style coffee bar experience.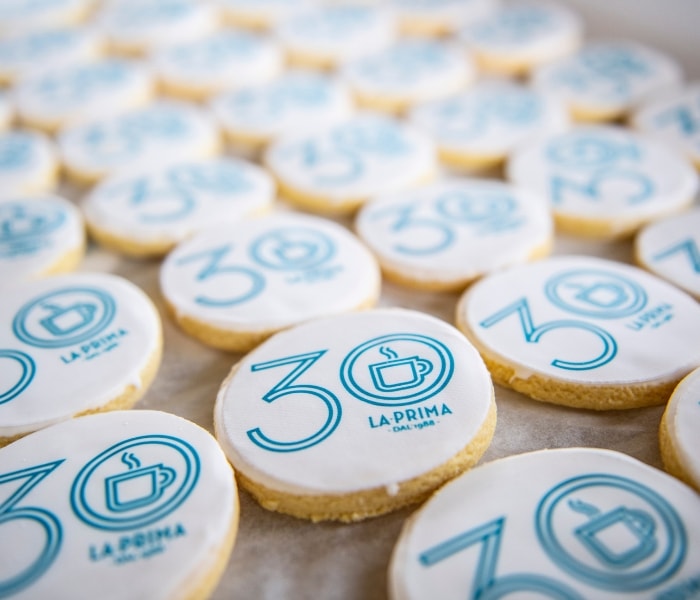 La Prima Espresso celebrated its 30th anniversary the same week of the grand opening celebration at CMU.  They brought lots of delicious cookies to share!
An additional register and expanded coffee bar makes the flow of traffic much more efficient.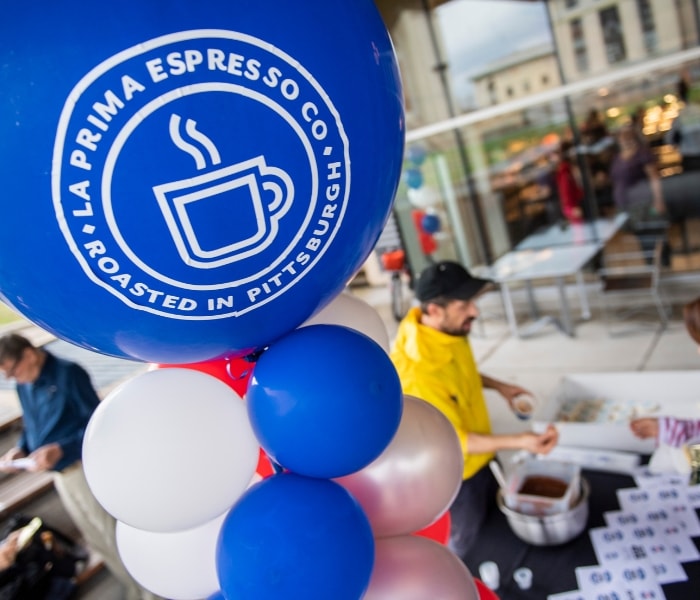 It was a rainy day but the skies cleared just in time for the celebration held outside of Wean Lobby.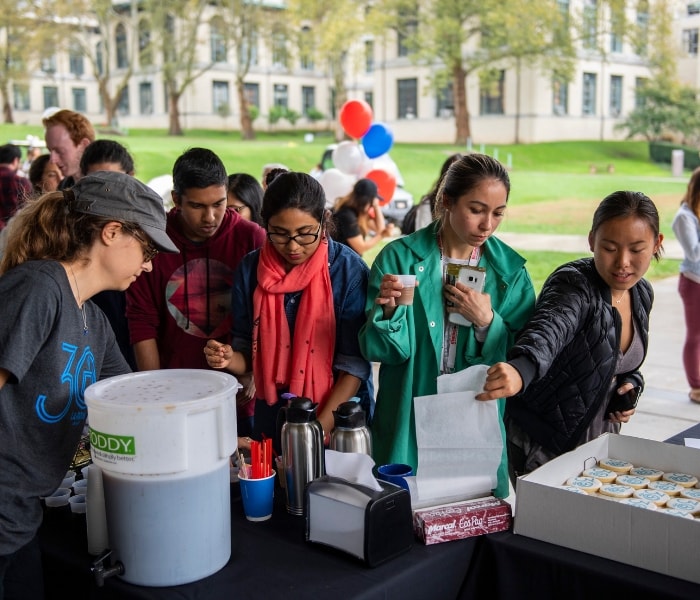 Students tasted samples of the new cold-brew coffee.
Chartwells
On July 1, Chartwells Higher Education joined CMU Dining Services as the primary dining vendor. The Marketplace at Cohon Center was revamped this past summer, with an emphasis on innovative culinary concepts and fresher ingredients.
One such remodeled location is The Back Bar Grill, which serves American cuisine with a focus on flavor and simplicity. Back Bar offers a variety of hand-held options: sandwiches, veggie burgers, and all-natural beef burgers, with homemade artisan buns. Toppings include cheese and bacon, as well as kale and greens, mesclun greens, and fresh vegetables. Sides include fries, sweet potato fries, and onion rings, but there's also lighter options, like balsamic grilled veggies, or bulgur and chickpea salad with feta cheese.
Chartwells celebrated the grand opening of their refreshed concepts on September 20, 2018, with events held in the Cohon Center in the afternoon and Resnik Servery during dinner. Attendees enjoyed food samplings of some of the unique new offerings on campus: Sambazon acai bowls from Maggie Murph Cafe, decadent allergen-friendly brownies from Nourish, sandwiches from Realwich featuring Applegate Farms, and more!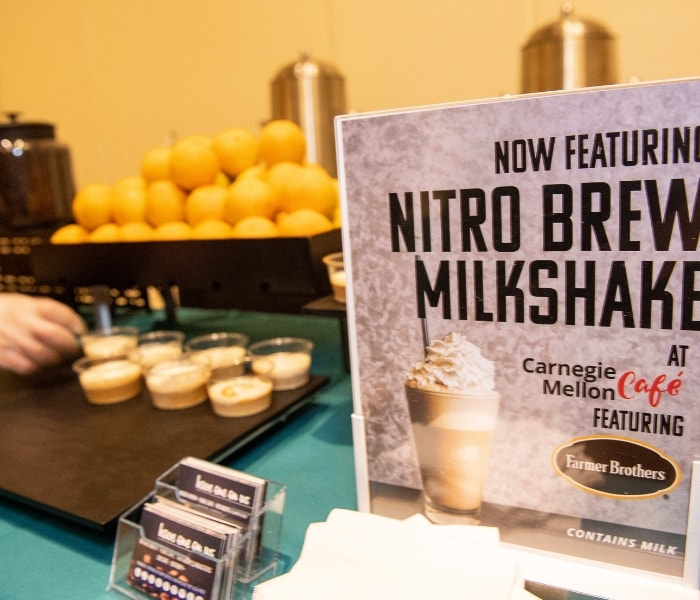 Nitro brew milkshakes are now available in Carnegie Mellon Cafe.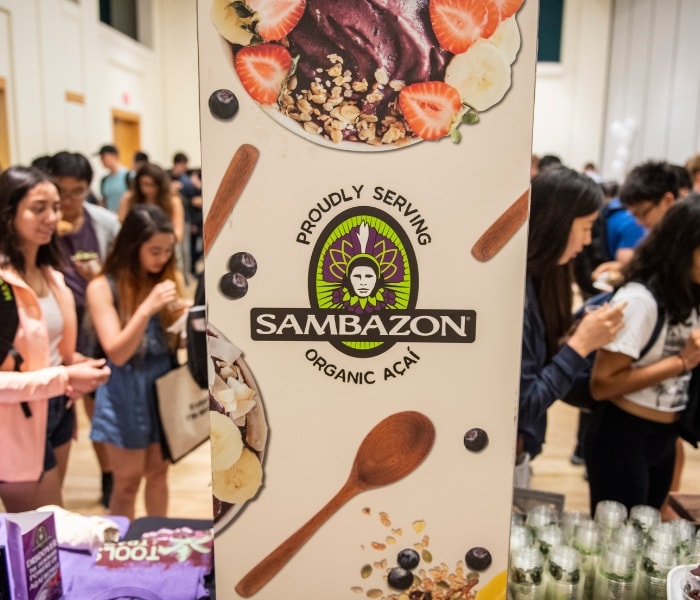 Sambazon acai bowls are a fresh new addition to the Maggie Murph Cafe in Hunt Library.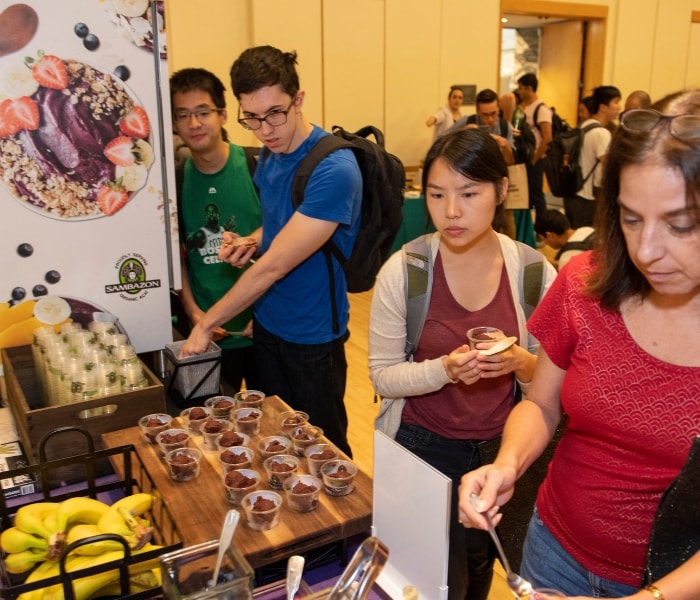 Students get creative building their own acai bowls with lots of delicious toppings to choose from!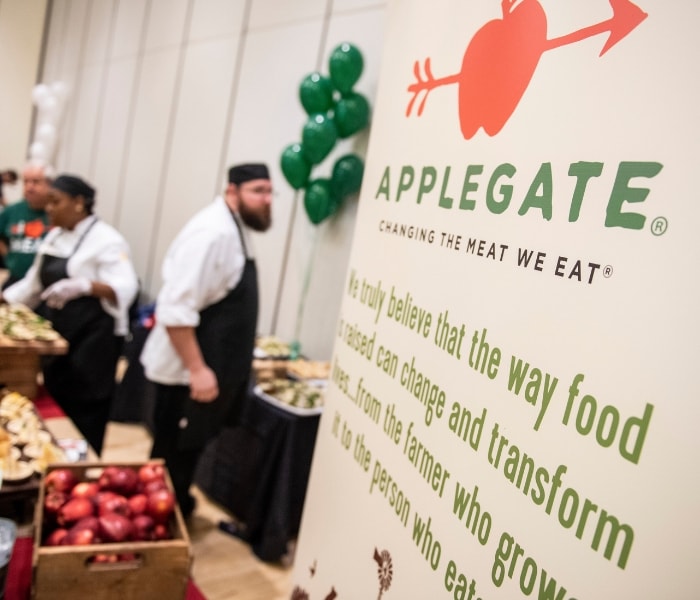 Realwich is the first of Chartwells Higher Education accounts to feature Applegate meats and cheeses, made with non-GMO ingredients, no chemical nitrates, nitrites or artificial ingredients/preservatives.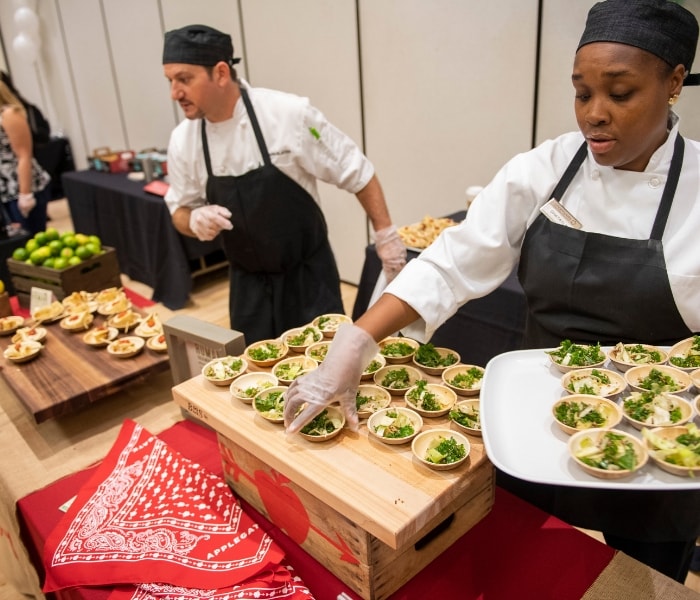 The Chartwells team serves up Tuscan Power Salad, Roasted Cauliflower Salad, and Za'tar Chicken Sandwiches from Realwich.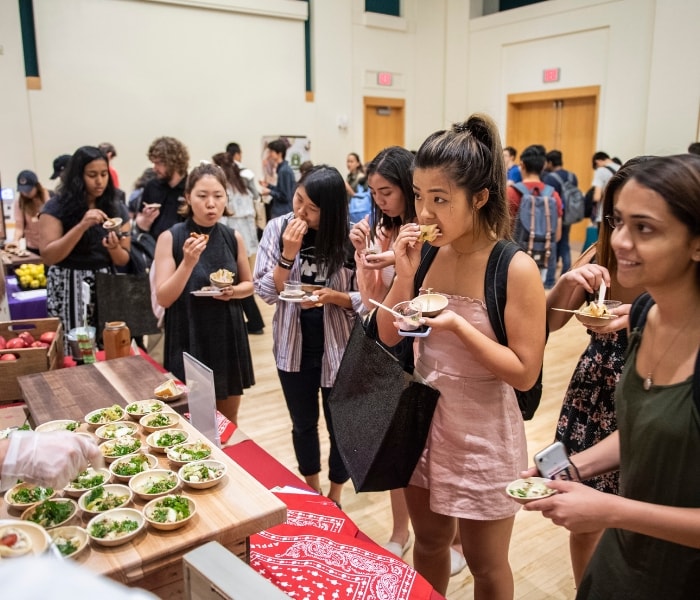 Students dig into samples from new menus around campus.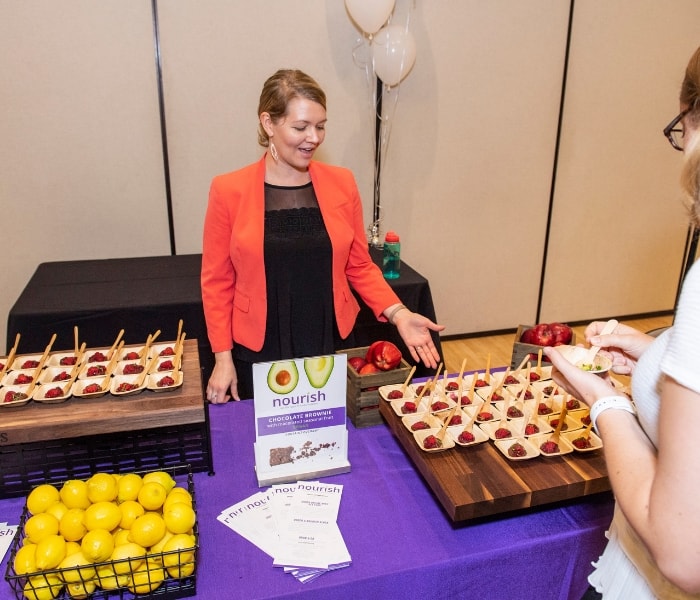 Brownies from Nourish are prepared without the top eight allergens or gluten but don't sacrifice any of the taste!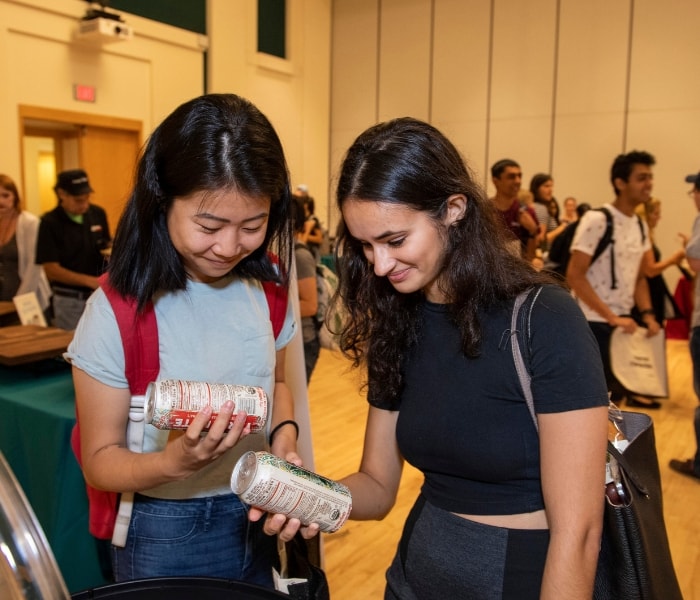 Students try the new line of Yerba Mate teas from Pepsi!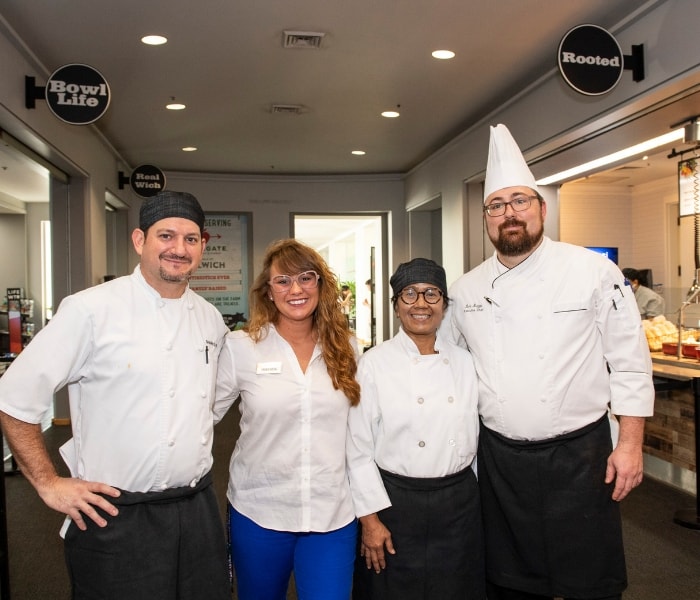 Chartwells' team of chefs and managers are working hard to bring new flavors to campus!
Stephanie's Market C
Stephanie's at Mellon Institute was transformed this year into a brand new AVI Market C 24-hour self-service convenience store. Stephanie's Market C features an extensive variety of selections including fresh sandwiches, wraps, fruits, vegetables and salads, ice cream, snacks, and hot and cold beverages. This much-anticipated renovation was celebrated on September 17, 2018, with a ribbon-cutting ceremony by the Dean of the Mellon College of Science Rebecca Doerge and food and beverage sampling provided by AVI.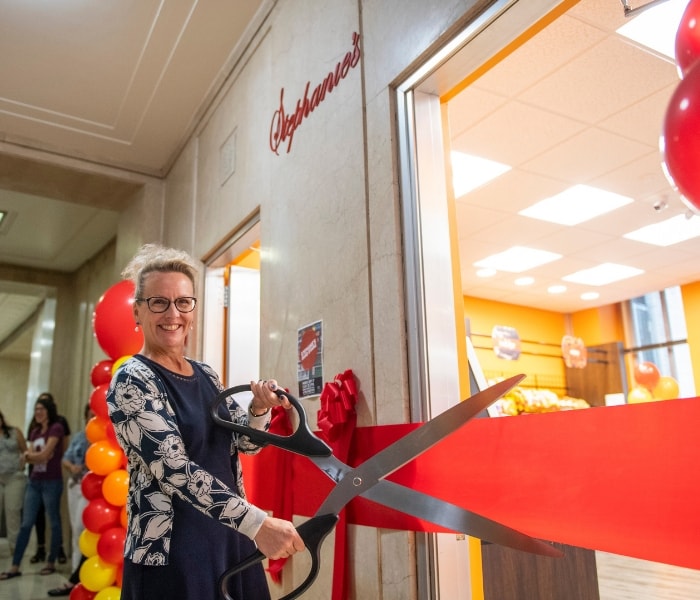 Dean of MCS Rebecca Doerge unveils Stephanie's Market C at the ribbon-cutting ceremony.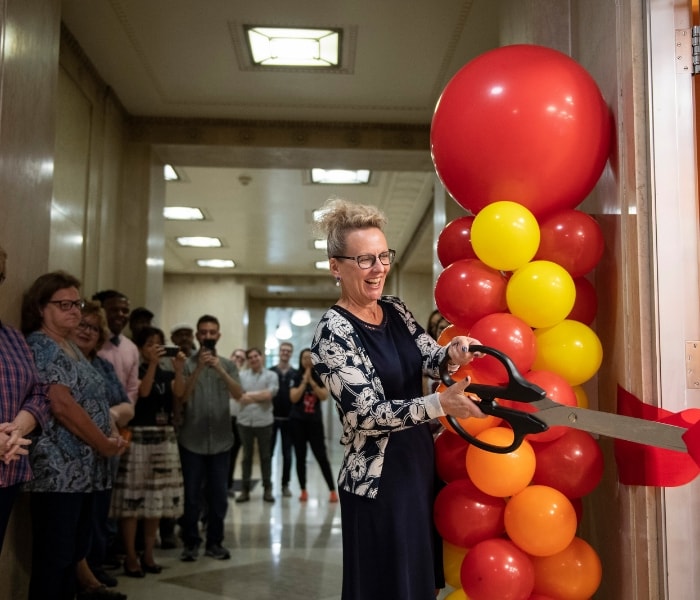 We love these giant scissors!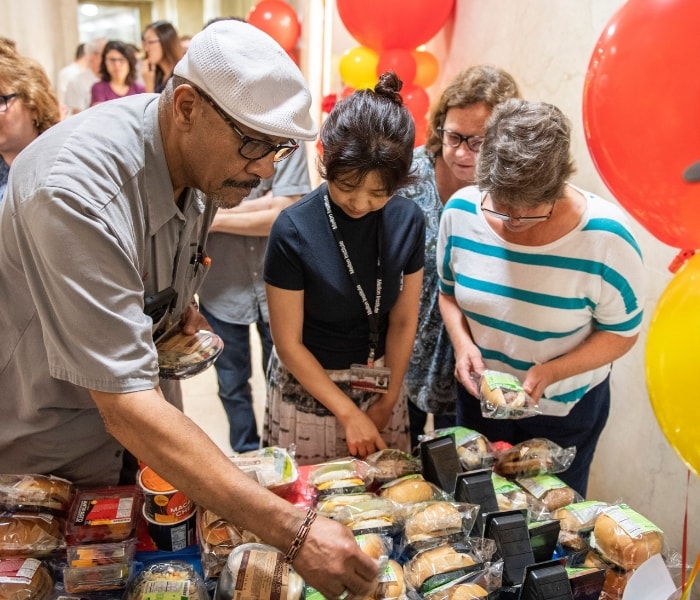 The MCS community enjoys a taste of the fresh food offered at Stephanie's Market C.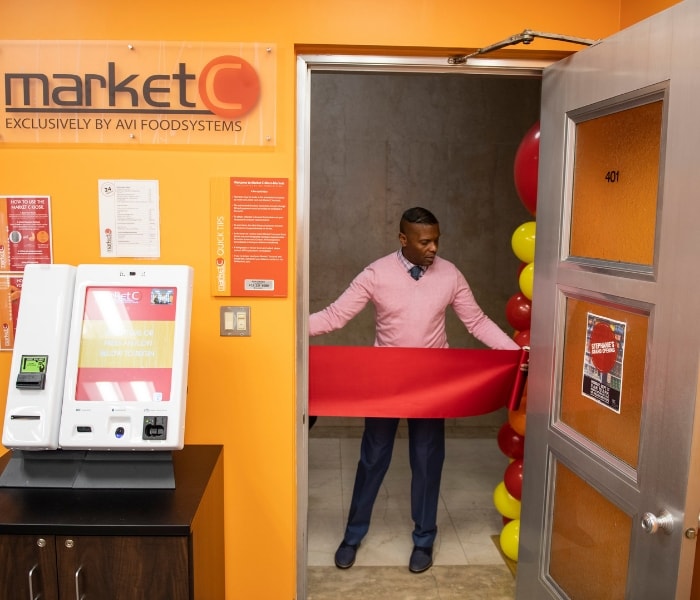 The Market C kiosk provides self-service checkout and 24-hour-a-day access to the hard-working MCS community.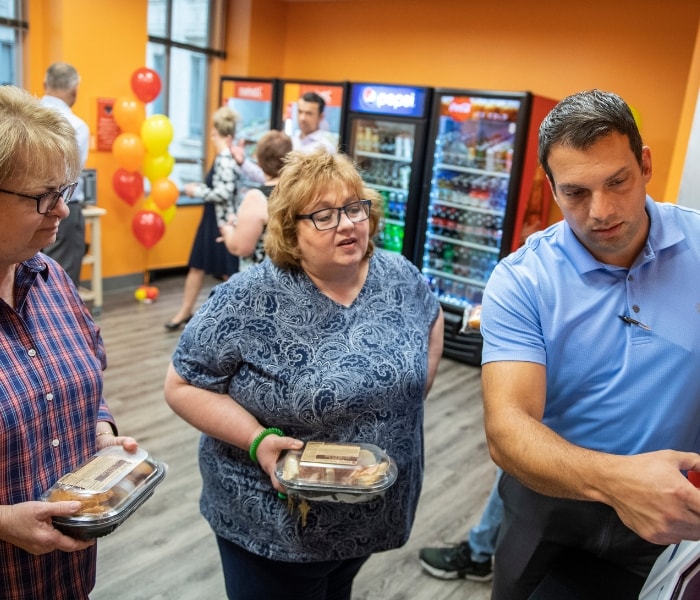 Setting up a Market C account is simple and makes payment quick and easy.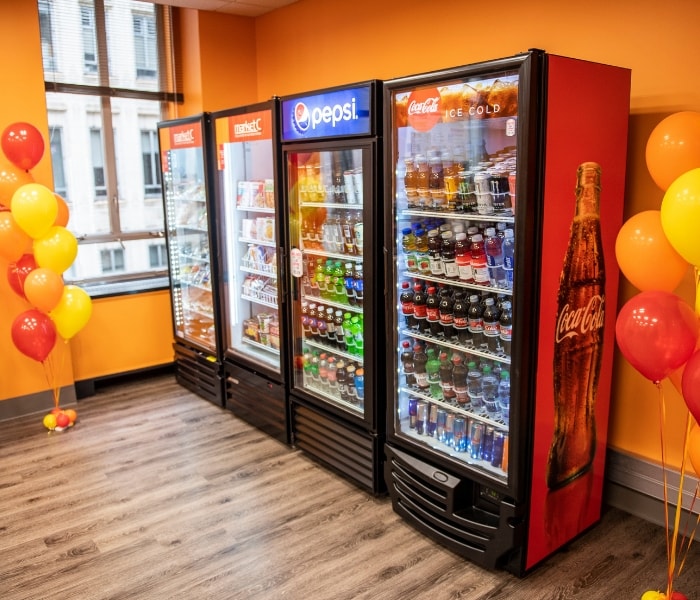 Market C has so many cold beverages to choose from!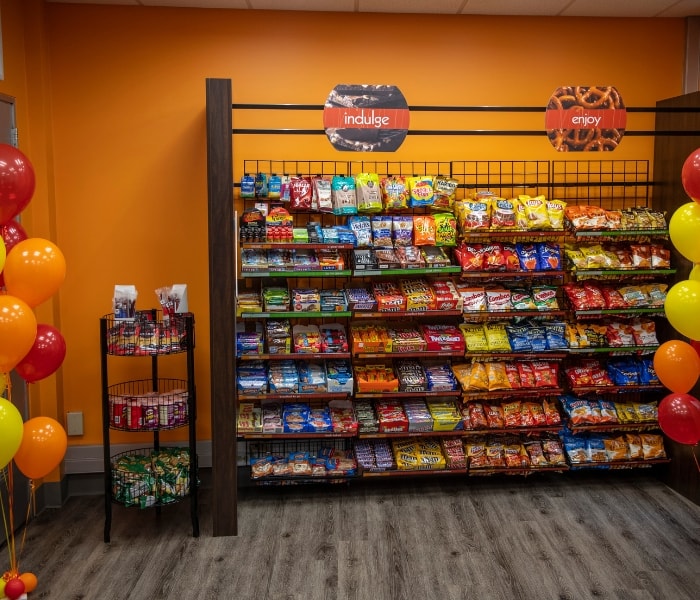 Snacks, snacks, and more snacks - look for new additions every month!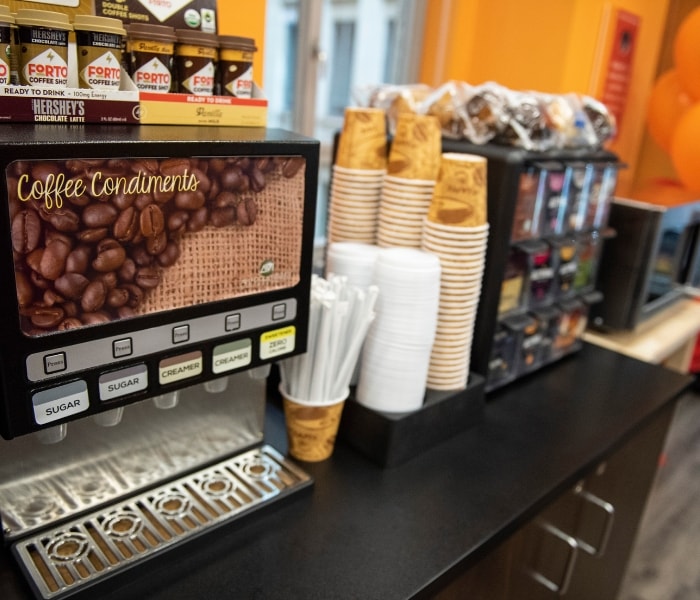 Customize your perfect cup of joe anytime of day.