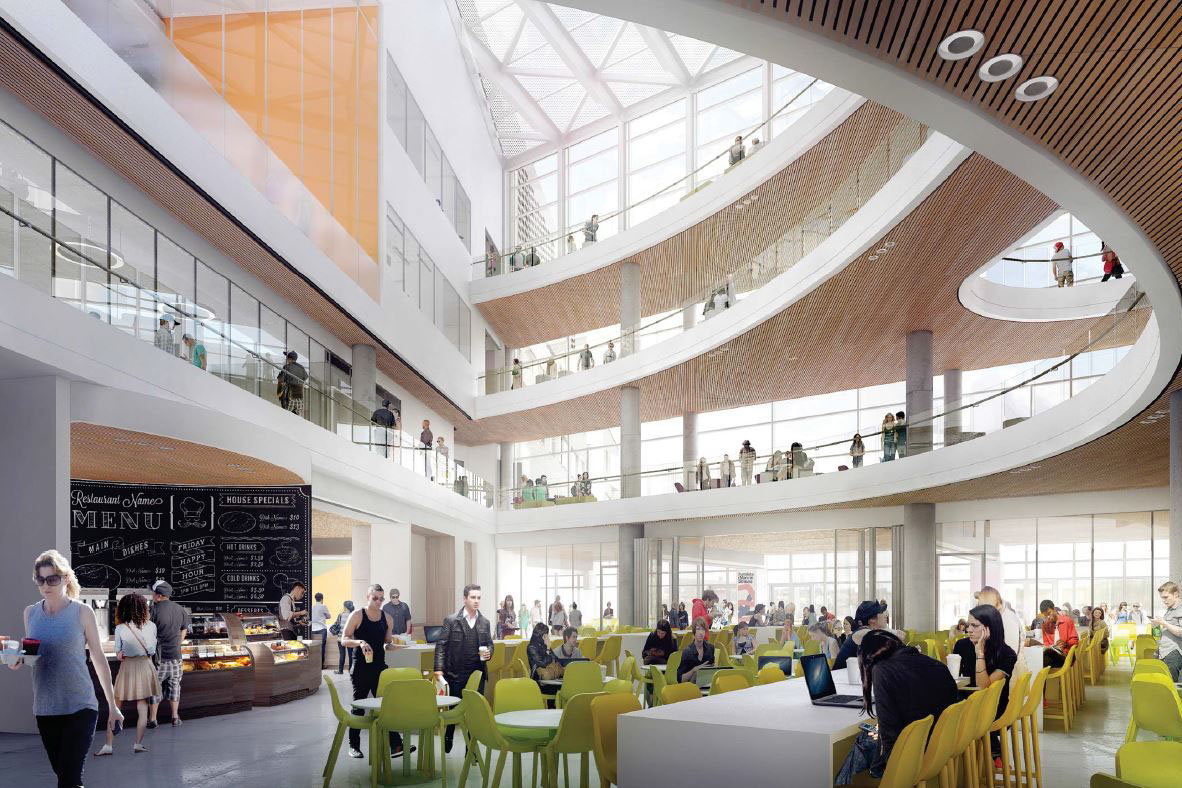 September 20, 2016
Dining Announces AVI as the Food Service Provider for Tepper Quad
Media Inquiries
Mandi Semple
Director of Marketing, Student Affairs
AVI will offer a new standard of cuisine for the state-of-the-art facility.
Carnegie Mellon University's Dining Services has selected AVI Foodsystems, Inc. (AVI) as the food service provider for the new David. A. Tepper Quadrangle (Tepper Quad), which is scheduled to open in summer of 2018.
Tepper Quad will be the first of AVI's 80 university dining programs in the country to feature "AVI Pure," an entirely new standard of cuisine focused on a modern and holistic approach to food. "This innovative dining concept emphasizes sourcing the most natural ingredients and following a preparation process that ensures minimal impact to the environment," says John Coker, AVI's chief creative officer. "AVI will feature foods in the Tepper Quad marketplace that are free of artificial colors, artificial flavors, artificial sweeteners, and the use of antibiotics and growth hormones."
After a thorough RFP review and vetting process, AVI clearly rose to the top as the campus community's first-choice dining vendor and food service provider for Tepper Quad, a state-of-the-art facility dedicated to campus-wide collaboration and new home to the Tepper School of Business.
AVI has served Carnegie Mellon's dining program since 1996 with a robust vending and beverage program. With the award to operate the Tepper Quad's 3,200 square-foot culinary marketplace, AVI will craft and execute a revolutionary culinary program designed specifically to meet the needs of a highly diverse university community of students, faculty, staff, alumni, and campus guests.
The multiple retail venues planned within the Tepper Quad marketplace will include AVI's exclusive concepts, including:
Trattoria, featuring specialty hand-crafted pastas and hand-tossed pizzas;
Carvery, showcasing made-to-order sandwiches with house-roasted meats and fresh-baked artisan breads;
Sprout, a modern, all-organic fruits and vegetables bar focused on procurement of in-season fruits and vegetables from local farms and a custom-developed menu of sprouted grains, beans, and seeds;
Met Grill, a contemporary concept that features deliciously grilled favorites including locally sourced bison burgers and a number of healthy sides.
In keeping with a local commitment, AVI will partner with Tazza D'Oro to serve coffee and other beverages at the Tepper Quad marketplace. A Carnegie Mellon Dining Services partner since 2010 and one of the best espresso bars in the city of Pittsburgh, Tazza D'Oro is known for its artisan coffees, commitment to sustainable coffee farming, and its highly trained baristas.
"Carnegie Mellon University strives to enhance and elevate the health, wellness, and satisfaction of our campus by offering a best-in-class dining program," says CMU Director of Dining Services Pascal Petter. "The Tepper Quad offers Dining Services the opportunity to create a marketplace that is social, collaborative, and healthy in its approach to food, the community, and the environment. With AVI at the helm of the dining marketplace in this visionary new facility, our dining program will achieve culinary innovation in taste, wellness, and variety."