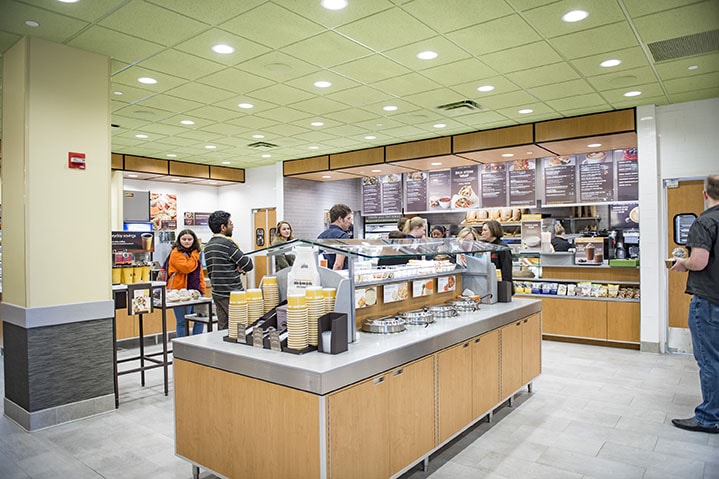 November 13, 2015
Au Bon Pain at Skibo Café Opens for Business
Media Inquiries
Mandi Semple
Director of Marketing, Student Affairs
A national leader among restaurant brands, Au Bon Pain has a long history of success in higher education institutions, with café locations in over 30 of the most notable colleges and universities in the country. Au Bon Pain offers a diverse menu appealing to a broad array of customers (and palates) and the ability to serve many customers without long lines or waits.
The newly renovated Skibo Café includes increased seating in the form of communal tables, soft seating, two booth sitting areas, bar and café-style seating, as well as multi-functional spaces with writable wall and tabletop surfaces, digital displays, and easy access to power and data.

The Au Bon Pain café offers an improved traffic flow for food ordering, check out, and meal pick-up and an extensive menu that includes 10 soups daily, salads, sandwiches, pastries and baked goods, grab-n-go items, regular and flavored coffees, and so much more.
Au Bon Pain offers a wide array of delicious, nutritional foods that include low-sodium, low-fat, gluten-free, vegan, and vegetarian options. Full nutritional information is provided in each Au Bon Pain café which has helped the brand earn Health magazine's designation as one of America's Top 5 Healthiest Restaurant Chains over the past three years and one of America's Healthiest Restaurant Chains by Grellin. Additional information about Au Bon Pain may be found at www.aubonpain.com.
Au Bon Pain at Skibo Café opened to the community on Friday, May 13.