Freshman Seminars Offer Exciting Opportunities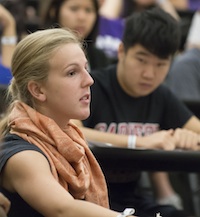 Each academic year, the Dietrich College of Humanities and Social Sciences offers special seminar courses for first-year students. The Freshman Seminars are designed to introduce students to the various research areas of the college's award-winning faculty. In intimate class settings, students are able to delve into topics that interest them and receive training on how to successfully research issues in the humanities and social sciences.
Three seminars during the academic year are endowed by gifts to the college. Thanks to generous donors, Dietrich College is able to honor the seminars' namesakes as well as provide students with even more exciting learning opportunities.
"Freshman seminars help students make the transition from high school to college as well as expose them to very specific research areas within the college's many disciplines," said Joseph E. Devine, associate dean of the Dietrich College. "The named seminars are a great way for us to recognize individuals who care deeply for education and research as well as give our students the chance to learn from our top-rated professors in a small class setting."
The Dietrich College's 2013-2014 named freshman seminars are:
The Richard Schoenwald Freshman Seminar
Named after the late and beloved History Professor Richard Schoenwald, the Schoenwald Seminar is offered annually by the Department of History. Schoenwald, a staunch proponent of undergraduate involvement in research, was an expert in the history of psychology and society and the arts. His published books included "Freud, the Man and His Mind" and "Nineteenth Century Thought." Schoenwald received the Dietrich College's Elliot Dunlap Smith Award for outstanding teaching and the university's highest teaching honor, the William and Frances Ryan Teaching Award.
This year's Schoenwald Seminar will be taught in spring 2014 by Emanuela Grama, assistant professor of history who focuses on the politics of architecture and urban planning in 20th century Central and Eastern Europe. The course, "The Politics of Science and Technology in a Cold War Era," will concentrate on the developments in science and technology during the Cold War at a global scale, with a particular emphasis on how scientific and technical training became a crucial strategy for waging politics at the regional and national level.
Read the full course description.
The Frank Brunckhorst Freshman Seminar
A CMU Life Trustee, Frank Brunckhorst runs Boar's Head Provisions, a supplier of delicatessen meats and cheeses that was founded by his family in 1905 in Brooklyn, NY and now distributes its products throughout the United States.
The Brunckhorst Seminar rotates throughout the college's departments and will be given by the Department of Statistics this year.
Visiting Assistant Professor Andrew Thomas will teach "Number Games: Sports and Gambling in the 21st Century" next semester as this year's Brunckhorst Seminar. The seminar will use the new tools available in the age of Big Data to explore the growth of probability modeling in professional sports. Thomas, whose own research focuses on stochastic methods for modeling relational data, will also help students understand how operations research is used to frame questions in sports in terms of game-time decisions, methods for ranking players and teams against each other and how the methods can offer insight into online role playing games, trading in stock markets and televised singing competitions.
Read the full course description.
The John C. Vassil Freshman Seminar
The late John C. Vassil received his bachelor's degree in chemical engineering from Carnegie Institute of Technology in 1952. After receiving a law degree from George Washington University in 1958, Vassil eventually became a partner at Morgan-Finnegan LLP.
The Vassil Seminar also alternates throughout the college's departments. This year's Vassil Seminar will be offered by the Department of Psychology. Robert Siegler, the Teresa Heinz Professor of Cognitive Psychology and a renowned expert in the cognitive development of problem solving and reasoning in children, will teach "How Children Learn Mathematics."
In the course, Siegler will demonstrate how math is not a subject that children first learn about in school – they actually begin to learn it in the first few months of life. Siegler will also show how mathematical development provides a window into children's learning in general. He will also explore broad issues in learning, such as why older children usually learn more effectively than younger ones; how learning different subjects – like math and reading – are related to each other; and why children in some countries learn math more effectively than children in other countries.
Read the full course description.