Resources for Undergraduates
May 2023 Undergraduate Spotlight
Farewell & best wishes to the Children's School seniors graduating this spring!
Summer Abraham
(Psychology / Decision Science / Design for Learning)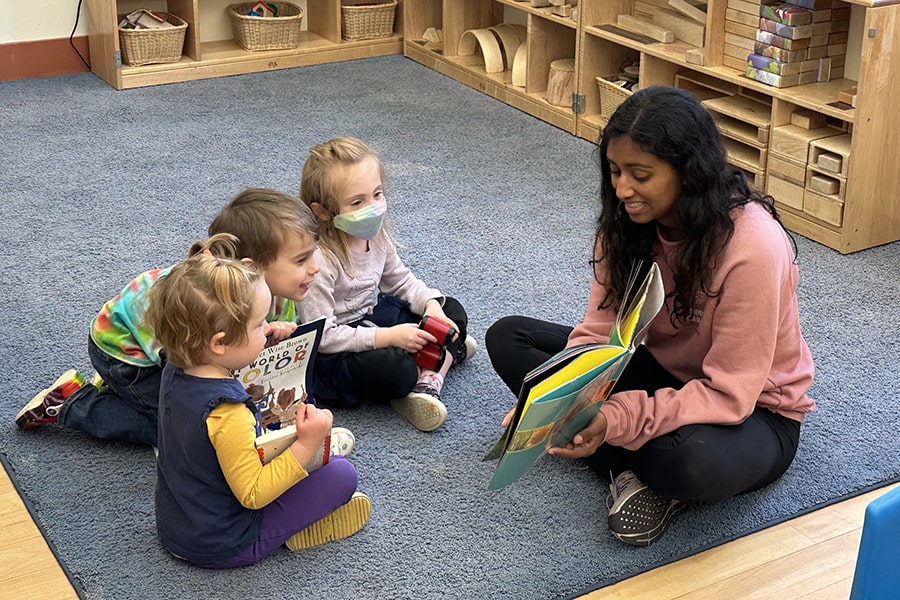 Four years ago, when I was deciding what college to attend, my mom sent me an article about Dr. Carver and the Children's School. Reading that article and exploring the Children's School sold me on Carnegie Mellon; so as soon as I got on campus, I started working at the Children's School. Some of my favorite experiences have been taking a tour of Carnegie Mellon Campus led by CMU's architect with the Green Room friends, playing hide-and-seek on the playground, building with blocks, and attending the family festival. Also, I recently had the Red and Blue Room friends decorate a graduation stole that I am planning to wear when I graduate in May!
Throughout the past four years, including the pandemic, the most consistent thing in my life has been the Children's School. The energy of the friends and the passion of the teachers is infectious, and I am eager to go to school in the mornings, and I have loved getting to know other undergraduate students who are interested in working with children. The Children's School is truly a magical place, and I am so glad to have had the opportunity to get to know the wonderful community of people around it. I hope to continue to work in the education field in the future, and my memories and lessons learned from the Children's School will always stay with me.
Stewart Harrison
(Drama / Social and Political History)
I have been working at the Children's School for all four years I have been at CMU, and it has been one of the highlights of my time here. I started in the library reorganizing all the books, and then I started helping with dismissal and started interacting with the children here. I was blown away by their creativity, earnestness, and humor. I would ask how old they thought I was and got answers of everything from 4 to 5000. I also asked what they wanted to be when they grew up (best answer = robot). During the pandemic, I couldn't see them, and I had to do my work after school hours. It was sad to not be able to interact with them anymore, but it was still fun to see the art they put on the walls and watch them learn and grow. As I interacted with them more in my Junior and Senior years, watching these children develop personalities and learn how to be people never failed to brighten my days. I am going to be sad to leave the Children's School behind as I graduate and head into the real world, but I will remember everything I learned here for a very long time. 
See you next time, See you next time, See you next time, At the Children's School!