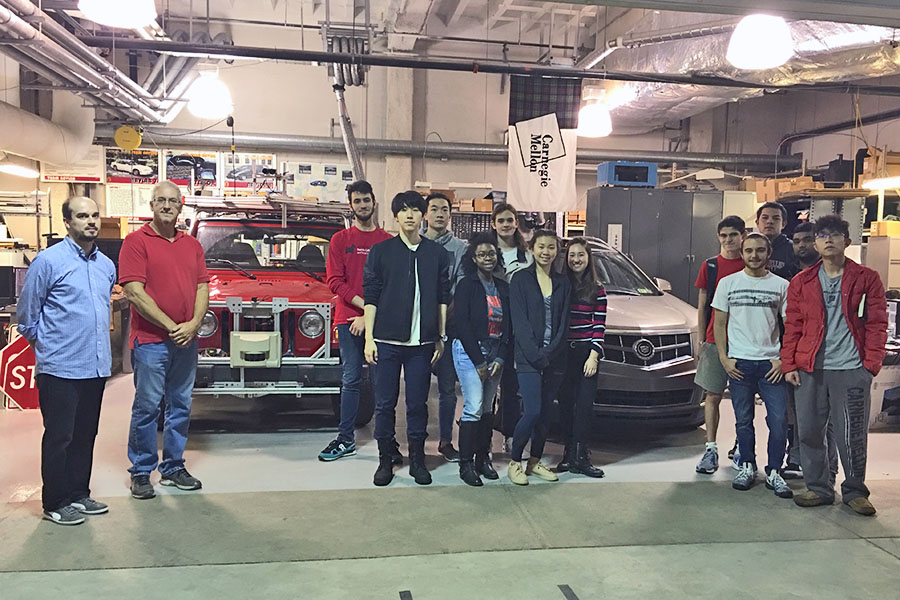 November 15, 2017
Philosophy Class Visits Navlab
By Correy Dandoy correy(through)cmu.edu
Students in a Philosophy Department course got a firsthand look at Carnegie Mellon University's Navlab – a group on campus that builds computer-controlled vehicles for automated and assisted driving. Navlab has been building a series of robot cars, vans, SUVs and buses since 1984.
Postdoctoral fellow Mate Szabo's class Computing, AI and Philosophy is designed to be an interdisciplinary introduction to philosophical issues surrounding artificial intelligence (AI) and its impact on society.
"We are inundated with depictions of how AI will revolutionize our lives in the near future, especially in the form of self-driving cars, and CMU has a long history with self-driving vehicles," says Szabo. "Despite CMU's involvement with all kinds of AI and robotics-related research, most students don't get a chance to familiarize themselves with these technologies."
Szabo organized the visit to the Navlab so that students in the class could see the research being done across campus. A majority of the students are from the Dietrich College of Humanities and Social Sciences with others from the College of Fine Arts and Tepper School of Business.
"The Navlab visit brought many of the concepts discussed in the course to life," said Matt Buchman, a first-year student in the Dietrich College of Humanities and Social Sciences. "It provided a bridge between examples of AI from the distant past to modern research, giving us access to firsthand accounts of the progression of AI technology, and allowed us to discuss AI with an expert."
In the spring, Szabo will co-teach a newly designed course with a focus on AI: Automation, Artificial Intelligence & Society, with Ph.D. student Aidan Kestigian. The course will consider AI and automation from historical, ethical and public policy perspectives.
Related Links
Model Driverless Car Regulations After Drug Approval Process, AI Ethics Experts Argue
Other Buzzworthy Classes in the Dietrich College
CMU Philosophy Research Areas