October 28, 2015
Student Spotlight: Recent Graduate Latif Elam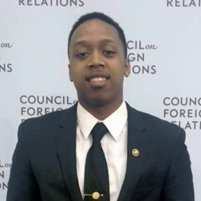 Latif Elam graduated in May 2015 with a B.A. in Ethics, History and Public Policy. Get to know this young alum!
Tell us about your academic experience at CMU and in the Philosophy department.
My four years at Carnegie Mellon were a big learning curve for my interests and me. I knew I was interested in History, but I didn't think I wanted to just major in History. I learned about the Ethics, History and Public Policy (EHPP) major and declared it my junior year. It was nice that CMU allowed me to be flexible the first two years while I figured out what I wanted to do. I knew I wasn't a "tech" person but I like to read, write, and analyze and it took me a little while to find that outlet. I had to figure out the skills that made me unique and master those first. I found a great fit with EHPP.
Tell us about your internship experience.
I've had several internships, but the one that got everything going for me was while I participated in the Washington Semester program during the spring of my junior year. I interned with Senator Kristen Gillibrand from New York. It was a very life-changing experience for me to be around influential people who had similar interests as me. Sometimes it is difficult being a humanities major on campus– you don't necessarily see people striving to be at the top of industry's that you are passionate about (such as, law, public policy, education). That was the first time I understood what my strengths are, I was placed in an environment where my skills had the opportunity to shine, and I felt more confident when I returned to Pittsburgh next semester. I took advantage of being in DC, learning everything I possibly could, especially how to network. I was able to meet several Senators, thought leaders, and earned a 3.8 GPA while interning four days a week.
By the end of my experience, I was more comfortable standing up and introducing myself to people that I wanted to meet. I learned about various career paths that I didn't know existed. Through that experience I knew that I was very much interested in policy as well as law. Before I left DC, I secured an internship working on a political campaign for a Representative in my district, and another internship at the New York County District Attorney's Office for the summer.
What are your career goals?
For the summer after graduation I have been interning at American Express in the General Counsel Office. I am really interested in getting a position in corporate setting and work for several years gaining experience in business. Although I didn't take a business course in college, my internship experiences and the flexibility of my major allows for me to pursue different fields. I recently accepted a full-time position at American Express. My title is Product Marketing Operations Analyst. My team is in charge of making sure American Express marketing complies with the laws they have to follow as a Bank Holding Company.
This summer, I developed a strong interest in bank regulatory law. After working in business and gaining those skills, I would like to go to law school and specialize in banking and/or corporate law. Ultimately, I'd like to become a judge.
What is your advice for incoming first-year students at CMU? Is there anything you would have done differently during your time here?
First, if you can, take advantage of the Washington Semester Program! You'll get a unique experience in the nation's capital.
Don't worry about what your major says on paper. If you like doing something, or enjoy learning about a particular topic – follow your interests. It's harder to work against those things than to embrace them. Today, your major is what you make it. It doesn't have to define you. Follow what you do well and what your passion is. Something will spark from it. The EHPP major is only at CMU, so it's completely about how you market yourself. Be comfortable with who you are and embrace the skills you have.
Be strategic from the start – I felt overwhelmed when I first arrived in Pittsburgh. I wish I had reached out to people more from the beginning. Many college students believe that their careers should follow a structured path, and that hinders them from just doing the best they could. You never know what opportunity will present itself, but you can make sure your prepared when that day comes.