May 23, 2016
Assistant Professor Adam Bjorndahl named 2016-17 Wimmer Faculty Fellow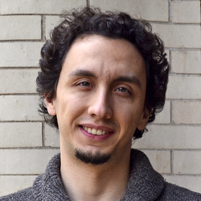 Adam Bjorndahl, Assistant Professor in the Department of Philosophy, has been selected as a 2016-17 Wimmer Faculty Fellow at the Eberly Center for Teaching Excellence and Educational Innovation. The fellowships are designed for junior faculty members interested in enhancing their teaching through concentrated work with an Eberly consultant to design or redesign a course, innovate new materials, or explore a new pedagogical approach.
Professor Bjorndahl was selected for his proposal, "Game Theory Through Games," which focuses on enhancing the current "Game Theory" course (80-405/705) with a collection of interactive activities that complement and reinforce many of the central learning objectives of the course. In the course, he plans to help students better grasp the underlying principles of Game Theory, the abstract study of "interactive rationality," by playing and analyzing actual games, from Rock, Paper, Scissors, to more complex games as the semester progresses.
Bjorndahl will develop a series of modules, each based on a particular kind of game-theoretic scenario, designed to help an instructor actually play the corresponding kind of game in class and use this group experience to reinforce and enrich the core content of the course.
"I intend for these modules to improve the Game Theory course by helping the students situate the theoretical material presented therein in a concrete context," says Bjorndahl. "These modules will be as self-contained and independent as possible so as to allow instructors the flexibility to adapt their own courses as much or as little as desired."
The Wimmer program, now in its eleventh year, is supported by a grant from the Wimmer Family Foundation. Wimmer Fellows receive a stipend to acknowledge the intellectual work it takes to improve one's effectiveness as an educator. Fellows, including Professor Bjorndahl, will be officially recognized at next year's CMU Celebration of Education event, when the fellowship term is completed.