Spring 2015 Events
February 20, 2015 - Come Celebrate the Year of the Sheep!
The CMU Community is cordially invited to join the Modern Languages Chinese Studies Program for a celebration of Chinese New Year on Friday, February 20. Food and beverages will be served, and activities will include calligraphy, Chinese paper-cutting, and learning about the art of tea drinking.

February 20, 2015
PH A18 A, B, C
4:30–6:30 p.m.




February 20, 2015 - A Night of Film, Food, and Fun: Cowboy Bebop and hors d'oeuvres from around the globe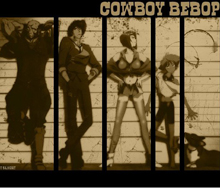 On Friday, February 20, the Modern Languages Student Advisory Council (MLSAC) is hosting a film event in Baker Hall. This year's event will celebrate Japanese culture through the screening of a Japanese animated film, Cowboy Bebop. Prior to the film, guests will have an opportunity to mingle with friends as they sample foods traditional to countries around the world.
February 20, 2015
Giant Eagle Auditorium and Baker Hall Coffee Lounge
5:00–8:00 p.m.
March 18, 2015 - CMU Scholars to Discuss "Free Speech" in Wake of Paris Attacks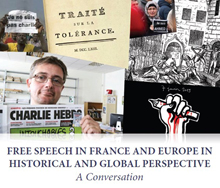 With panelists Allyson Creasman (Associate Professor of History), Mame-Fatou Niang (Assistant Professor of French and Francophone Studies), and Katherine A. Lynch (Professor of History)

This panel provides historical and social perspective on debates over "free speech" and cultural diversity in the wake of the Charlie Hebdo and kosher grocery attacks in Paris. How did notions of toleration and free speech develop in the European past? How do long-standing traditions of French Republicanism and citizenship contribute to current conflicts? What are the tensions between abstract concepts like "citizenship" or "free speech" and the realities of a diverse, multi-ethnic society?

After short presentations by each panelist, there will be ample time for questions and discussion from the audience.
March 18, 2015
Steinberg Auditorium (Baker Hall A53)
4:30-6:00 p.m.


Sponsored by the Departments of History and Modern Languages
March 19, 2015 - Modern Languages Students Say "Yes!" to Phi Sigma Iota
On March 19, outstanding students from the Department of Modern Languages will participate in an initiation ceremony to become official members of Phi Sigma Iota, a prestigious international honors society that recognizes the achievements of top students in academic fields related to foreign languages, literatures, and cultures. The ceremony, which is taking place at Duquesne University this year, will be followed by a reception.

March 19, 2015
Duquesne University
March 24, 2015 - Melissa Schneider to Lecture on China's "Romantic Revolution"
Imagine a world where nobody says "I love you," sex is a mystery until the wedding day, and romance has nothing to do with the serious business of marriage.  Then fast-forward a mere sixty years, to a place where teenagers hold hands in public, young parents go out for dates—by themselves—on Valentine's Day, and grandmas dream of having "that spark" with someone before they die. This is…China? Join Melissa Schneider, author of
The Ugly Wife Is a Treasure At Home: True Stories of Love and Marriage in Communist China
(Potomac Books, 2014), as she brings us inside the mainland's unfolding romantic revolution during a lecture titled "From Rooster Weddings to Aesthetic Fatigue: China's Unfolding Romantic Revolution."
Bio:
Melissa Schneider, LMSW, is a couples therapist, author, and the co-founder of LuvWise.com. She has a keen research interest in factors and dynamics that predict relationship stability and happiness. Two days after her own wedding, she moved to Shenzhen, China, where she spent two years talking with locals about their love and marriage experiences since the rise of the Communist regime. She shares their stories in her newly released book
The Ugly Wife Is a Treasure At Home: True Stories of Love and Marriage in Communist China
. Ms. Schneider is a contributing writer to ScienceofRelationships.com, has been an expert guest on Business Insider and the Freakonomics podcast, and recently lectured about her book at Oxford University. She holds a Masters in Clinical Social Work from Columbia University and lives outside of New York City with her husband Matthew. 
Read the first pages of
Melissa Schneider's book
.
March 24, 2015
Steinberg Auditorium
4:30 p.m.
March 29, 2015 - Award-Winning Film "Excuse My French" will be Screened at CMU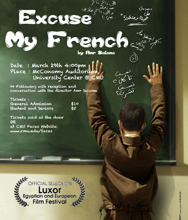 On Sunday, March 29, the film
Excuse My French
will be screened in the McConomy Auditorium in the University Center at 4 p.m. A reception featuring Middle Eastern food will follow. The award-winning film was directed by Amr Salama, who will be present at the event. The film sheds light on public education in Egypt today and Coptic minority identity. "It's the most personal film I'll ever make," said Salama.
Tickets:
General Admission: $10
Students and Seniors: $5
Tickets can be bought at the door or
in advance.
Learn more about the film and its director.
April 1, 2015 - An Evening of French Poetry and Song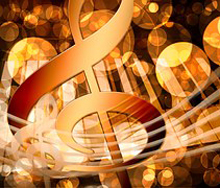 The Department of Modern Languages has joined forces with Carnegie Mellon's School of Music to organize an evening of French poetry and song. Come to the Mellon Institute Auditorium on April 1 to hear the music of Debussy, Fauré, Duparc, and other composers, and the work of poets including Baudelaire, Villon, and Verlaine.
April 1, 2015Mellon Institute Auditorium 7:30 p.m.
Admission is free.
April 7, 2015 - Georgetown Linguist John Norris to Visit Carnegie Mellon this Spring
This April, the Department of Modern Languages will welcome John Norris, Associate Professor of Linguistics at Georgetown University, to Carnegie Mellon for a two-day visit. Dr. Norris will meet with faculty and students, and will deliver a few talks during his stay.
Graduate Seminar Talk: "Working with Constructs in Instructed SLA"
Constructs are generally understood to be idealized and unobservable concepts, or groups of inter-related concepts (often referred to as models), used to explain particularly important phenomena in various domains of scientific inquiry. Within instructed Second Language Acquisition (ISLA), constructs provide the basic constitutive elements underlying theories of how languages are, or should be, taught and learned under educational circumstances. "Focus-on-Form,""socio-pragmatic competence," "implicit linguistic knowledge,""academic speaking ability," and "the ZPD" are examples of some of the many kinds of constructs that play a role in guiding how we think, talk about, and research language education in more or less theoretically informed ways. While familiar, constructs are also tricky--they emerge out of particular intellectual milieus for particular reasons, they are themselves socially constructed, and they may be de-constructed by those who use them in both research and applied instruction. In this seminar, participants will review how ISLA constructs are developed and put into practice by individuals as well as research and professional (particularly teaching) communities. Through discussion and exploration of several well-known examples of pedagogic constructs, participants will consider how constructs may either help to illuminate or further confuse our understandings of instructed learning as they are defined, operationalized, analyzed, communicated, and interpreted by researchers and educational practitioners.
April 7, 2015
Baker Hall 255A
3:30 –5:00 p.m.

Bio: John Norris is an associate professor in the Linguistics Department at Georgetown University, where he also serves as Director of the Assessment and Evaluation Language Resource Center. His research and teaching interests include educational assessment, program evaluation, language pedagogy (task-based language teaching in particular), and research methods. He has taught language and applied linguistics courses, and consulted on assessment, evaluation, and teacher development projects, in Belgium, Brazil, Germany, Japan, Spain, and around the U.S. Prior to joining Georgetown, he served for eight years as a professor in the Department of Second Language Studies at the University of Hawai'i, and for two years as outcomes assessment specialist at Northern Arizona University. John's publications have appeared in journals such as Applied Linguistics, Foreign Language Annals, Language Learning, Language Learning & Technology, Language Teaching Research, Language Testing, Modern Language Journal, TESOL Quarterly, and Die Unterrichtspraxis. His most recent books explore the topics of language teaching (Task-Based Language Teaching: A reader), evaluation (Innovation and Accountability in Language Program Evaluation), assessment (Validity Evaluation in Language Assessment), and research synthesis (Synthesizing Research on Language Learning and Teaching). He has served as chair of the TOEFL Committee of Examiners and the International Consortium on Task-Based Language Teaching, and he recently completed a sabbatical as Fulbright scholar at the University of Alicante in Spain. John speaks German, Spanish, Portuguese (and a little Japanese and French), and he is an avid runner/hiker/surfer.
April 9 and 13, 2015 - Have Questions? We Have Answers!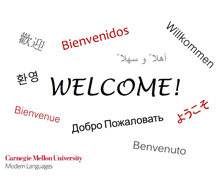 Have you ever thought about taking a course in the Department of Modern Languages, but couldn't decide which one to sign up for? Do you have questions about the department's courses or degree programs, but you're not sure where to turn to get answers? If so, we have good news for you: On April 9 and April 13, faculty from the Department of Modern Languages will be on hand in the University Center and in Baker Hall to share information about courses and to answer any questions you might have. Look for our "Welcome!" poster and smiling faces in the Wean Commons area in the University Center and inside the main entrance to Baker Hall. We invite you to stop by anytime between 10:30 a.m. and 1:00 p.m. on either day to chat about Modern Languages while enjoying hot beverages and snacks. We hope to see you there!
April 9 and April 1310:30 a.m. to 1:00 p.m.University Center (Wean Commons on the first floor) and Baker Hall (outside of BH 160)
April 13, 2015 - Professor Rowena Xiaoqing He to Talk "Tiananmen Exiles" at Carnegie Mellon
In the spring of 1989, millions of citizens across China took to the streets in a nationwide movement against government corruption and authoritarian rule. What began with widespread hope for political reform ended with the People's Liberation Army firing on unarmed citizens in the capital city of Beijing, and those leaders who survived the crackdown became wanted criminals overnight.
Dr. He's talk will be based on her newly published book, Tiananmen Exiles: Voices of the Struggle for Democracy in China, which interweaves her own experiences with the accounts of three student leaders exiled from China in the aftermath of the military crackdown. In their own words, they describe their childhoods during Mao's Cultural Revolution, their political activism, the bitter disappointments of 1989, and the profound contradictions and challenges they face as exiles. Variously labeled as heroes, victims, and traitors in the years after Tiananmen, these individuals tell difficult stories of thwarted ideals and disconnection that nonetheless embody the hope for a freer China and a more just world. Their stories shed light on broader political developments within China and China's relations with the world.
April 13, 2015
Gates Hillman Center 4307
4:30 p.m.

Bio: Born and raised in China as a member of the "Tiananmen Generation," Dr. He moved to Canada in 1998, where she received her Ph.D. from the University of Toronto. Today she teaches at Harvard University, where her seminars on the Tiananmen uprising have earned her a Certificate of Teaching Excellence three years in a row. Her book Tiananmen Exiles: Voices of Struggle for Democracy in China was published simultaneously in paperback and hardcover in April 2014 by Palgrave-MacMillan.
Read the first pages of Dr. He's book.

* This event is co-sponsored by the Department of Modern Languages and the Center for International Relations and Politics.
April 22, 2015 - Ebola—Panic or Pragmatic? Reflections and Lessons from a Crisis
Paul Brockmann, who has worked with Médecins Sans Frontières / Doctors Without Borders since 2005, recently launched an effort in Sierra Leone to help train and prepare management teams from other organizations to safely and effectively take on a direct role in Ebola patient care. On April 22, he'll talk about his personal and professional experiences in this context, with reflections on lessons learned and hopes for the future response to health care crises in resource-poor settings around the world.
April 22, 2015
Giant Eagle Auditorium (BH A51)
4:30 p.m.