Fall 2018 Events
November 13 & 16, 2018 - Two Events with S∆MMUS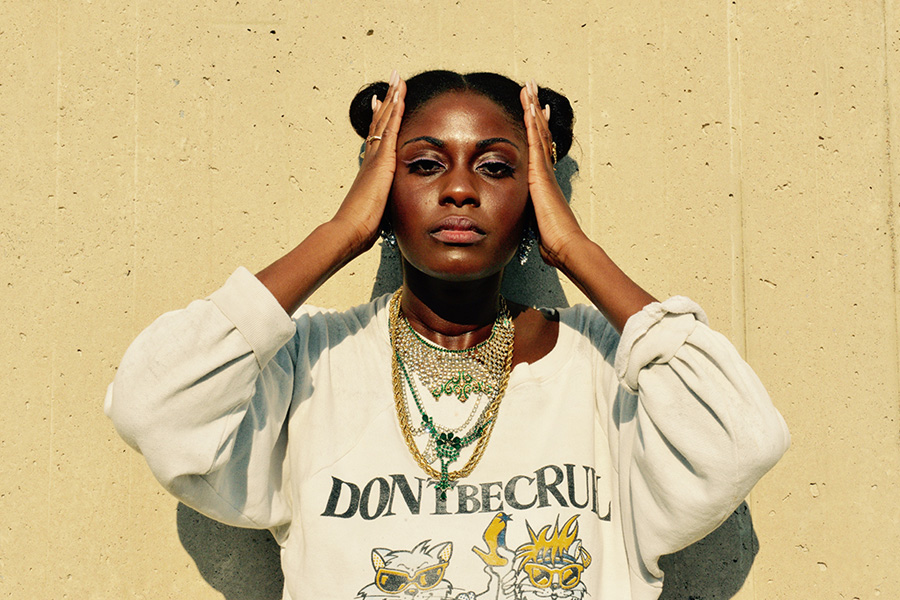 The Center for the Arts in Society presents two events with S∆MMUS:
MIGHTY MORPHING ARTISTRY & MULTIVALENT ART SPACES
Tuesday, November 13th in CFA's Kresge Theatre at 4:30 PM

and

BENEFIT SHOW
Friday, November 16 at the Ace Hotel Ballroom 8:00 PM
FREE show! CASH DONATIONS will be taken at the door for GWEN'S GIRLS

Additional support provided by:
The School of Music
CMU ProSEED
Arts Greenhouse
Entertainment Technology Center
Department of Modern Languages
November 8, 2018 - Polyglot Café: Study Abroad Program and Modern Languages
POLYGLOT CAFÉ: STUDY ABROAD PROGRAM AND MODERN LANGUAGES
The Modern Languages Student Advisory Council (MLSAC) will be hosting the Fall Polyglot Café. Faculty and student presenters will share information and their exciting experiences about study abroad and the Department of Modern Languages. Pizza and refreshments will be provided.
Thursday, November 8, 2018
4:00-6:00pm
Rangos 3, Cohon University Center
October 26, 2018 - Modern Languages Open House
MODERN LANGUAGES OPEN HOUSE
All are invited to join the Department of Modern Languages for an Open House during Inauguration & Homecoming Weekend 2018 to celebrate 100 years of Modern Languages at Carnegie Mellon University, and the opening of the Askwith Kenner Global Languages and Cultures Room. Stop by to connect with fellow alumni, students, and faculty, and interact with immersive student projects in the new language classroom and learning space. Refreshments will be provided.
Friday, October 26, 2018
4:30-6:00pm
Askwith Kenner Global Languages and Cultures Room, Tepper Quad 1024
October 18, 2018 - Teaching Languages in the Era of Social Media, Hyper-collaboration + Immersive Technologies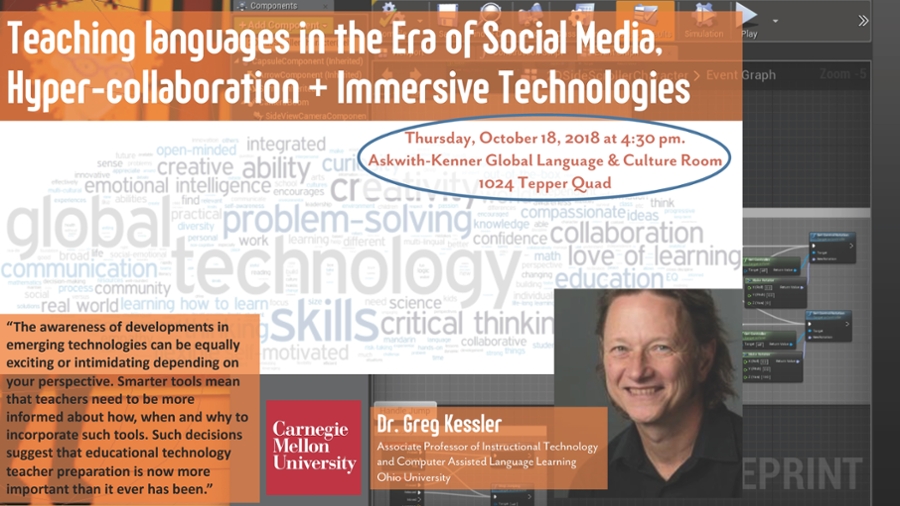 TEACHING LANGUAGES IN THE ERA OF SOCIAL MEDIA, HYPER-COLLABORATION + IMMERSIVE TECHNOLOGIES
Join us for a lecture by Dr. Greg Kessler, an internationally renowned expert in the field of Computer Assisted Language Learning and L2 pedagogy.
Thursday, October 18, 2018
4:30pm
Askwith Kenner Global Languages and Cultures Room, Tepper Quad 1024
October 11, 2018 - Growing Hope: Grassroots Activism in Haiti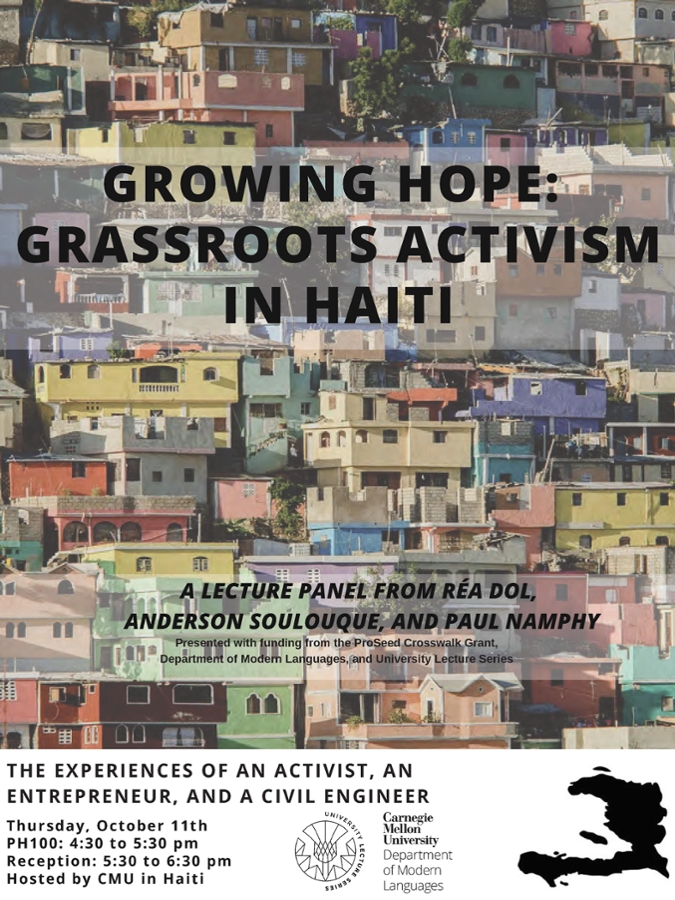 GROWING HOPE: GRASSROOTS ACTIVISM IN HAITI, A LECTURE PANEL FROM RÉA DOL, ANDERSON SOULOUQUE, AND PAUL NAMPHY
Three activists from Port au Prince, Haiti, will present their experiences, challenges, and successes throughout their careers. Réa Dol is the Founder and Director of SOPUDEP, an umbrella grassroots organization that supports orphanages, mobile health clinics, women's micro-credit organizations, and schools.  Réa has received international recognition for her work and compassion for her community. Soulouque Anderson is the Founding Director of Pale Dlololo Institute and Tours, a travel and language agency that works to educate clients about Haitian culture. Paul Christian Namphy is a civil engineer and the current Municipal Coordinator for DINEPA, Haiti's Water and Sanitation Authority. Paul  has helped to coordinate international engineering solutions to prevent Cholera. Réa, Paul, and Soulouque frequently work together in Port au Prince to coordinate their talents and organizations for the betterment of Haiti.
Thursday, October 11, 2018
4:30-5:30pm
Porter Hall 100
October 10, 2018 - ICOR: Informal Conversations on Research, Online French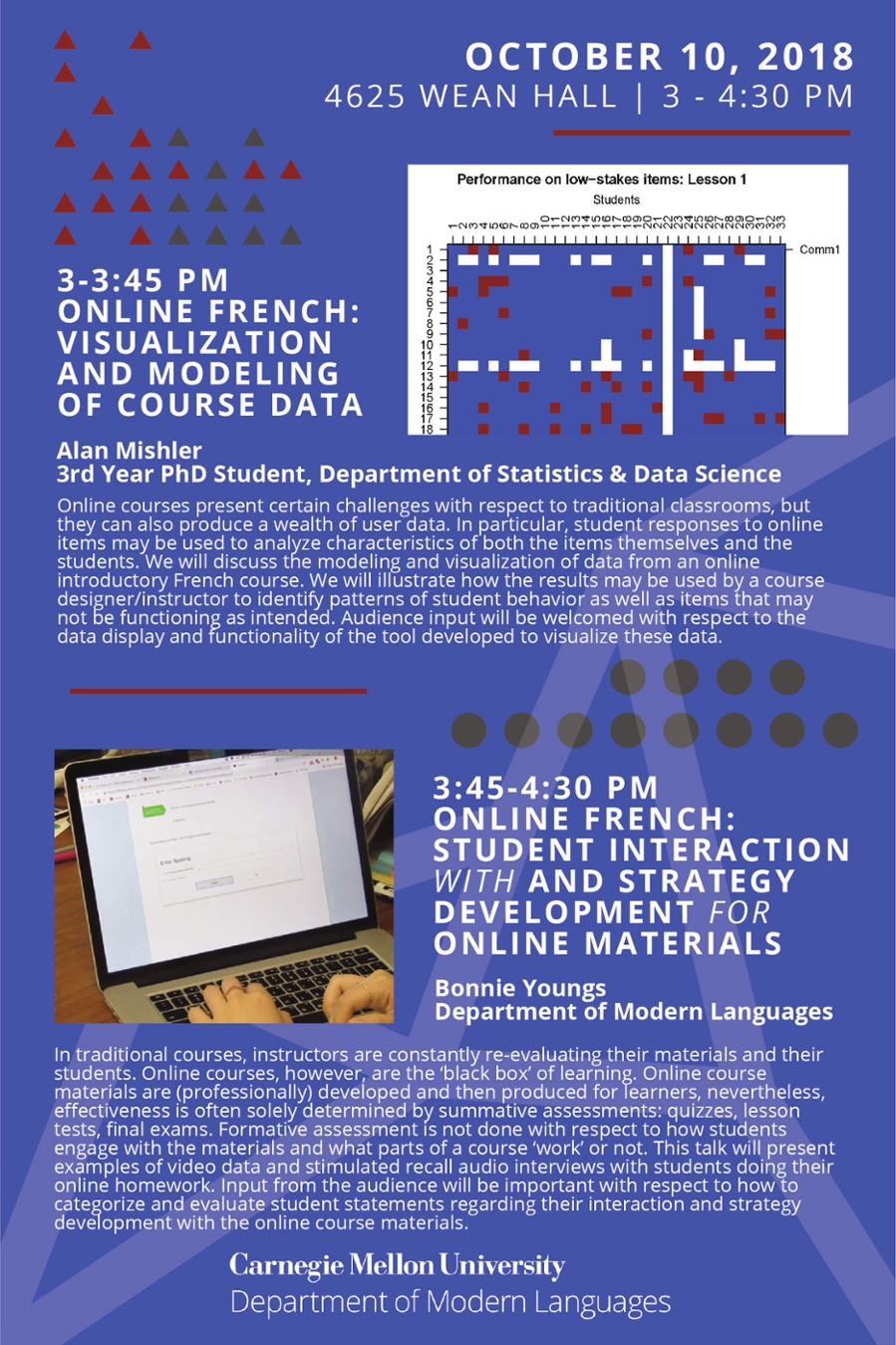 ICOR: INFORMAL CONVERSATIONS ON RESEARCH
Online French: Visualization and Modeling of Course Data
Alan Mishler; 3rd Year PhD Student, Department of Statistics & Data Science

Online courses present certain challenges with respect to traditional classrooms, but they can also produce a wealth of user data. In particular, student responses to online items may be used to analyze characteristics of both the items themselves and the students. We will discuss the modeling and visualization of data from an online introductory French course. We will illustrate how the results may be used by a course designer/instructor to identify patterns of student behavior as well as items that may not be functioning as intended. Audience input will be welcomed with respect to the data display and functionality of the tool developed to visualize these data.

Online French: Student Interaction with and Strategy Development for Online Materials
Bonnie Youngs, Department of Modern Languages

In traditional courses, instructors are constantly re-evaluating their materials and their students. Online courses, however, are the 'black box' of learning. Online course materials are (professionally) developed and then produced for learners, nevertheless, effectiveness is often solely determined by summative assessments: quizzes, lesson tests, final exams. Formative assessment is not done with respect to how students engage with the materials and what parts of a course 'work' or not. This talk will present examples of video data and stimulated recall audio interviews with students doing their online homework. Input from the audience will be important with respect to how to categorize and evaluate student statements regarding their interaction and strategy development with the online course materials.
Wednesday, October 10, 2018
3:00-4:30pm
Wean Hall 4625
October 1, 2018 - International Translation Day Open House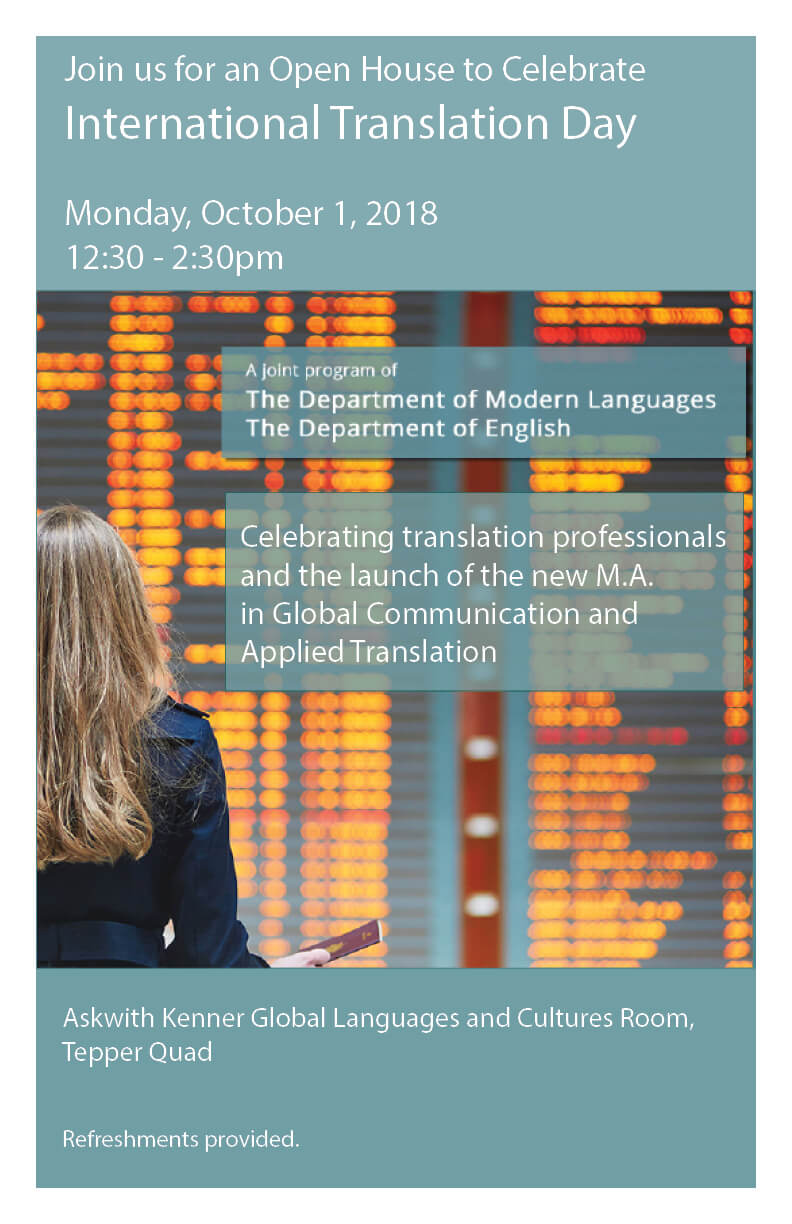 INTERNATIONAL TRANSLATION DAY OPEN HOUSE AND LAUNCH OF THE M.A. IN GLOBAL COMMUNICATION AND APPLIED TRANSLATION
Each year on September 30, professional translators around the world are recognized for their work on International Translation Day. Carnegie Mellon University's Department of Modern Languages and Department of English are holding an Open House to celebrate International Translation Day and the launch of the Departments' new combined degree, the M.A. in Global Communication and Applied Translation. At the Open House, there will be short presentations on translation studies by faculty and students as well as an opportunity to learn about the new M.A. program. All are welcome and refreshments will be provided.
Monday, October 1, 2018
12:30-2:30pm
Askwith Kenner Global Languages and Cultures Room, Tepper Quad 1024
September 19, 2018 - ICOR: Informal Conversations on Research, Comics Studies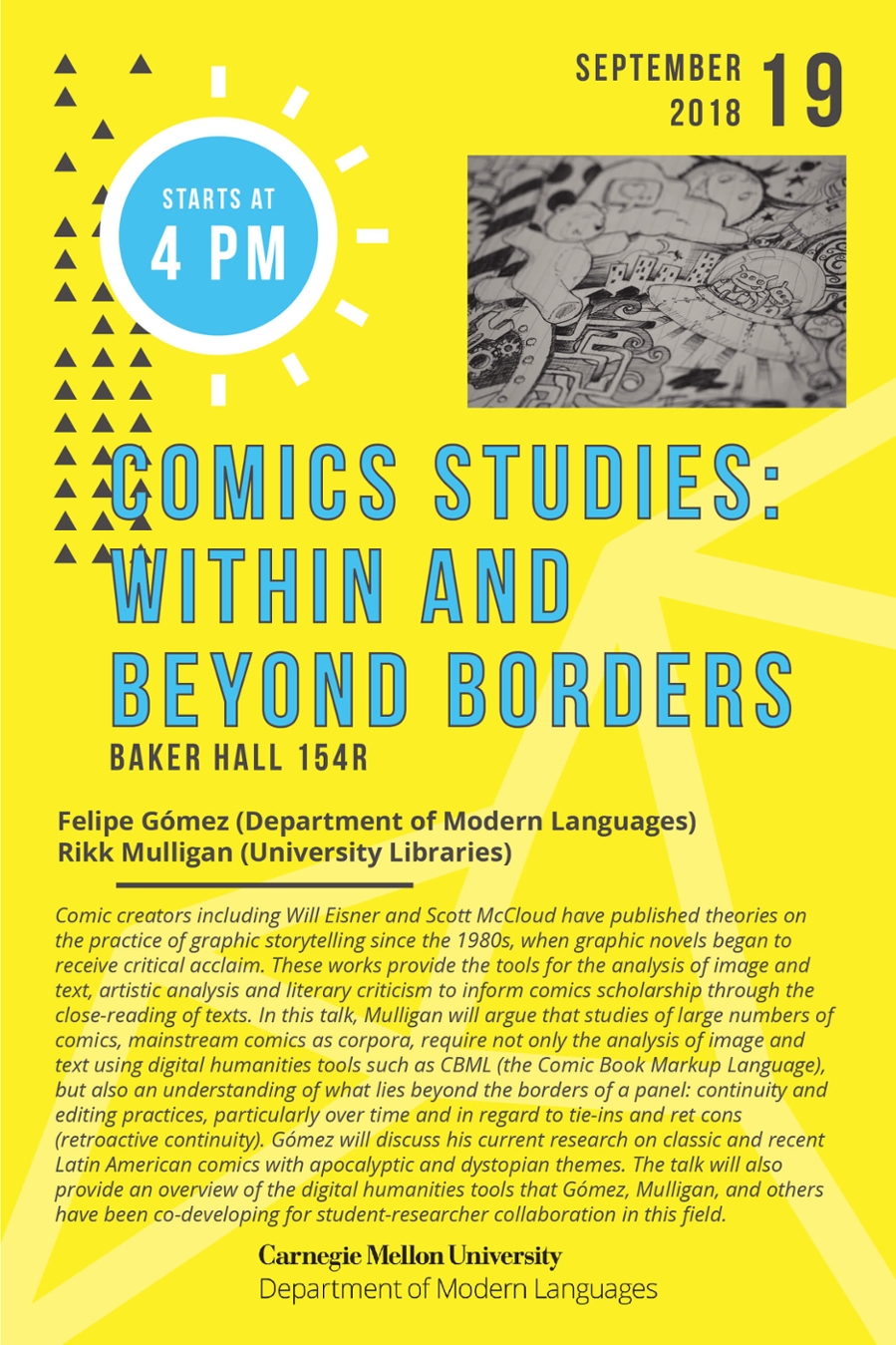 ICOR: INFORMAL CONVERSATIONS ON RESEARCHComics Studies: Within and Beyond Borders
Felipe Gómez (Department of Modern Languages)Rikk Mulligan (University Libraries)
Comic creators including Will Eisner and Scott McCloud have published theories on the practice of graphic storytelling since the 1980s, when graphic novels began to receive critical acclaim. These works provide the tools for the analysis of image and text, artistic analysis and literary criticism to inform comics scholarship through the close-reading of texts. In this talk, Mulligan will argue that studies of large numbers of comics, mainstream comics as corpora, require not only the analysis of image and text using digital humanities tools such as CBML (the Comic Book Markup Language), but also an understanding of what lies beyond the borders of a panel: continuity and editing practices, particularly over time and in regard to tie-ins and ret cons (retroactive continuity). Gómez will discuss his current research on classic and recent Latin American comics with apocalyptic and dystopian themes. The talk will also provide an overview of the digital humanities tools that Gómez, Mulligan, and others have been co-developing for student-researcher collaboration in this field.
Wednesday, September 19, 2018
4:00pm
Baker Hall 154R