October 18, 2010
English Professors Jim Daniels and Jane McCafferty Publish "From Milltown to Malltown"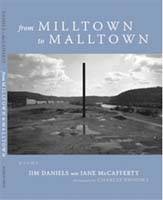 Congratulations to Jim Daniels, Jane McCafferty, and Charlee Brodsky on the publication of their new book: From Milltown to Malltown.
The book uses poetry and photography to explore the transformation of Homestead and its neighboring Steel Valley communities, from the once-thriving steel-producing capital of the world to an area divided (
read the full press release here
).
For more information, please visit
http://www.marickpress.com/index.php?/milltown-jim-daniels
. Also, you can watch a video of Jim Daniels reading selected poems from the book at
http://www.youtube.com/watch?v=d0nh1RjmbYY
.