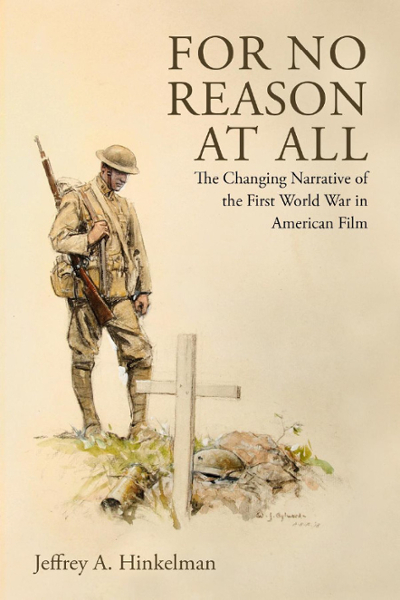 April 20, 2022
Jeff Hinkelman Publishes New Book on World War I Film Narratives
By Ellie Michalik emichali(through)andrew.cmu.edu
Jeff Hinkelman, Senior Lecturer and Director of the Film & Visual Media Program, has published a new book, For No Reason at All: The Changing Narrative of the First World War in American Film. As the title indicates, Hinkelman explores the narrative and rhetoric of World War I films.
The inspiration behind Hinkelman's book comes from the 1925 film, The Big Parade. "The Big Parade kicks off a period of reflection which frequently involves people who were in the war, are contemporaries of the war who have strong opinions about it. …by the end of that period, it's almost impossible to portray the war as anything but a complete fiasco that ruins people," Hinkelman notes. "My argument in the book is that despite developing a post-WWI narrative on film which portrays war as horrific, that narrative is lost when World War II displaces WWI as the dominant subject in popular media - we can't think of war generally as horrific because we are going to be at war, so we have to be more positive."
When asked how the narratives of World War I and World War II differ, Hinkelman clarifies: "WWII has a clear ending, which WWI does not, and the narrative of WWII is triumphalist - the good guys win, the bad guys lose, and that is still the case when we talk about WWII. What that does to WWI is make it the Bad War versus the Good War. We can still talk about WWI as 'war is bad' and being horrific because we don't quite ever say that about WWII. We are more positive about it because it has a clear ending." 
In reflecting upon the goal of his book, Hinkelman states, 
Though the book discusses how the First World War is portrayed on screen right up through Wonder Woman, films from the 1930s are not most peoples' cup of tea. These films have definite politics to them that speak in many ways to our time. Given recent events in Iraq, Afghanistan, and now Ukraine, it would make sense if the post-WWI narrative of disillusionment with war reemerged in visual media. So if the book encourages people to look up a couple of these films, and to explore the extent to which a negative view of warfare could be portrayed in popular media, then that's a win.