Studios
---
Studios are workshops delivered at school and community organziation sites. Tailored towards middle school and ninth grade students, these programs are geared to ease the transition between middle school and high school.
AG facilitates two formats of non-professionalized artistic engagements with students: Classroom Studios and School's Out Studios. Using a common foundation of creative writing, each workshop connects students to other fields of creativity, introducing students to different paths the humanities can lead them to in the visual, performative, and digital arts.
Curriculum is designed using the Pennsylvania Academic Standards for the Arts and Humanities, criteria from the Allegheny Partners for Out-of-School Time Quality Campaign, and a culturally responsive pedagogy promoting arts and humanities education as a social practice. These workshops emphasize the humanistic, historical and cultural roots of various mediums in order to prepare students to be well-rounded, well-prepared, and self-aware future artists, professionals, and citizens.
CLASSROOM STUDIOS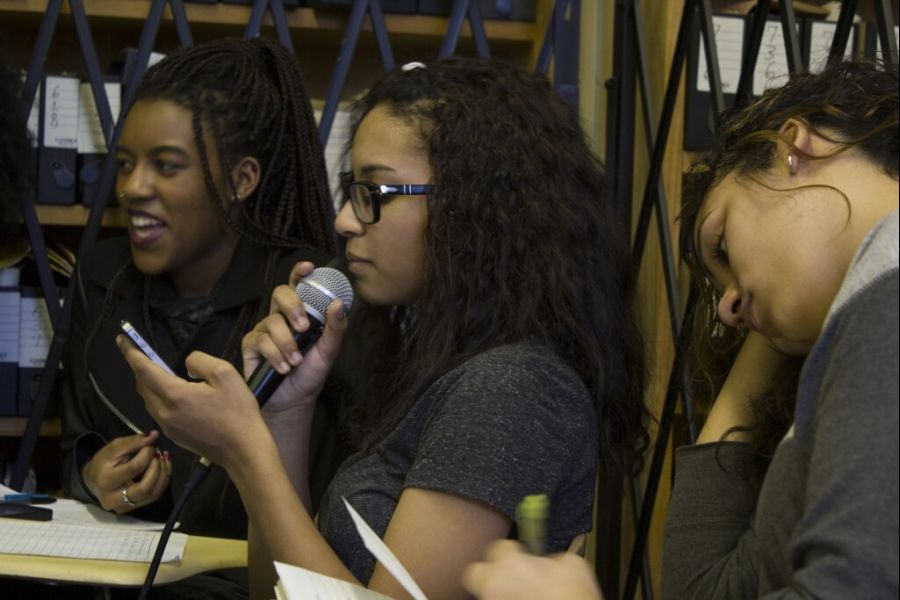 Throughout the school year, AG collaborates with classroom teachers to provide students with innovative lessons based on the arts and humanities. Whether connecting poetry structures with music production or interpreting writing with visual arts, students get to engage with the written word and express themselves with different mediums. Classroom Studios allow students to create a collaborative classroom project using individual work. Projects vary depending on the track and resources. Students are invited to present their final project at the Arts Greenhouse Showcase at the end of the academic year.
Each host teacher works with the AG Head Instructor and Program Coordinator to determine the best track for their classroom. Classroom Studios have the option of choosing field trips to Carnegie Mellon University and a local museum, business, or gallery. Some tracks require field trips.
Sample Tracks

Music Production
Poetry
Short Form Writing
2D Art
Contact Program Manager Shun-Sho Carmack at shunsho@cmu.edu to learn about current offerings.
SCHOOL'S OUT STUDIOS
School's Out Studios are out-of-school time programs developed in coordination with a hosting site. Whether it's a one day event or a semester-long project, students get opportunities to combine educational learning through innovative learning tools, supportive relationships, safe creative spaces, and additional learning connections that map directly to state educational standards.

Using project and grade-specific curriculum, participants choose independent and collective learning projects based on a social topic or current event. Tying together creative writing with an artistic medium, participants use meetings to discuss different issues, give constructive feedback, and make their creative works. Each school club will be invited to present their projects at the end of the academic year.
Based on the host site's needs, students will also have additional activities such as field trips to Carnegie Mellon University, collaborations with other community programs, or other opportunities that arise.
All curriculum incorporates foundational material that can be scaffolded based on participants' past experiences.
Clubs are led by AG's Head Instructor, Program Manager, and students from Carnegie Mellon University.