2017 Year in Review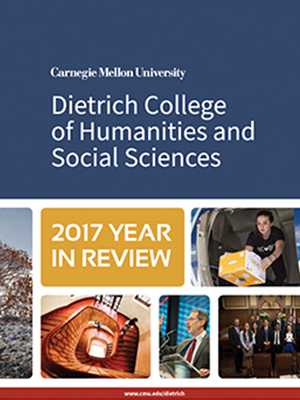 At Carnegie Mellon University, the Dietrich College of Humanities and Social Sciences is the home for research and education focused on humanity.
From how the brain gives rise to the mind, to how we make decisions, to how we should make decisions, to how a collection of individual agents can form a society, to how societies have evolved over time from small tribes to great nations, to how languages and cultures vary and how they shape the human experience, to the amazing edifices of literature and philosophy produced by these cultures, our college is the home to some of the most exciting interdisciplinary research and teaching in the world.
Our faculty do foundational and deep disciplinary research, collaborate across many disciplines, take on problems that are important to the world today and share a passion for innovation in both research and teaching. Our students are trained in a wide array of disciplinary approaches, and they become involved in research early and often. They emerge from their experience at CMU able to communicate, think, learn and understand the world in ways that will serve them for the rest of their lives.
The 2017 Year in Review is a sample of stories about the faculty, staff, students and alumni in the college that found their way to the CMU websites, local press or the national media. By any measure it is an impressive compilation. The awards, honors, accomplishments, imaginative projects and general energy that jump off the pages to follow should give an interesting snapshot of the college in its 48th year and in Carnegie Mellon University's 50th.
Whether you are a member of our faculty or staff, a current or former student, or someone curious about what is happening at Carnegie Mellon's Dietrich College of Humanities and Social Sciences, I hope you find what follows as interesting as I do!

Richard Scheines
Dean, Dietrich College of Humanities and Social Sciences
Professor of Philosophy
2017 Year in Review Table of Contents: