COVID-19 Information for the Dietrich College
This page lists COVID-19 related resources for Dietrich College students, faculty and staff. Please visit the university's Coronavirus Information page for the most up-to-date information on CMU's response to the coronavirus.
Requests for Single-Visit Access to Dietrich Buildings
Complete the Access Form to request single-visit access to all Dietrich College spaces in campus buildings except Mellon Institute, which has a separate access process.
Submission of this form is required by:
Anyone who is NOT listed in a Return to Campus plan and wishes to visit campus during the week or on the weekend for activities other than attending or teaching a class.

Anyone who is listed in a Return to Campus plan but wishes to visit at a time other than the time that is scheduled in the plan, including weekend visits.
 
Your request will be reviewed by your department's business manager and department head. After your request has been approved, a copy of your completed request will be emailed to the address you provided.
Every Wednesday, departments must report on occupancy density for the upcoming week. Please submit your access request as early as possible. 
If you need regular, on-going access to campus, please contact your department head for inclusion in the department's Return to Campus plan.
Baker Hall Patio Reservations
A tent has been placed over the Baker Hall Patio to provide space for one-on-one, socially distanced meetings outdoors.
Priority will be given to academic advisors and faculty.

Masks are required to utilize these spaces.

Tables may be reserved for up to 30 minutes per meeting.

Email hssrooms@andrew.cmu.edu with the date and time of your meeting request.

In your reservation confirmation, you will be assigned a table number.

The Dean's Office will provide sanitizing supplies. However, sanitizing of the tables after use is required by the individual who reserved the table.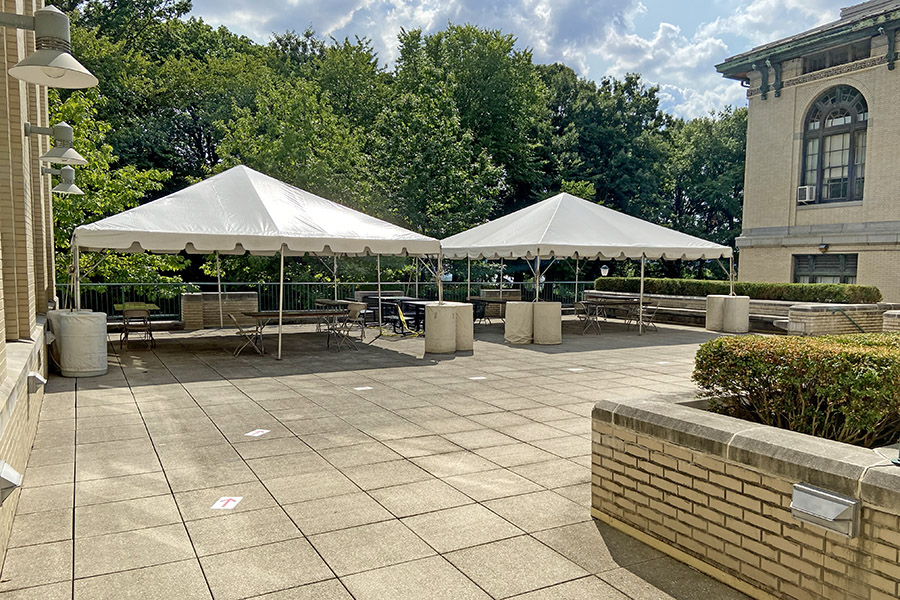 If you have questions related to conducting your research remotely or on-campus, contact Dietrich College's Associate Dean for Research David Creswell.
Undergraduate students interested in pursuing research this fall may visit the Remote Undergraduate Research Opportunities page for more information.
Dietrich Liaisons
Each Dietrich College academic department has established at least one liaison to assist instructors with connection, communication and coordination regarding teaching in a hybrid model. Dietrich Liaisons meet each week to discuss needs, resources, best practices and opportunities for cross-college professional development. 
Pandemic Safety Officers (PSOs) are faculty and staff volunteers who assist with the development, support and regular reviews of their department or organization's Return to Campus Plan. A PSO ensures that colleagues have the information and resources to comply with the minimum Return to Campus requirements.
View a list of Pandemic Safety Officers (Andrew login required)
Some PSOs have received additional training as Community Pandemic Safety Ambassadors (CPSA). In addition to the existing roles and responsibilities of a PSO within their respective department or unit, a CPSA supports the campus community in common areas and classrooms, performs health and cleaning spot-checks, and assists the campus community with implementing physical distancing.
View a list of Community Safety Ambassadors (Andrew login required)
Learn more about these roles