November 15, 2022
Introducing the Data & Analytics Collaborative
Data analytics is critically important to higher education operations and strategic growth. The Association for Institutional Research (AIR), EDUCAUSE (representing higher education IT communities), and the National Association of College and University Business Officers (NACUBO), jointly issued an urgent call for higher education institutions to strengthen the use of data analytics when making strategic decisions. The joint statement is entitled "Analytics Can Save Higher Education. Really." This statement is bold and provocative and carries a clear sense of urgency. This statement has six broad themes:
Go Big—Make an institutional commitment to analytics. Make your approach to data analytics transformational and connected to the institutional mission for accurate results that matter to your students, faculty, and staff.
Invest What You Can—You cannot afford not to. Get ready to make substantial investments in time, talent, and money. The necessary investment goes far beyond buying technology.
Analytics is a Team Sport—Build your dream team. Establish a team approach with an unrelenting expectation for collaboration across colleges, departments, and administrative units.
Analytics Has Real Impact on Real People—Avoid the pitfalls. Responsible use of data is a non‐negotiable priority.
Prepare for Some Detours on the Road to Success. Authentic and sustained change is necessary for analytics to have a measurable impact on decisions and behaviors at all levels of an institution.
Tick‐Tock, Tick‐Tock—The time to act is now. A sense of urgency is critical as institutions commit to using data analytics. This urgency needs to come from the institution's leaders.
This joint statement, besides its urgency, carries the data analytics community's hope to be counted on as a partner in campus decision‐making, a partner that provides clues to many of the complex problems that higher education leaders want to solve. Higher education faces many challenges, such as improving student success, lowering cost, broadening access and affordability, and maximizing value. The Joint Statement points to data analytics as an organizational resource that will provide insights for solving these complex equations.
This call for action at Carnegie Mellon University (CMU) is heard loud and clear. On July 26, 2022, CMU formally launched the University Leadership Dashboard project with a kick-off event that attracted nearly 200 stakeholders across the campus. The leadership dashboard project is a significant milestone in our data journey. Previous investments, such as the improvement of data access and integration capabilities, the formation of a Data Stewardship Council, and the broader use of the Tableau data visualization platform, have established the building blocks for us to grow. Associated closely with the university dashboard project is an initiative to build a Data and Analytics Collaborative.  
The Data and Analytics Collaborative at CMU is a direct response to the joint statement's call for action in building our dream team, promoting collaboration, and empowering the campus community.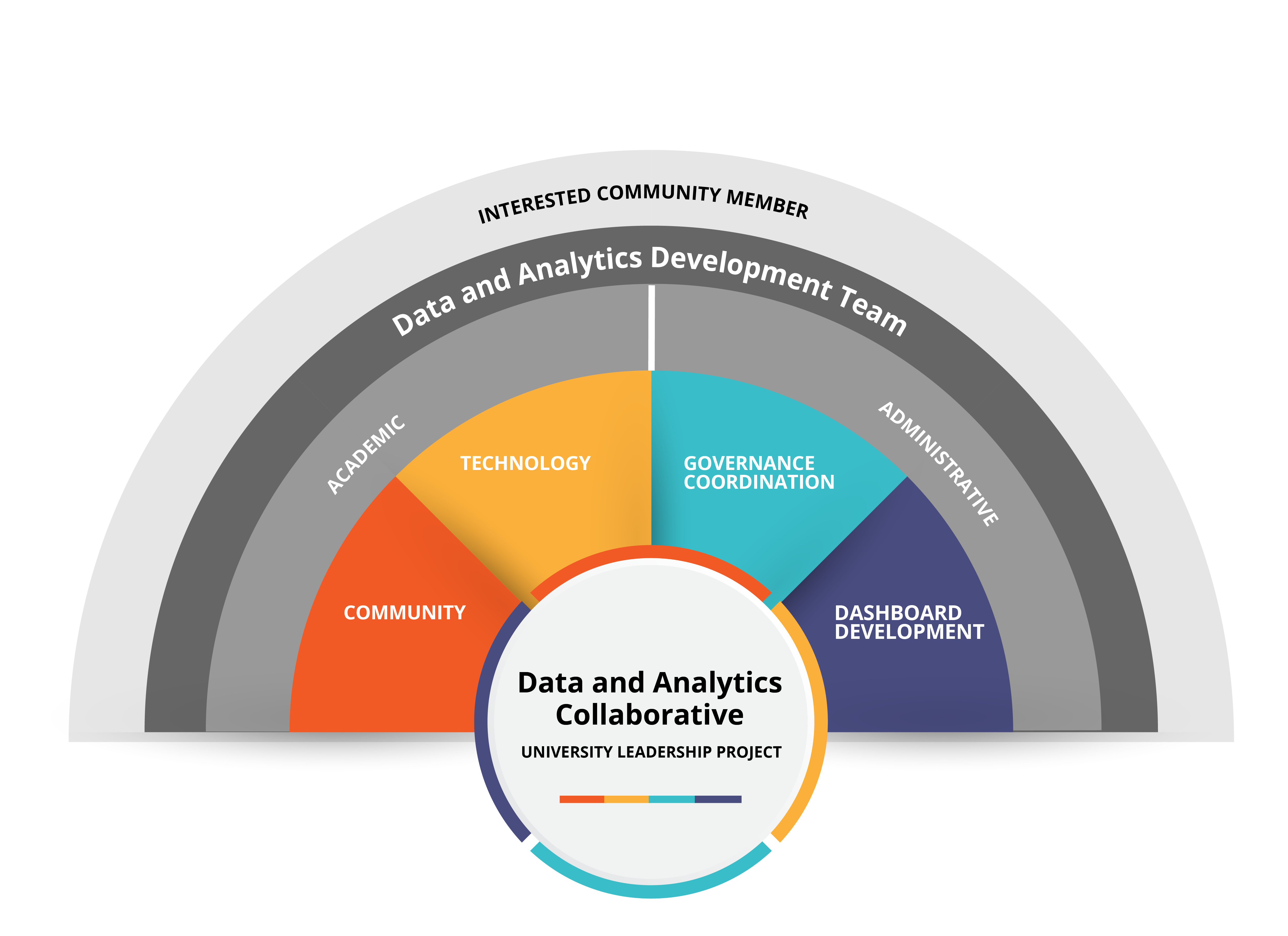 There are several critical components to the Data and Analytics Collaborative concept as depicted in the image above. 
First and foremost, the Data and Analytics Collaborative is about people. People are the greatest assets for CMU's data analytics initiatives. As a university, we are known for our academic leadership in computer science, artificial intelligence, and management information systems. We have faculty, staff, and students who are enthusiastic supporters and participants in data analytics development efforts. The Collaborative will be the hub that connects the spokes of data analytics users, managers, and analysts from academic programs and administrative units. Our data and analytics development team is staffed by a core group of information technology and data analytics professionals and are open to other community members who are interested and willing. We also have several forums to keep the community engaged and active, including the Data Analytics newsletters, the Data @ CMU website, Tableau User Groups, and other groups. As resources become available, we will share them through the Community of Practice (CoP) site.
Second, the Data and Analytics Collaborative is about the process. It is one thing to collect data, conduct analysis, and create dashboards; it is another to ensure that data is accurate, complete, and documented. The process for curating data, managing it effectively, following a set of data governance best practices, and having a good strategy for reviewing and approving the publication of a dashboard all need to be established and followed to build confidence with data users. Data quality and integrity are paramount to earning people's trust. As a community, we are working together to create and implement these services and processes. Stay tuned for future announcements and "lunch and learn" opportunities around these important topics!
Third, the Data and Analytics Collaborative is about technology and resources. As an organization, CMU has information technologies on different platforms and, sometimes, the same platform but other instances for different people. The Collaborative calls for introducing standard data and analytics tools and platforms to bridge the data silos and promote a more integrated infrastructure that improves data standards, access, and sharing. Such technology resources will include the development of a "data lake" to organize data from multiple sources. This "data lake" is an enterprise-level cloud-based data repository that Snowflake supports as the technology vendor. Another technology resource is an enterprise Tableau server that will empower everyone within CMU to gain viewer access to all Tableau dashboards with appropriate access privileges. We will also launch a central site where all dashboards will be connected and shared. The central dashboard site will be a one-stop shop for data analytics users.
Finally, the Data and Analytics Collaborative creates a data analytics culture for CMU. Any data strategy cannot be effective if we don't have the right organizational culture to support it. Like the consultants always said, "Culture eats strategy for lunch."  The CMU data culture will be epitomized by the high level of leadership support and commitment (as indicated by the joint statement). Our leadership is committed to using data to inform decisions, and this project is evidence of this commitment. The CMU data culture will also be characterized by close collaborations and active participation of campus stakeholders. From user groups to lunch and learns, data assets documentation to dashboard designs, and data mining to data storytelling, we eagerly request campus community involvement and ownership of data analytics efforts.  
The Data and Analytics Collaborative is a new concept, but it is built on a rock-solid foundation. Our ability to effect positive changes and create synergistic collaboration will depend on everyone's effort to nurture and support this initiative. We look forward to working with you, our data analytics community members.