Hybrid Model for Teaching and Learning
CMU Moon Rover teammates
For the 2020-2021 academic year, Carnegie Mellon is providing a hybrid model of teaching and learning that maximizes flexibility, accessibility and, most importantly, quality, creativity and innovation.
At the course level, this means we will be offering both in-person and remote instruction for as many of our courses as possible.
We know that some members of our community are unable to return to campus due to travel restrictions, visa problems or health concerns and thus are unable to attend or conduct classes in person.
We also know that in order to meet the health and safety standards adopted by the university in compliance with guidance from national, state and local health officials, campus needs to remain less dense to support physical distancing requirements.
Hybrid Updates and Resources
Academic Calendar and Hybrid Classrooms
Course Schedules and Academic Calendar
Our course schedule represents a stretching of the day's class times and involves remapping each originally assigned timeslot. We worked with department heads and the university registrar to maximize access to courses across time zones.
Visit the Academic Calendar on The HUB website to learn about registration dates, class start dates, add/drop deadlines, exam dates and more.
On-Campus Learning
CMU's course modality designations indicate the different attendance options for each course and have been chosen to fit both the pedagogy of the class and the needs of remote and in-person students.
This can include sections designated for students who are seeking in-person options including courses that are attended by in-person and remote students concurrently, sections targeted toward in-person students and a rotation of class attendance.
Remote Learning
Courses that are being offered and taught in the in-person plus in remote mode will afford instruction to those who are remote and will have a backup plan for remote-only instruction if that is needed.
Whether you're on campus or learning remotely, make sure your computing resources are in place for the start of class.
Safety and Well-Being
We are proud of the Tartan community for embracing A Tartan's Responsibility, which outlines the expectations we have for all CMU students who will resume living, learning, working and interacting with our campus community, whether living on or off campus.
To learn more about safety and well-being, visit the minimum requirements to return to campus page.
Course Development Support and Learning Spaces Infrastructure Investment
The Eberly Center offers a range of resources and support, including access to a new menu of tested tools, techniques and syllabi resources. These resources include updates for syllabus statements and preparations for hybrid and remote teaching.
Additional technology has been installed throughout campus, including installation of new standard minimum video and microphone capability in all registrar and key departmental classrooms and enhanced video capability in select specialized rooms.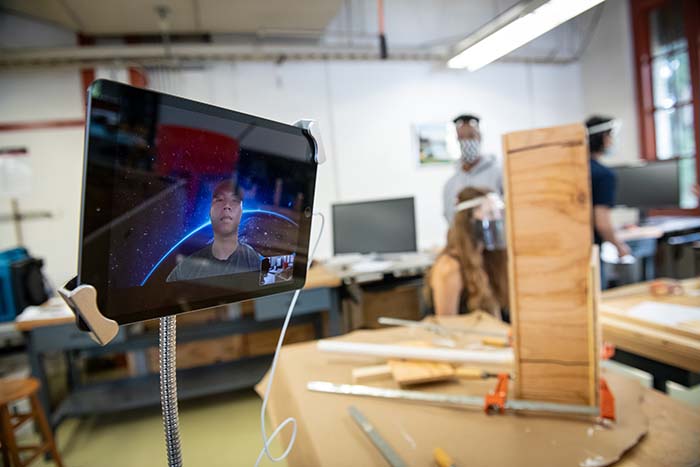 Hybrid and remote students in the CEE Projects: Designing the Built, Natural and Information Environments class