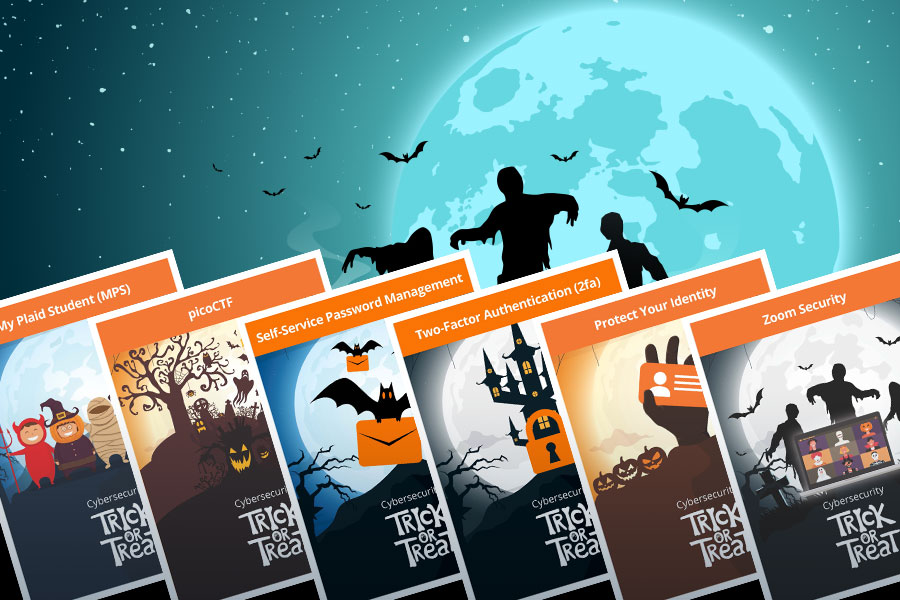 September 28, 2022
Trick or Treat to Kick Off NCSAM
In 2004, the National Cyber Security Alliance and the U.S. Department of Homeland Security launched National Cyber Security Awareness Month (NCSAM). Now in its 19th year, the program encourages personal accountability and proactive digital security habits.
To kick off NCSAM, join us on Wednesday, October 5 from 11 a.m. to 1 p.m. at Cohon University Center's Wean Commons for Cyber Security Trick or Treat. Eat candy, grab some swag, and learn about the university resources that can help you stay safe.
Self-Service Password Management


Verify your personal email address to reset your password on your own.



Two-Factor Authentication (2fa)


Learn to manage your account so you never lose access.



Protect Your Identity


Create strong passwords and learn to recognize phishing scams.



Zoom Security


Review tips and tricks to protect your meetings.



My Plaid Student (MPS)


Allow your families to access enrollment and financial data safely.



picoCTF


Try Cylab's free computer security education program.
Visit each of the six tables and you can enter to win one of our grand prizes!
Carnegie Mellon University's Information Security Office (ISO) will provide additional learning opportunities all month long. Visit the ISO website to learn more.
As members of a university community, remember that we're all responsible for securing our shared resources. If you see something suspicious, say something! Report concerns by emailing iso-ir@andrew.cmu.edu or calling the ISO hotline at 412-268-2044.