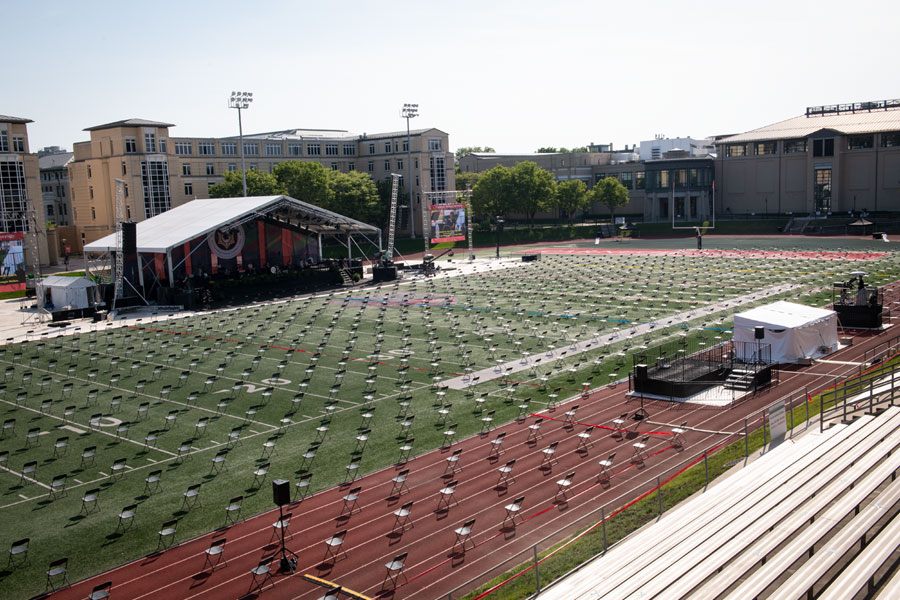 June 22, 2021
Computing Services Broadcasts Commencement to 5,000 viewers in over 25 Countries
When hundreds of students flocked to campus for the 2021 Commencement Ceremony, the Media Services team, a part of the Computing Services division, was there to capture the moment for the thousands who couldn't attend due to limited capacity.
Following a challenging year providing support and production services for remote events, the Media Services team, consisting of Adam Nietupski and Brian Parker, broadcasted the weekend's ceremonies to nearly 5,000 viewers in over 25 countries. Though they do this every year, current travel limitations and social distancing restrictions made their work even more essential and meaningful to those who were unable to attend live.

Planning Months in Advance – with a Curveball
Their efforts began long before that weekend in May. In December 2020, the team started planning for a virtual commencement similar to the pre-recorded ceremony that was held last year. But when President Jahanian announced in March that commencement would be in person, Media Services swiftly changed gears and began planning for a live event.

Backup Planning
Despite the university's plans, Adam and his team needed to be ready to revert back to a remote commencement if rising COVID cases required it.

This meant that, in addition to their set up on the field in Gesling Stadium, the team also had to prepare an indoor stage with recording equipment at the ready. The decision of whether to host the event inside or outside was monitored daily by the Disaster Recovery & Business Continuity team.

Nietupski said the situation did provide some upsides. "It was a challenge planning for so many different scenarios, but it gave our team the chance to reevaluate our process and think about how we approach commencement. Is the way we've been doing it 'the best way?' Can we do it better?"

A Successful Event
Adam and his team worked with local event technology company Hear Corp, who provided the video feed for the broadcast, to share live video footage with viewers throughout the world. Viewers accessed the live stream from the university's Marketing & Communications page.

To ensure a smooth operation on commencement day, Media Services tested every aspect of their operation in the weeks leading up to the event. As the students filed out of the stadium in their graduation gowns and red-tasseled caps, the team realized they'd pulled it off.
"After more than a year of remote events, it was so exciting to see these graduates celebrate their achievements and receive their diplomas in person, just as they had imagined," Nietupski said.
Thanks to Media Services' careful planning, thousands of families and remote students were able to participate in the commencement celebration from wherever they call home.