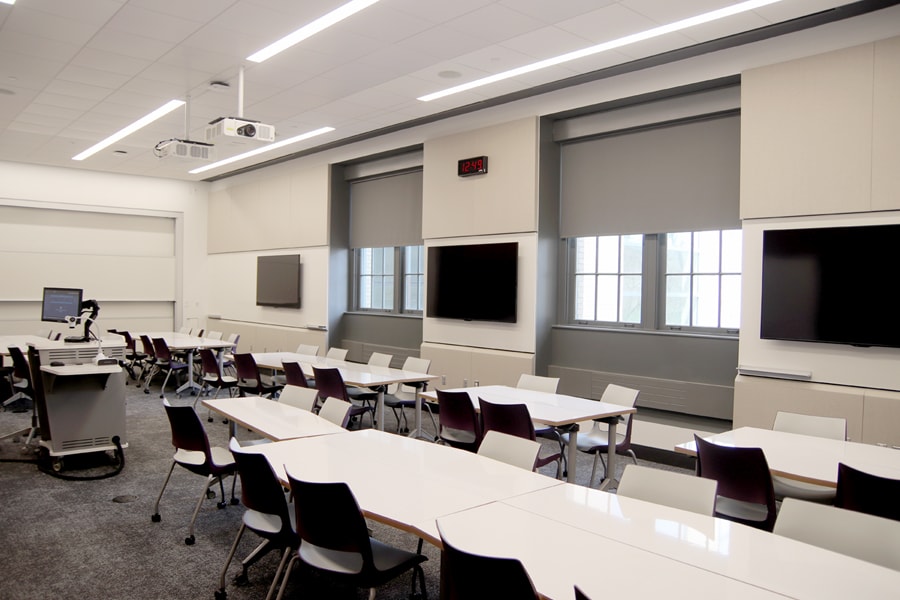 August 23, 2019
Transformed Classroom Spaces
Under the direction of the Classroom and Learning Spaces Project, classroom renovations continued this summer in Doherty, Wean, Margaret Morrison, CFA and Posner. You may not recognize these spaces as they have been updated with new furniture, carpeting, lighting and equipment.
Doherty Hall 1112 underwent the most significant transformation moving from a traditional lecture hall to a collaborative teaching and learning space. This innovative classroom encourages both individual and collective learning through the use of emerging technology. With two room projection areas and five independent team stations (that support both wired and wireless connections), facilitators can promote social learning and maximum engagement by sharing multiple perspectives, exploring alternative solutions, and encouraging thoughtful problem solving. The room features:
Presentation capabilities for desktop, document camera, blue-ray player, laptop and auxiliary devices
Display controls for two room projectors
Team mode option to connect devices to five independent team stations
Video preview option for facilitator review
Light and window shade controls
In addition, the Posner rooms are now Registrar classrooms and can be reserved through
25Live
.